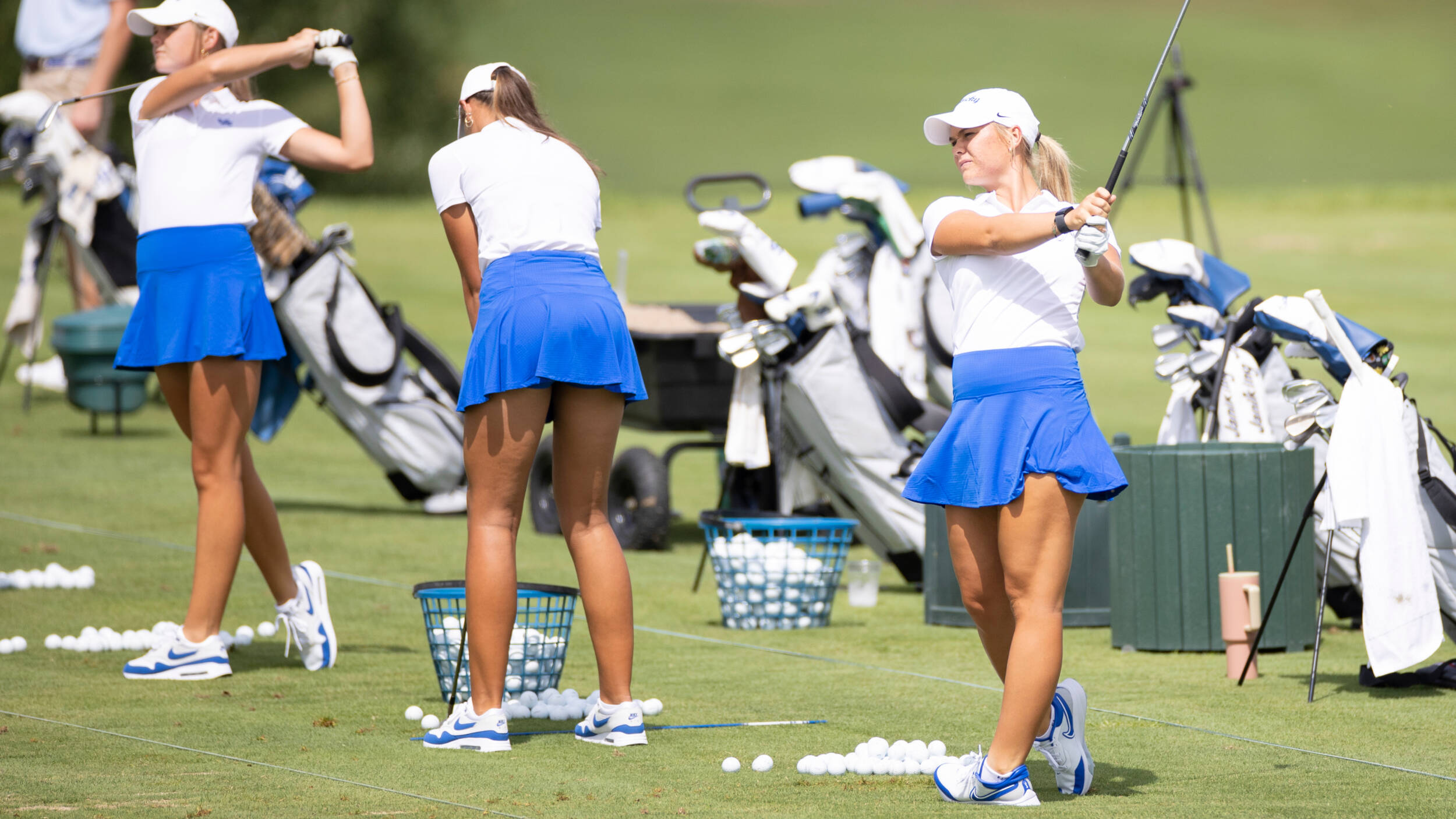 October 1, 2023 - 11:12 AM
Wildcats to Compete at Blessings Collegiate Invitational on Golf Channel
FAYETTEVILLE, Ark. – The University of Kentucky women's golf team will experience one of the most unique tournaments of the season this coming week, as it competes alongside the men's golf team at the Blessings Collegiate Invitational. The Wildcats will compete among an elite field at The Blessings Club in Fayetteville, Arkansas, from Oct. 2-4.
Big Blue Nation is encouraged to tune in to Golf Channel for coverage of all three days of the tournament. The broadcast dates and times are as follows:
Monday, Oct. 2 – 4:30 – 7:30pm ET
Tuesday, Oct. 3 – 4:30 – 7:30pm ET
Wednesday, Oct. 4 – 4:30 – 7:30pm ET
The field includes women's and men's teams from Arkansas, Clemson, Kentucky, Minnesota, Mississippi State, NC State, North Texas, South Carolina and Washington. It will play in a standard 54-hole, stroke-play format, but unique to this tournament, there are numerous opportunities to receive awards. The possible awards for the women's teams are as follows:
Women's Team Winner
Women's Individual Winner
Combined Team Winners (UK's women's and men's scores combined)
Combined Low Individuals (UK's top woman's score and top man's scores combined)
"We're thankful and excited to be back at the Blessings," said head coach Golda Borst. "This is a first-class event that provides our program and University with great exposure. It's been a few years since we were last here, and I believe we have a much more seasoned and confident team with us this time. They have been looking forward to this tournament for months, and we look forward to getting things started Monday."
There will be 18 holes of competition each day, with tee times starting at approximately 9:45 a.m. CT each day. Kentucky's tee times will be available soon.
Each team will play in fivesomes with its own team's lineup, which is unique to the Blessings Collegiate Invitational. Kentucky's lineup includes Laney Frye, Jensen Castle, Marissa Wenzler, María Villanueva Aperribay and Brooke Oberparleiter, which is the same combination UK used through two tournaments this season.
Marta López Echevarría will be on site as an alternate.
Frye (69.3), Castle (71.0) and Wenzler (71.5) are averaging rounds under par through six rounds this season, while those three players and Villanueva Aperribay have already turned in at least one tournament total under par in 2023-24.
Meanwhile, freshman Oberparleiter is averaging just 2-over through the first six rounds of her college career. Of note, five of her six rounds have contributed to the team total.
That fivesome has already rattled the record book, thanks to their performance in the season opener at the Cougar Classic. There, UK recorded its third-best tournament total in program history with an 820 (-20) and its second-best, 18-hole round in program history 270 (-14).
Frye, a Nicholasville, Kentucky, native, has reached some personal accomplishments of her own already this season, too, with four of her six rounds being in the 60s, including the second-best, 18-hole round in her college career, a 64 (-7), earned in the first round at the Cougar Classic.
The Wildcats have competed in the Blessings Collegiate Invitational just one other time in school history, with both the women's and the men's teams finishing in eighth place in 2020-21.
UK can expect beautiful weather Monday and Tuesday, including mostly sunny skies and temperatures in the 80s. There is a 70 percent chance of showers Wednesday.
While fans are encouraged to watch the tournament live on Golf Channel, they can also keep up with live scoring here.
For the latest on the Kentucky women's golf team, follow the team on Twitter, Facebook, and Instagram, as well as on the web at UKathletics.com.