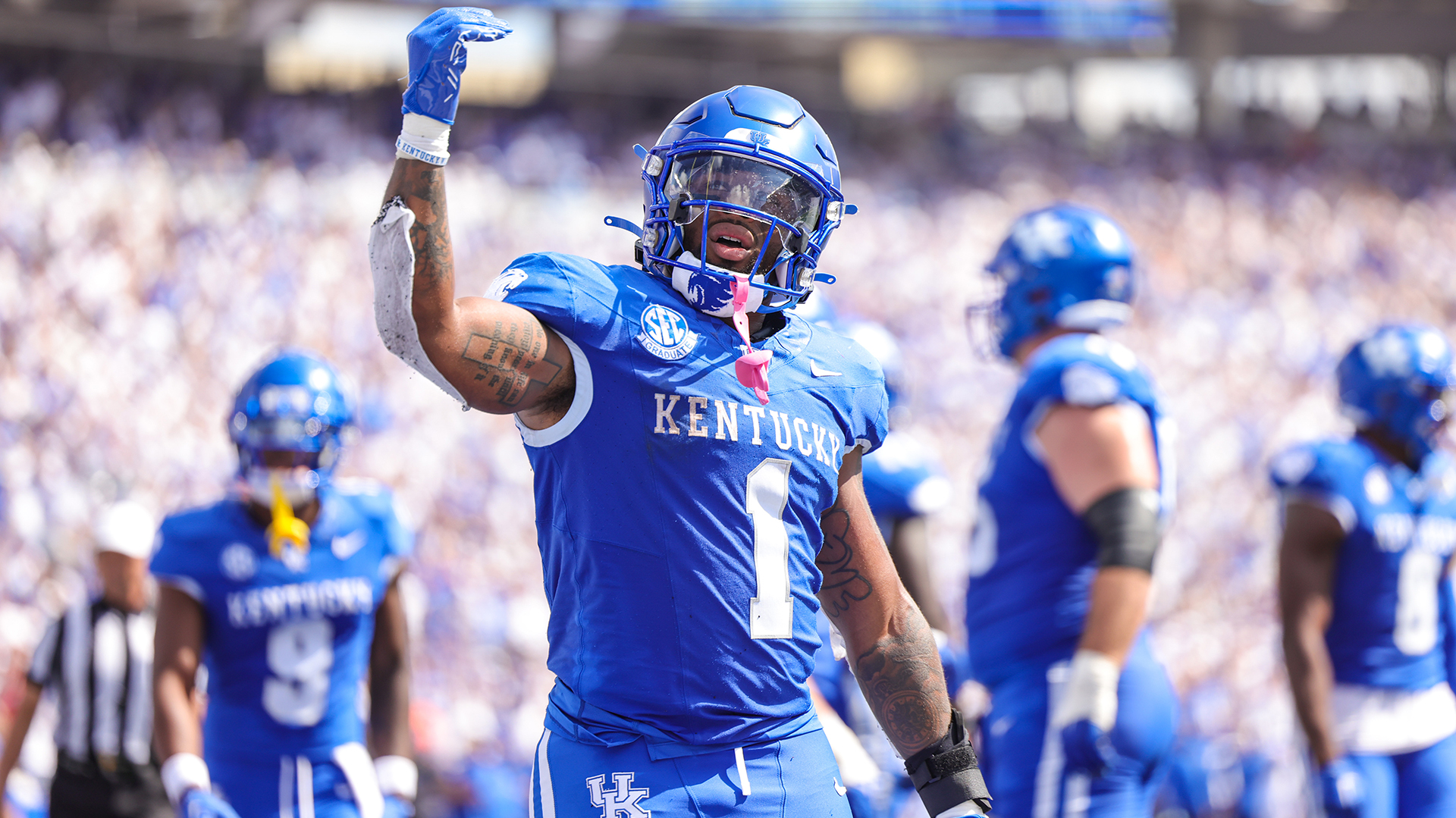 Ray Davis has had some big games during his college career. But none bigger than the one he had on Saturday.
Davis rushed for a career-high 280 yards, 206 of which came in the first half. He scored four touchdowns, three of which came in the first half. And, most importantly, Davis carried Kentucky to a 33-14 win over No. 22/23 Kentucky inside Kroger Field.
UK head coach Mark Stoops was impressed with Davis' effort and production on Saturday.
"You have to give an individual shoutout to Ray Davis," Stoops said. "What a great individual performance. He will be the first one to tell you, you know, the line obviously did a great job pushing people around, but he made people miss and he ran around people and through people and over people, you name it. Give him a lot of credit for individual effort."
The 280-yard rushing game tied Davis for third on UK's career single game rushing list. Only Moe Williams (299 yards against South Carolina in 1995) and Lynn Bowden (284 yards versus Louisville in 2019) have ever rushed for more yards in a game in UK history.
"We don't give many individual recognitions, but that man went off today. GAME BALL, @Ray_Davis07" pic.twitter.com/5uhD7FQR9Z

— Kentucky Football (@UKFootball) September 30, 2023
Stoops has been impressed with Davis' abilities since he arrived on campus in the spring.
"Ray has another gear, where he has that ability," Stoops said. "The first touchdown on the screen he drug somebody or ran somebody over for a good 3 or 4 yards or whatever, and then he has the ability to make people miss. And I think he is really a complete back and certainly he has been dynamic in catching the ball in the backfield.
Davis reflected on what the big day meant to him and he gave credit to his blockers.
"It was a great day. Personally, it was a great day for me, but I didn't really do much today," Davis said. "You have to give credit to the o-line, tight ends and receiving corps. Those guys were blocking down the field, 20 yards. They were just staying with it and constantly going."
It started early for Davis. Kentucky's first three plays from scrimmage were Davis rushes that covered 10, 19 and four yards, respectively. Davis would rush for 60 yards on that drive, one that led to an Alex Raynor field goal and a 3-0 UK lead.
Kentucky's next drive started on the Florida 15 after a Trevin Wallace interception gave the Cats excellent field position. The first play was a Davis rush for six yards. The second play was a nine-yard touchdown pass from Devin Leary to Davis.
On Kentucky's third drive, the Cats appeared to be stopped before Davis tore off a 75-yard touchdown run, expanding the UK lead to 16-0.
As the second quarter began, the UK offensive strategy did not change. Davis carried for 16 yards on the first play of the drive, followed by a 33-yard rush on the second play of the possession. Later in the possession, Davis rushed for 13 yards, then closed the drive with a three-yard touchdown rush, his third of the game, as the Cats took a 23-0 advantage.
In the third quarter, Davis continued his assault. His second carry covered 31 yards and got the Cats deep into Florida territory. Later in the drive, Davis would score his fourth touchdown of the game as the Cats expanded the lead to 30-7. Davis would go over the 250-yard rushing mark in the third quarter.
For good measure, Davis also eclipsed 3,000 career rushing yards in the contest. He also had the second-most rushing yards ever against Florida. Only LSU's Tyrion Davis-Price (287 yards in 2021) has ever had more rushing yards in a game against Florida.
He didn't want to think about making history, only about the guys who helped him get there.
"I didn't make history, our o-line made history today," Davis said. "We ran for what, 300 yards or something like that total, so as a collectively unit we made history. But for me, it was just going into another game and hitting holes and things were opening."
For Davis, the day was historic but more importantly, he led his Wildcats to a big SEC Eastern Division win over Florida.