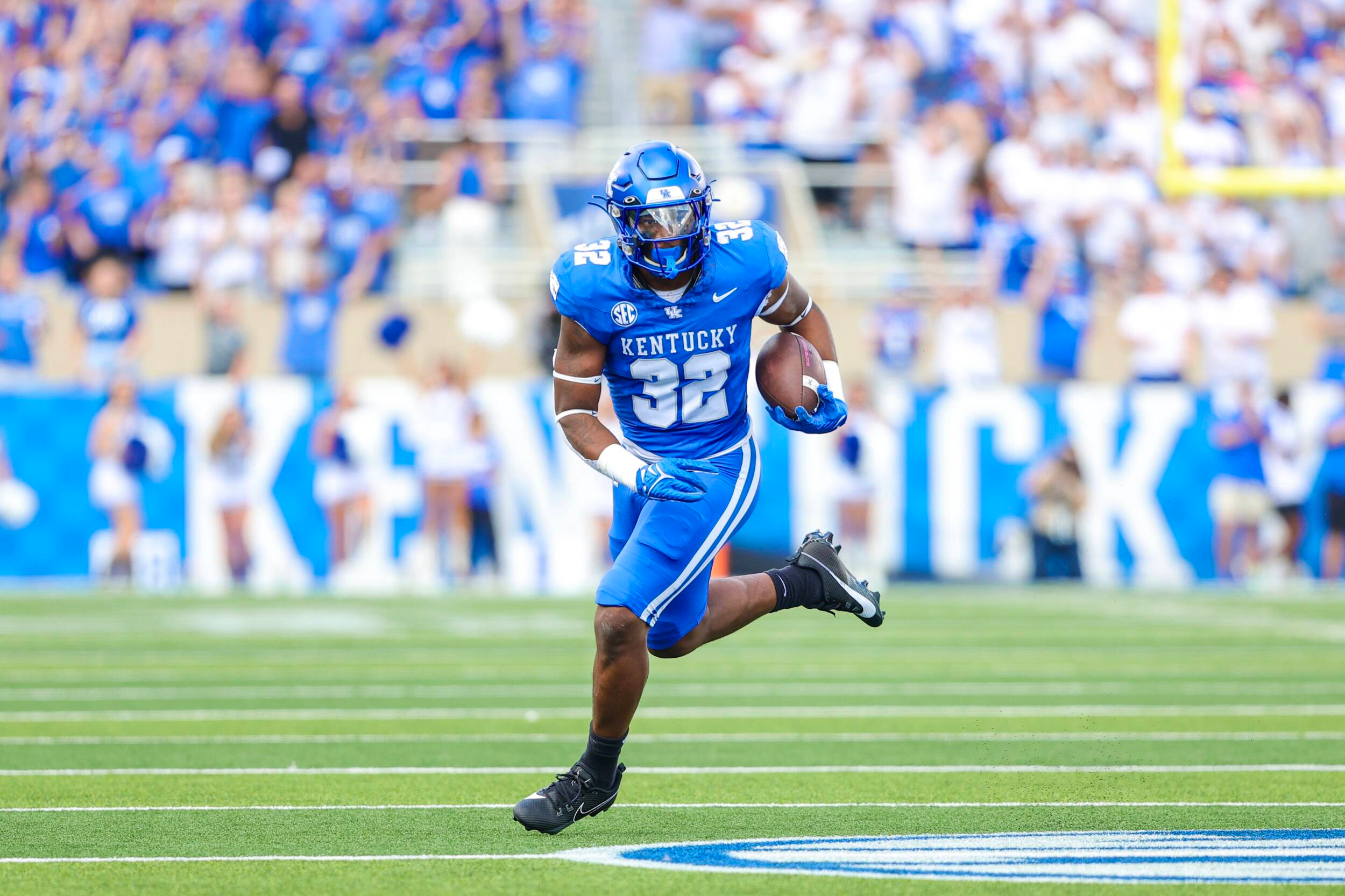 KENTUCKY FOOTBALL POSTGAME QUOTES
KENTUCKY VS. FLORIDA
KROGER FIELD – LEXINGTON, KY.
SEPTEMBER 30, 2023
Kentucky Head Coach Mark Stoops
MARK STOOPS: I am just really pleased. I had mentioned it to you guys, you know, on Monday at the press conference and on Thursday, that I've been pleased with the team's attitude, the preparation, the work that they have been putting in. We know we have not been perfect in some games, but I knew we were close and I told you that over and over again. And tonight, we were far from perfect. But when we did put it together, we were humming on all sides. And that's the type of start two weeks in a row, big game, last week 11 o'clock, Noon, it doesn't matter. If they wanted to play at nine, we would be ready. But our guys came out strong and had a tough mindset. We needed to go back to establishing the line of scrimmage, that is who we are. And to rush the ball for that many yards in the first half was really impressive by our team. I've been challenging the offensive line, the group, to be more consistent and to put it together and be who we are. You know, you have to give an individual shout-out to Ray Davis. What a great individual performance. He will be the first one to tell you, you know, the line obviously did a great job pushing people around, but he made people miss and he ran around people and through people and over people, you name it. Give him a lot of credit for individual effort. I think, once again, as I just told the team, there is still a lot more out there for us and we need it. We play next week, and you will have to put it all together. We were close at times today, and it could show you how good of a football team we can be when we do put it together. And I think there is a lot more out there for us. And we are going to keep on working and keep on pushing. I'm proud of the staff. I think they did an excellent job. I have to give a shout-out to all of the coaches because they really had a good plan. And the coordinators and the assistant coaches and the players have been working hard. And it is a great team win.
Q: The first down efficiency, Ray's first two runs in the game, did you change the way you were blocking that up front?
MARK STOOPS: No. No. We dressed it up different and ran, you know, did some things a little different. But, no, we've been running the same plays. We mixed in some good gap schemes and that opened a form of a gap scheme. But it is really like a power with a wrap, with a puller, it gives them a little bit of candy to look at. And then some gap schemes hit them also later. And, so, we hit them off balance pretty good.
Q: The offensive line takes a lot of heat. What do you think a performance like this can do for confidence?
MARK STOOPS: It gives them a lot of confidence and pride because I know they care and have been working. I think last week with the move, with Eli (Cox) to center, I felt like we were getting closer to that and with a game under our belt. And Jager (Burton), I don't know how he played today, I imagine better than he did last week at guard. And, so, I think Eli gives us some of that stability back at center that gives us a good starting point.
Q: Coach, the offensive line.
MARK STOOPS: Yeah, I really don't know, Lonnie. That wasn't by intention. But (Jeremy) Flax, he has been doing a good job. He is a big dude. I don't know, you know, I haven't watched the film yet, but it appeared we were moving people off of the ball, yeah.
Q: The amount of beers you were asked to pound this morning, did you feel that you owed it to them?
MARK STOOPS: I had to start fast because I asked them to start fast this morning. (Laughter). I think they did. I hope they behaved well, or Mitch (Barnhart) will give me a scolding. So, I hope they behave. But, you know, we jump out at such a strong start and, you know, at the end they were kind of quiet. I'm like, they come to expect this kind of win. Do you know what I mean? I appreciate it. It was a fun environment and glad we got off to a good, fast start.
Q: Coach, we saw early on the defense made deep plays, kept them scoreless for the first half, and the long drives. When they are on the field that much, how well they played.
MARK STOOPS: Yeah, I thought defense, we were close to having an excellent day. We missed a sack on that drive. It will be second and extra long. We have a good chance to get ahead of that drive. I didn't like the way we finished the last possession offensively and the last possession defensively in the second half. We talked about it, got things corrected, and responded. We get the ball to open the second half and go right down and score a touchdown. I think that really set the tone again.
Q: The players, Deone Walker and Trevin Wallace, at the top and the interception, what did those two captains bring to the defense, the energy?
MARK STOOPS: Their leadership, they are captains for a reason. They are really good players. And they are impact players, you know, bona fide SEC players. Do you know what I mean? And could fit in and look the part anywhere.
Q: For all of those years, what does that mean?
MARK STOOPS: I hadn't thought about that at all. This was such a big game for this moment, you know, for this team. And I am happy for that team. You know, our team, they just have been — I guess I've used that word. But, like, they just knew that we were close and there was more and they have been working and working and eventually you want it to pay off. We always talk about that, like keep on working, don't grow weary of doing right, keep on working hard, doing things right, planting those seeds and at the right moment. If you don't, you have no chance in big games and big moments. And I think we learned a lot and we have a lot further to go. And if we keep this attitude and work ethic, good things lie ahead of us.
Q: Ray in the back, the player for the back play.
MARK STOOPS: Yeah, I mean, you know, and Ray has another gear where he has that ability. The first touchdown on the screen he drug somebody or ran somebody over for a good three or four yards or whatever, and then he has the ability to make people miss. And I think he is really a complete back and certainly he has been dynamic in catching the ball in the backfield.
Q: Before this week, you have mentioned at times he was not disciplined within the run. Was that discipline today?
MARK STOOPS: Yeah, it was there. And I don't want to overemphasize that because Ray is a very coachable young man. You know, we just simply mentioned it in one of the games. And he is coming in here. I mean, he has great instincts, awareness, and feel. You know, I've said it before and I will say it again, there's running backs we're teaching and coaching and sometimes it is between him and God. They do what they do. They see things and have vision. The great ones have vision. In game two, we were talking about, he missed a couple that were there. It is simply talking about it, watching it, and showing him. You don't want to over-coach that because there are times today where it was like oh, oh maybe not there and then he goes back and creates an explosive play. You know, like he is a disciplined player, very coachable player, and he has very good instincts. You don't need to over-coach it either.
Q: Were we running out of wide receivers down at the end?
MARK STOOPS: Yeah. We were. We will see. We are getting guys banged up, yeah.
Q: Finally Eli in the game, but not really the bitter taste in the mouth.
MARK STOOPS: They needed a little joy, you know, they have been working hard. It has been a long — they have worked hard through the summer, through camp, through the preseason. We talked about it on Monday as a team and as a unit and continue to play for each other and put all of the individual accolades aside. And we talked about walking from the meeting room on Monday and being happy for each other, no matter what they did individually and I think everybody bought into that.
Q: First quarter the last weekend, the first 25 minutes, the confidence, does it give them a confidence to hot start, to come out in those first drives?
MARK STOOPS: It does. But we have to withstand adversity, too. It will happen. And we went through a few bumps today and responded the way we should respond. And, so, you know, yes, we always want to start fast, but I'm sure at some point it will go the other way and we have to find and face adversity and handle it that way.
Q: Devin (Leary), how do you think he played today?
MARK STOOPS: I thought he missed some things early and we didn't help him again. We had a couple of catches we should have made and that might help his confidence, too. He definitely, late in the game, missed one, it was through traffic, the third down conversion, third and three and four. I think it was a poor throw, and I don't know what happened. I don't know if it was deflected. I don't know his vision. But we can't have that because we had guys open.
Q: You talked about being committed to the running game. Your defense had not played a rushing attack like this and had to get away. What were you doing well in the defense?
MARK STOOPS: Yeah, that was a big part, you are right, 29 for only 69 yards there. But, you know, they are committed to run the ball. You saw it late with critical moments when we stopped them. They don't get away. They do what they do and that stability is credit. (Florida Head Coach Billy Napier) knows what he is doing and he is a good ball coach. But our guys were doubting us as well. And we have big guys that play the run fairly well, too. We are not perfect, but we take pride in how we play upfront.
Q : Your secondary obviously forced Florida to make more throws after limiting their rush game.
MARK STOOPS: You know, I didn't like giving up the, you know, the long one. It was a really nice throw and catch. They hit us over routes that we had things we could play better. I don't know what to say, misses and bust and people run with it the wrong way. Complicated routes we can play better, we know better, and they hit us on stuff that we started to adjust, and looking at it, and getting it clean up.
Q: You are 5-0, Mark. What are you pissed about today?
MARK STOOPS: I am not pissed today, John. I am not. I am not pissed today.
Q: Is there anything Deone Walker can't do?
MARK STOOPS: No. He is a pretty athletic guy. He really is. He wears wide receiver shoes. I saw him out there and I was like, Really? Really? You are the only guy that big I've seen wearing wide receiver shoes.
UK Student-Athletes
#0, Deone Walker, DL
On dropping back into pass coverage …
"That was the first (time) … I've been campaigning [for it] ever since he put the play in. I want to run it every play."
On what went well for run defense today …
"I feel like, just us playing together, you know, they had a couple of explosive plays. Florida is a great team, but just us being able to stay mellowed out and not letting our emotions get the best of us."
On the Josh Allen treatment/Hands on jersey …
"I wouldn't call it Josh Allen though. He's a great, a Kentucky great. I will say, I just have to work on my releases for pass blocking, run blocking and just have to work on getting off more aggressive."
#3, JJ Weaver, OLB
On getting a big sack on the final drive …
"It was just Coach White telling me it's coming all year. I've been just so down on myself and disappointed because I didn't get what I wanted and today I just got off the ball every chance I got. I knew it was going to come."
On what the defense did well today…
"It was being physical upfront, you know, just stopping the run and everything is just going to come to us. I trust our defensive backs. They got our backs and upfront just dominate."
#69, Marques Cox, OL
On if the group came into the game thinking they could run the ball on Florida …
"We do what we do and we knew for a week we could run the ball and that was our main focus. Get ready and get comfortable within the first few series of the game and once it was rolling, it was rolling."
On the strong start …
"Yeah, we want to come out starting fast. On the O-Line, we talked about starting fast, getting on schedule, staying in front of the down. So, for us to start fast, we've got to play fast."
#32, Trevin Wallace, ILB
On how much his interception set the tone of the game…
"It set the tone of the game, everybody had great tone, but just having that gave us more of an edge on the Gators, so I like that it set a great tone."
On if it's something about the team (Florida) that he must make big plays…
"I really don't know, it's crazy. My freshman year to this year, the ball just floated into hands again."
On if it's fair that Deone (Walker) can drop in coverage and make a hit like that…
"I saw that hit, oh my goodness, that's a big boy hit. I can say it's fair because you don't have that guy wrestling, but him dropping back and then hitting somebody like that? Oh my goodness."
On if the front seven is imposing their will…
"Yes, our front seven you know, I like our front seven a lot. They help us be free and move how we want to move. Our front seven, I congratulate them boys because without them I wouldn't be making the plays I'm making."
#75, Eli Cox, OL
On if the big blue wall back …  
"I think it's a great first step to being back, absolutely. It's a statement by not only our offensive line, but our tight ends, our receivers, and then Ray running the ball. It takes all of us, our tight-ends did a great job communicating, our tackles and working together with them in practice, Ray Davis, Demie Sumo-Karngbaye, Jutahn McClain, Ramon Jefferson, all those guys hitting the right holes at the right time. Great play calling, great execution all around, it was an awesome performance by the offense."
On Coach Stoops challenging for consistency …  
"He told us that this team has been known for having a solid offensive line play and he be danged if this one wasn't going to be one of those teams. So, I mean, we just took that personal and the challenge we took upon ourselves in practice, that's where it starts. Wins like that don't happen on Saturday. It starts Monday and continues on through the rest of the week. The way you prepare and the way you execute, so I just think the group did a great job of taking that challenge to heart and not personally. Really just putting our work hats on all week and getting after it."
On Ray not taking credit and buying the offensive line a meal …
"That's and expensive tab. I'm not going to complain either way. I bet Jeremy Flax could give him a run for his money."
#1 Ray Davis, RB
On his performance …
"It was a great day. Personally, it was a great day for me, but I didn't really do much today. You have to give credit to the o-line, tight ends and receiving corps. Those guys were blocking down the field, 20 yards. They were just staying with it and constantly going. Obviously, today, running the ball was something we were good out so the receivers decided to step up and block. When it was time to get the ball thrown, those guys stepped up and did what had to do. But, honestly, our o-line has been receiving a lot of criticism, but I think today, they showed up and stepped up and they are making strides. No one is perfect in this world. We are evolving and getting better each day. Those guys are getting better. As an offense, we are getting better. We are not going to be content with this performance. We have a lot more left in the tank and we have to get back to work on Sunday. We will enjoy this for 24 hours and then get to work."
On making history …
"I didn't make history, our o-line made history today. We ran for what, 300 yards or something like that total, so as a collectively unit we made history. But for me, it was just going into another game and hitting holes and things were opening. I just have to see it right. Last week, someone had asked about consistency with the running backs and for me that Vanderbilt game, I took it personally, because for me we were not hitting the right holes and that falls on me. I went back to the lab, got in the film room and had to see why I was missing the holes and what the o-line was creating. Today, I think you saw that."
On if he is going to take the o-line out to dinner …
"Yeah, I am definitely going to take those guys out to dinner. I have to take the tight ends and the o-line. That will probably run a hole in my pocket, but I think for rushing 300 yards total as a group, I don't know what that check is going to be like, but I am not going to want to see it."
On if he was following along with his stats during the game and wanting to stay in and go for the record …
"No, honestly, I didn't really know. After the big run I ran, at that point, I was like, 'I think I only have 75 yards.' I wasn't really too into it. I was just trying to keep my head in the game. I think once you focus on the statistical part of the game, you start to lose your mojo and your juice. Guys were coming up to me and congratulating me and I was like, 'it is only the first quarter, we have to keep going and have to keep pounding.' The result showed today, getting the W."
Florida Head Coach Billy Napier
Opening Statement …
"Not a lot of positive to talk about today. Hats off to Kentucky and Coach Stoops. They were ready to play and they flat out beat us. They were the more physical team, [they] controlled the line of scrimmage and the edges of the formation, and they protected their quarterback. We did not win the line of scrimmage, or protect the edges, and they affected our quarterback.
We had a handful of penalties that were a factor. The early turnover was a factor, and, just fundamentally, [I was] just disappointed in our team. I told the players: "I know one way to do this and that is to take complete ownership of it." I think for me, personally, as a leader, I have to do a better job for our team in all ways. Ultimately, that's my job: just have our football team ready to play. I am going to take ownership of that because I know what we are capable of. I do believe we had a good week. I do believe that we were in the right frame of mind, but when the ball got put down, we didn't execute. We weren't physically ready. Certainly, the way the game went early, it got out of hand and we tried our best to fight to get back in it, but hats off to Kentucky. [In] all parts of the game, they were more effective. I haven't looked at these stats sheets yet, but I imagine that's exactly what it says. Kentucky deserved the win today. The Gators did not and that's my responsibility. I think we will be able to evaluate things technically a little bit more and talk on Monday but, overall, we [have] work to do to improve.
One thing I do really believe in is… I believe in the kids in there. I think they want to have success. They have done a lot of quality work and I think these types of experiences present an opportunity. I am very hopeful that with this group there will be some things to come of this, but we have to take a good look in the mirror from an overall operation here and do a better do for the players. I am sure the players will see things they can do better themselves as well."
On if you believe that the team was not prepared for today…
"No, I think that we had a good week. I think they beat us up pretty good. Any time a team rushes for 300+ [yards] and they hold you to under 100 [yards]… ultimately, that's where the game was won today. It was line of scrimmage, edges, tackling, fundamentals. We misfit some runs, and we were unable to do that on offense."
On the momentum shift that resulted from the special teams penalty in the first half…
"Yeah, it's disappointing because we had a similar situation in last week's game where we covered it thoroughly throughout the week. We actually sent a play from last week's game to the SEC, talked about the exact rule, how it's interpreted, [and] showed the clip of the meeting. I just think we [have] a young player out there that made a poor decision and he knows he made a mistake. I do think that was a pivotal moment in the game. I think you are spot on. It's still a close game, we're off the field, and we're going to get it at midfield. We're going to get it on short field for probably the first time the whole day, then we put them back out there and they end up getting a touchdown off that possession. So, no question, one hundred percent, [it was a] huge play in the game."
Florida Student-Athletes
#6, Shemar James, ILB
On opinion of Ray Davis …
"It came down to gap size, guys were jumping out of the gaps, not tackling very well. With a back like that, you miss a tackle it's 10 more yards, 15 more yards, 20 more yards. It just came down to execution. We just shot ourselves in the foot, not wrapping him up and tackling him to the ground."
On what happened with not executing as well as they have this season …
"I think the early morning game had a factor in it, to be honest with you guys. We came out very flat defensively and we kind of got it together in the second half, but you have to start fast to finish top in the SEC."
On performance tonight and how it will refocus the defense …
"It makes us hungry knowing that we let up a performance like this and this will put a fire in our heart to come and practice and work even harder. Taking pride in being a good defense that everyone is familiar with."
#15, Graham Mertz, QB
On his thoughts on the loss…
"I think it is never fun to lose a game. I am frustrated, I think I could have been a lot better for this team today. I do not think I played even close to my best game, so personally, I am frustrated because I could have done my job better for everyone in that locker room. So, I am definitely frustrated, but there is only one way to go from a game like that and it is how do we move forward? There are two different ways to go and there is one way you never want to go down and the route I am going to go down is full force.
On the "road warrior" mentality the team said they had….
"Flat out we did not have that today. That is what I am talking about as players, we can talk about it, but we are going to wrap our arms around each other and be about it? We had two away games that did not go our way and the first assessment from watching the game and being in it is execution. When the crowd gets loud, and we have a job to do, how do we lock together and do it? That has been the point of emphasis for away games, but no doubt I have been in a lot of away games, and the ones you win it is that mentality so that is definitely a point of emphasis."
On the struggles the Offensive Line had…
"It is on me. I can be better in protection, watch more protection cutups, get us in the right mic point, the right slide. There are so many different things that go into that. They (offensive line) fight like crazy every single play so I owe it to them to get the right call in and be their extra eyeballs that are always checking. I think that today they did some good things upfront as far as feel-away pressures, boundary pressures, and bandit pressures, so I think in total when I go back and watch the film, I will see that I could have done a better job in protection, giving them alert calls, and just getting them ready for looks that are coming. I think back to one play where they brought field pressures, and we scrammed the ball to Ricky (Pearsall). I saw it and had a play similar to that when I played Northwestern a few years ago. I could have given a field alert call, but I just played it out. That is one thing I will look back on and say how can I be better for them upfront to help us be better as an offense."