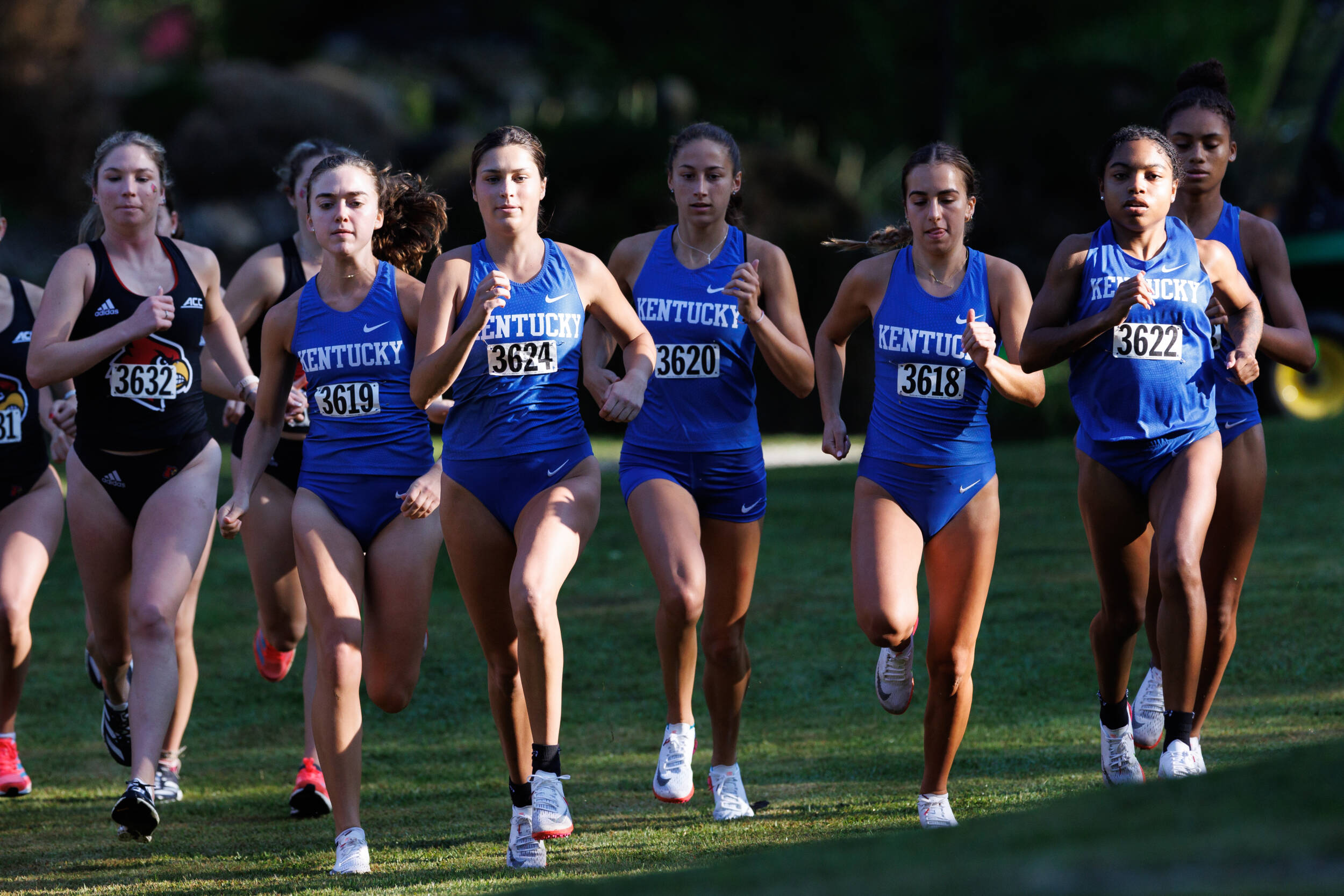 September 29, 2023 - 03:42 PM
Multiple Wildcats Improve Personal Times At Sean Earl Lakefront Invitational
CHICAGO, Ill. – Multiple Kentucky men's and women's cross country members improved personal times Friday afternoon as the two teams continued the 2023 season in Chicago, Illinois with the Sean Earl Lakefront Invitational hosted by Loyola University Chicago.
Held at Sydney R. Marovitz golf course, the women's team saw four members set new personal best times as the team placed 13th overall with 380 points in the women's 6,000-meter race. Ally Kruger was the first Wildcat to cross the line just as she did last time out at the Southern Showcase in Huntsville, Alabama.
Kruger, alongside Julz Williams, Phoebe McCowan, and Mollie Roden all earned personal best times to finish in the top five for the Wildcats.
The men's team finished slightly higher this afternoon taking 12th with 274 points in the men's 8,000-meter race. Jake Allen secured his second straight top-20 finish this season leading the Wildcats with a time of 23:56.8
Ed Bird did well in his second race as a Wildcat finishing 28th with a personal best time of 24:11.7. Harper Moore had a season best time of 24:46.0 to come across the line in 66th.
UKXC Women's Team: 13th, 380 points (first five finishers count toward team scoring total)
UK 6k individual results; 146 total runners
50. Ally Kruger: 20:56.7
78. Julz Williams: 21:24.8
79. Phoebe McCowan: 21:24.8
99. Mollie Roden: 21:43.9
112. Ainsley Edwards: 22:05.6
115. Lyric Olson: 22:12.8
117. Jenna Schwinghamer: 22:15.5
119. Elly Heine: 22:22.8
126. Logan Brennan: 22:57.3
UKXC Men's Team: 12th, 274 points (first five finishers count toward team scoring total)
UK 8k individual results; 143 total runners
12. Jake Allen: 23:56.8
28. Ed Bird: 24:11.7
66. Harper Moore: 24:46.0
79. Jackson Watts: 24:58.7
94. Alex Alston: 25:11.2
98. Ethan Kern: 25:19.0
112. Alex Justus: 25:43.5
113. Blake Byer: 25:49.7
The next meet for UK will come on Oct. 13 at the Crimson Classic hosted by the University of Alabama in Tuscaloosa, Alabama.
Follow Kentucky Cross Country on Facebook, Instagram, X, and UKathletics.com.