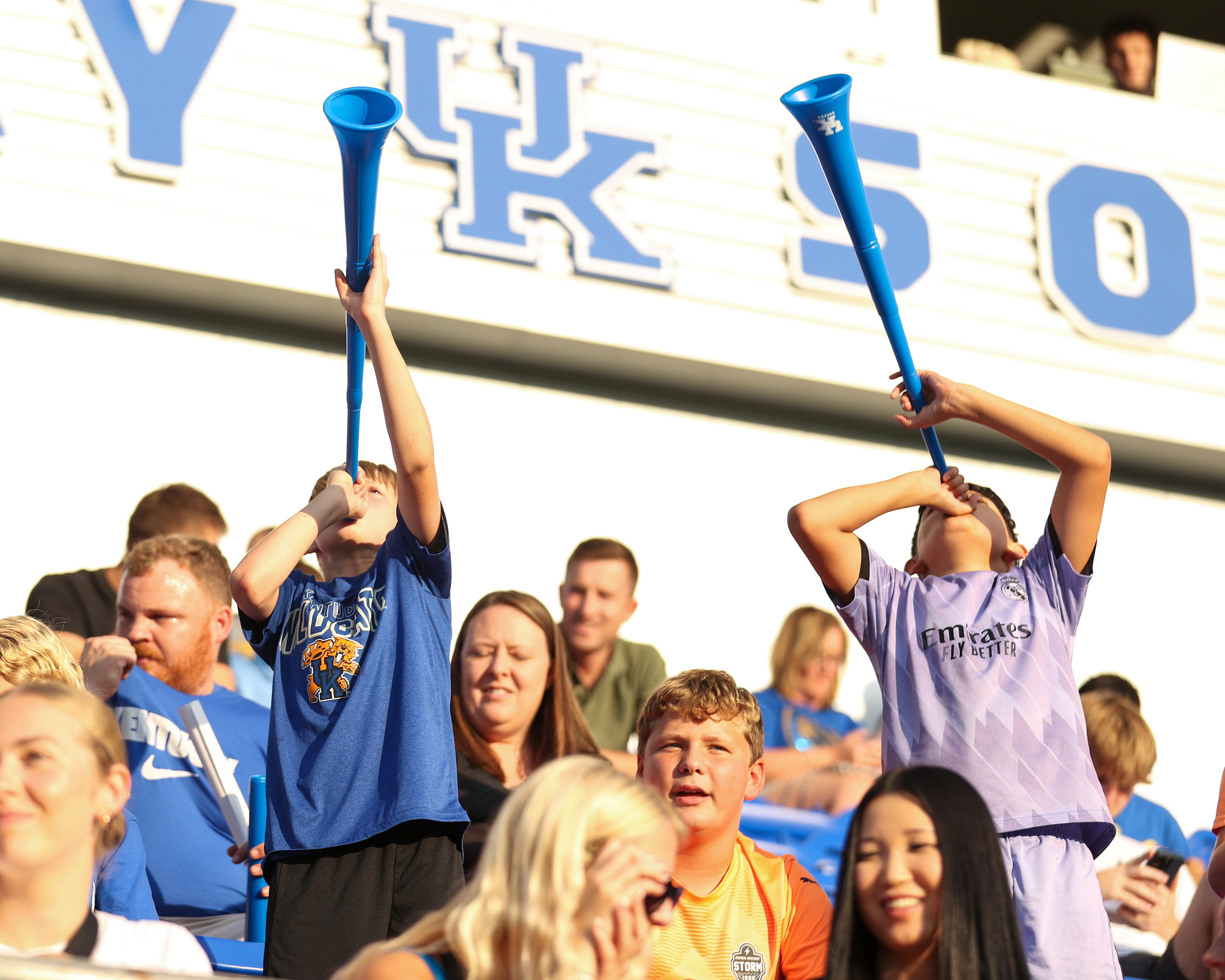 September 27, 2023 - 04:37 PM
Men's Soccer Returns to Lexington for Friday Matchup
LEXINGTON, Ky. – Kentucky men's soccer (3-5-0, 0-2-0 Sun Belt) will host No. 3 Central Florida (4-1-2, 0-1-1 Sun Belt) at the Wendell & Vickie Bell Soccer Complex for a 5 p.m. EST Friday contest.
The match will be a doubleheader with Kentucky women's soccer who will take on Southeastern Conference opponent No. 7 Alabama at 8 p.m. following the conclusion of the men's match. The theme for the night will be Bark at The Bell as fans are encouraged to bring their furry friends.
The night will also be Youth Soccer Night and will feature a UK sock giveaway. Fans will receive on sock and voucher upon entry to the men's match. Prior to kickoff for the women's match, fans can trade in their vouchers for the second sock of the pair.
Friday's contest will be the first between Kentucky and new Sun Belt affiliate Central Florida. UK comes into the match following a 0-1 road loss to Old Dominion while UCF's most recent result was a 0-1 loss to No. 1 Marshall.
Bark at The Bell
Dogs will be permitted through the berm side gate. All dogs must be kept on a leash while in the Wendell and Vickie Bell Soccer Complex.
A maximum of (1) dog per person is permitted. Dogs must stay on the grass berm and are not permitted in the seating bowl at any time (this includes using the restrooms, concessions, or bookstore).
Owners are permitted to bring a water bowl for their dog, but dog food is prohibited. Kentucky Athletics reserves the right to refuse entry to any dog or require a dog to exit the stadium.
Bring your dog to Bark at The Bell if he/she:
Does well on-leash and is not aggressive toward people or other dogs.
Is friendly toward humans and not excessively fearful.
Is on a leash and supervised by an adult at all times.
Big Blue Nation can purchase single match or season tickets for the 2023 homestand by clicking here. Tickets will also be available for purchase upon arrival to The Bell.
Live stats will be available for the match against UCF by clicking here. Fans can also stream the contest on ESPN+.
For the latest on Kentucky Men's Soccer, follow @UKMensSoccer on Twitter, Facebook and Instagram, as well as on the web at UKAthletics.com.