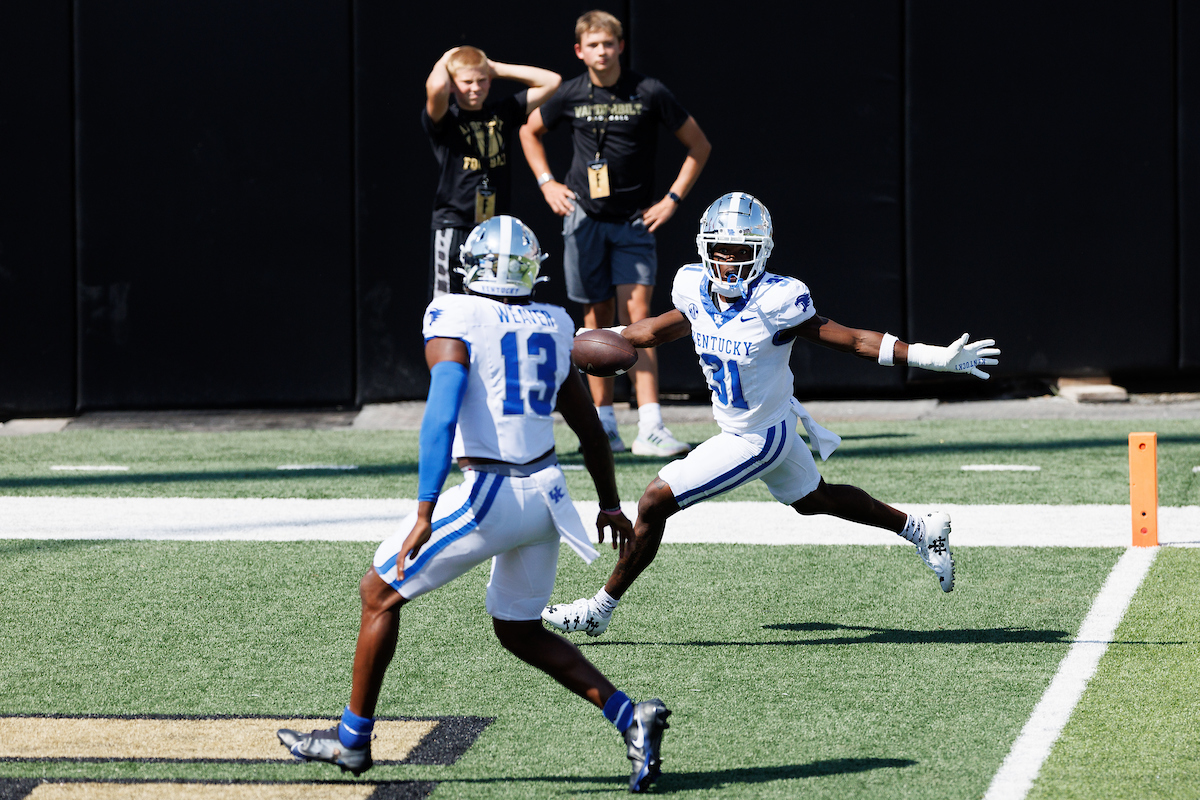 Kentucky defensive back Maxwell Hairston had a game for the ages on Saturday. He had not one but two interception returns for touchdowns in the Cats' win at Vanderbilt.
For his efforts, Hairston earned a number of awards this week, including Southeastern Conference Defensive Player of the Week,  Bronco Nagurski National Defensive Player of the Week and the Jim Thorpe National Defensive Back of the Week
But Hairston knows that he has to put last week behind him, including the recognition and the accolades, and focus on the task at hand.
"Good stuff, same as the bad stuff," Hairston said. "Got to forget about it, got to have a short memory."
As for Hairston, as well as some of the other players in the defensive backfield, Kentucky defensive coordinator Brad White is not surprised to see them making plays.
"I think we talked about it going into this season – don't be surprised if some of these corners jump off and make plays," White said. "They showed it in the spring, they showed it in fall camp. In game one (Hairston) was seeing an individual tree and he wasn't seeing the big picture and seeing the forest. And that's what you would expect from a first-time starter. He's nervous, he's just trying to do right."
Since that time, White has seen vast improvement in Hairston and others.
"And now, he's gotten to the point now in game four where he's able to relax and just play," White said. "He's playing really well, Andru (Phillips) is playing really well opposite him. So, we need those guys to continue. How can they affect the game? They're going to have to cover. They're going to have to win some one-on-one balls. Everybody is going to push the ball downfield at some point. Some of those PI calls could go either way, whether it's a flag, whether it's not. He's going to have to have a short memory. He's going to have to continue to play well in his one-on-one matchups."
Now, Hairston, White and the Cats turn their attention to No. 22/23 Florida. The Gators visit Kroger Field on Saturday for a matchup in the SEC's Eastern Division. White knows that the Gators pose a big challenge for his defense.
"They're a really talented running football team," White said. "The first place you go is the running backs. (Trevor Etienne) and (Montrell Johnson) are as good as you'll find in this league. Etienne with his burst. (Johnson) with his strength really poses a huge issue. They're really patient, they set up their blocks. They don't get behind the sticks much."
White knows that the Cats' defense will need to be at its best on Saturday.
"It's a huge challenge," White said. "They are the best rushing team we've faced up to this point and probably one of the best, if not the best, we'll face this year."
Having a player like the ever-improving Hairston will be essential to the Cats' efforts against a nationally-ranked Florida team on Saturday.