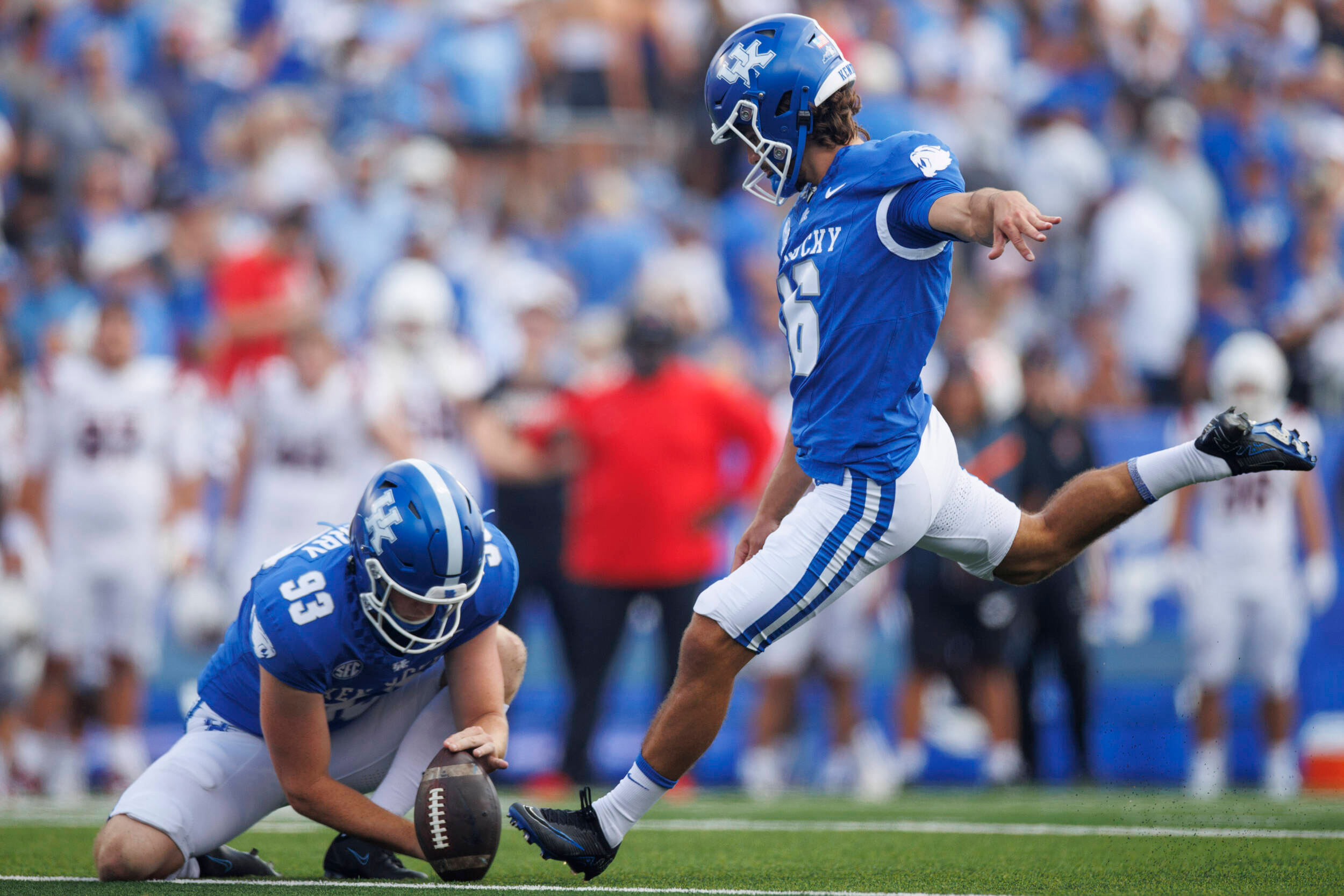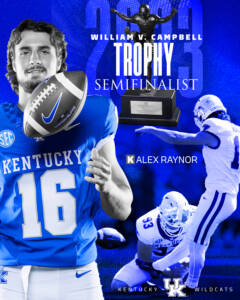 Graduate senior kicker Alex Raynor has been named one of a record-breaking 201 semifinalists for the National Football Foundation & College Hall of Fame (NFF) 2023 William V. Campbell Trophy®, college football's premier scholar-athlete award.
The new highwater mark eclipses the 199 nominees in 2000. The impressive list of candidates boasts an impressive 3.62 average GPA, with more than half of the semifinalists having already earned their bachelor's degrees.
Celebrating its 34th year, the Campbell Trophy® recognizes an individual as the absolute best football scholar-athlete in the nation for his combined academic success, football performance and exemplary leadership.
Raynor, a native of Kennesaw, Georgia, is a graduate transfer from Georgia Southern. He spent three seasons at Georgia Southern and made quite the mark for the Eagles on and off the field.
Academically, he excelled in the classroom as a three-time member of the Sun Belt Conference Academic Honor Roll. He was a five-time member of the honor roll at GSU and earned a spot on the Dean's List twice. Raynor graduated in May of 2023 from GSU with a degree in marketing and is currently working on an undergraduate certificate in business at UK.
On the field, Raynor currently ranks eighth on the NCAA's active career field goals list with 49 and is 10th on the NCAA's active career PATs list with 129.  While at GSU, he saw action in 36 career games, compiling 245 points. He hit 45-of-59 field goals for 76.3 percent which ranks fourth all-time in career field goals made and seventh in career field goal percentage at GSU. He hit 110-of-113 PATs (97.3) which ranks ninth on GSU's career list. His extra point percentage ranks fourth.
At UK, he has hit 4-of-4 field goals this season and all 20 PATs. He also is on the watch list for the Lou Groza Award given annually to the nation's top kicker.
The NFF will announce 12-14 finalists on Oct. 25, and each of them will receive an $18,000 postgraduate scholarship as a member of the 2023 NFF National Scholar-Athlete Class Presented by Fidelity Investments. The finalists will travel to the ARIA Resort & Casino in Las Vegas for the 65th NFF Annual Awards Dinner Presented by Las Vegas on Dec. 5, where their accomplishments will be highlighted in front of one of the most powerful audiences in all of sports. Live during the event, one member of the class will be declared as the winner of the 34th Campbell Trophy® and have his postgraduate scholarship increased to $25,000.
Nominated by their schools, which are limited to one nominee each, candidates for the awards must be a senior or graduate student in their final year of playing eligibility, have a GPA of at least 3.2 on a 4.0 scale, have outstanding football ability as a first team player or significant contributor and have demonstrated strong leadership and citizenship. The class is selected each year by the NFF Awards Committee, which is comprised of a nationally recognized group of media, College Football Hall of Famers and athletics administrators.
Kentucky returns to Kroger Field Saturday when it plays host to Florida at noon on ESPN. The game is sold out. UK Athletics urges fans to use caution against counterfeit and invalid tickets. Only tickets purchased directly through the following outlets are guaranteed to be valid:
The UK Ticket Office
FEVO
Visiting team ticket office
UK Athletics cautions against purchasing tickets through other outlets that may be unable to provide this assurance. That risk is magnified for sold-out games like Saturday's.
The game is sold out utilize the UK Athletics Official Marketplace powered by Ticketmaster.
The verified resale marketplace is completely integrated with UK Athletics' ticketing system and uses barcode verification technology to ensure the authenticity of all tickets. As the official fan-to-fan marketplace of Big Blue Nation, Ticketmaster provides fans with reliable and convenient access to purchase tickets for games and sections that otherwise may be sold out, as well as the ability to post verified tickets for sale. Fans are cautioned against purchasing tickets from any other outlets.