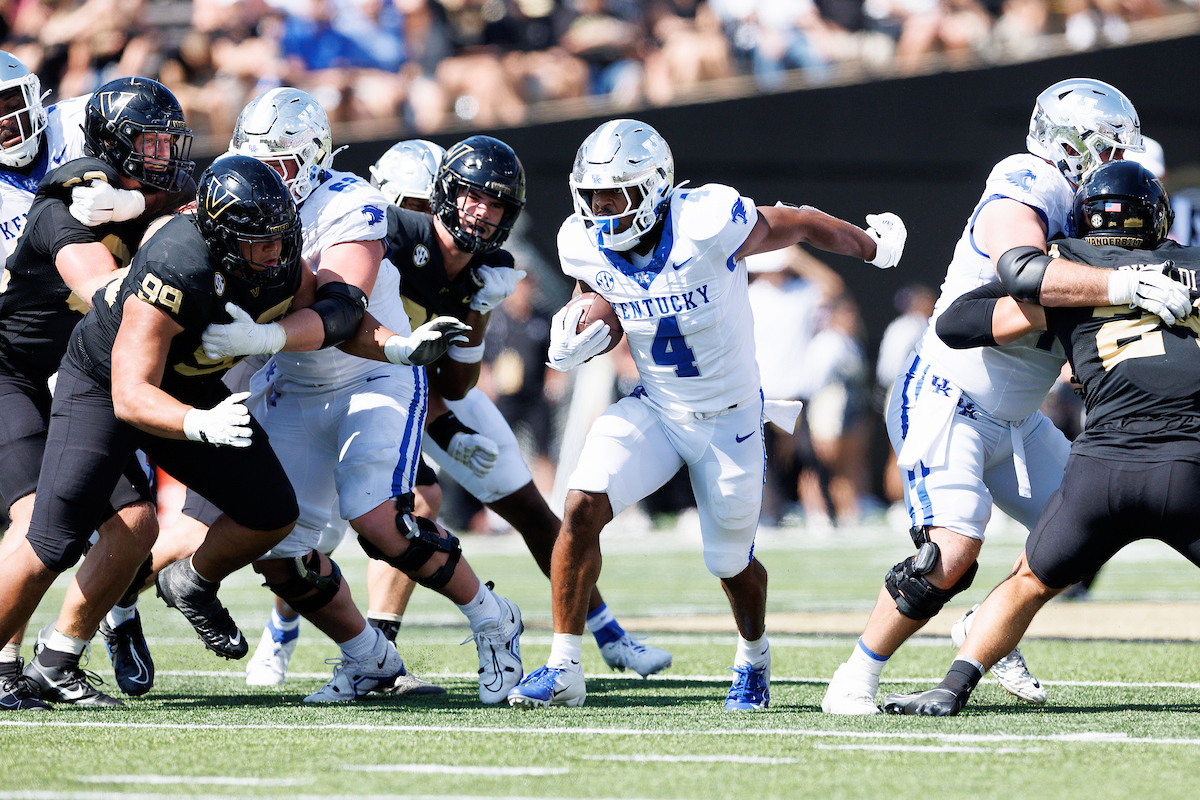 Kentucky is off to a 4-0 start after beating Vanderbilt 45-28 on Saturday in Nashville. This week, the competition level ramps up yet again as No. 22/23 Florida comes to Kroger Field for a noon ET kickoff.
The Cats have topped the Gators the last two seasons. But that has very little to do with this year's contest, according to UK head coach Mark Stoops.
"It really doesn't have any bearing on that game," Stoops said at his Monday press conference. "If it does for our players, if they come in locked in early in the week, that's the way I expect our team to be anyway. We're playing Florida, you know it's going to take a great effort, we're playing at home, we should have a great since of pride."
Stoops has a phrase that perfectly defines the attitude he wants his players to have.
"That term that we use a lot in our program is that divine discontent," Stoops said. "We know there's more out there. We know we can play better. That ought to be our motivation. We're still hungry. Nobody is content with what we're doing."
While the big win over Vanderbilt was good – any road win in the Southeastern Conference is – there are still plenty of things that the Cats can improve.
"I think there was a lot to build off of. Still more to improve on," Stoops said. "I thought we made some improvements in many areas. Pretty impressive performance defensively."
After making it through the first third of the schedule unbeaten, the Cats will see the competition level rise the next few weeks, beginning with the nationally-ranked Gators on Saturday. After falling in their season opener at Utah, Florida has won three games in a row. Stoops knows that his team will need to be sharp on Saturday.
"We're looking forward to a great opportunity this week with a Florida team that we know is extremely talented," Stoops said. "Very good team. A team we're used to playing for a long time. We look forward to getting back home."
Stoops has been impressed with what he has seen from Florida on tape.
"They've been dominant on the defensive side of the ball," Stoops said. "Offensively, very efficient. It starts with them being a physical football team. A great challenge."
Quarterback Graham Mertz, a transfer from Wisconsin who visited UK when he was in the transfer portal, has been good for Florida, according to Stoops.
"Graham has been very good with the football," Stoops said. "They have very few turnovers in general. He's been very efficient, very smart getting rid of the football and taking care of the ball and running their offense. He's played very well."
Kentucky hopes to continue its improvement this week against Florida. Stoops hopes that the divine discontent can motivate the Cats both this week and the rest of the season.