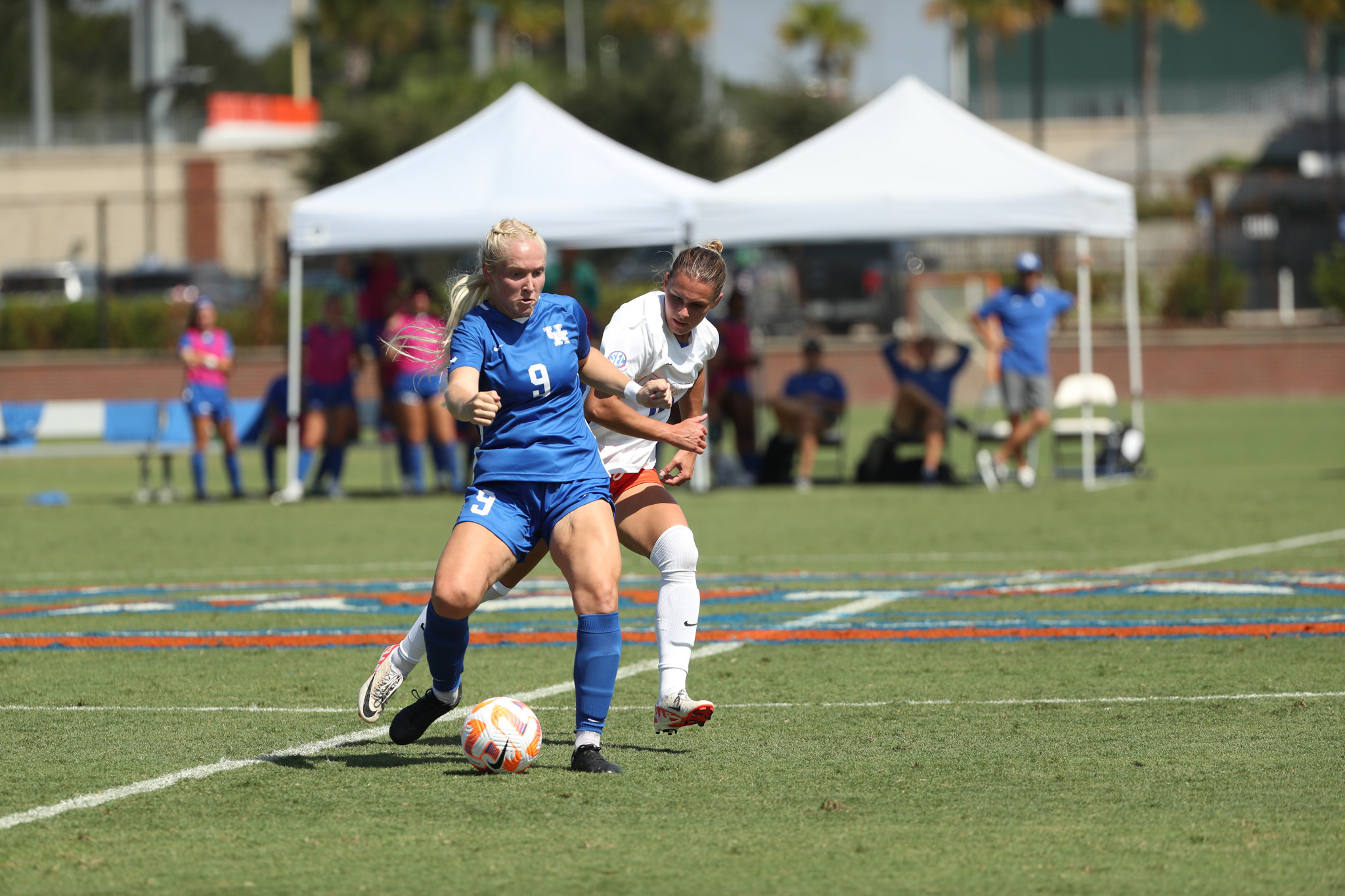 September 24, 2023 - 04:45 PM
Lacognato's Equalizer Helps Kentucky Draw Florida
GAINESVILLE, Fla. – Kentucky women's soccer (6-0-4, 0-0-3 SEC) continued its unbeaten season with a 1-1 draw against the Florida Gators (4-3-3, 0-2-1 SEC) on Sunday afternoon at Donald R. Dizney Stadium.
The draw is the third in a row for the Wildcats to open SEC play, giving the Cats three points in the conference this season, more than they had all of last year. Kentucky is now unbeaten through its first 10 matches for the first time since 2005, when the Cats got results in their first 11 matches.
Florida senior Emily Yapley scored in the 37th minute to give the Gators a first half advantage which they would take to the halftime break.
Kentucky had its first quality scoring opportunity in the 57th minute off a free kick by Grace Phillpotts from near midfield. Phillpotts' left-footed boot was headed up in the air by a Gators' defender before Úlfa Úlfarsdóttir got a clean look, heading the ball on frame and forcing a leaping save from Florida goalkeeper, Alexa Goldberg.
Energized by this chance, Kentucky eventually leveled the match in the 65th minute when forward Maya Lacognato scored her second goal of the season off assists from Tanner Strickland and Jordyn Rhodes. After the Wildcats were awarded a throw-in near the right corner flag, Strickland thew the ball into the box to Rhodes. Rhodes held off her marker, dribbled toward the endline and played a right-footed pass across the goal that was finished by Lacognato with her right foot.
The goal was the second of the season for Lacognato, a grad-transfer from IUPUI. For Strickland the assist was her team-best fifth this year, marking the most by a Kentucky freshman since Marissa Bosco had five in 2016. Rhodes registered the primary assist on the goal, her first helper this season, bringing the grad-student to 15 points overall.
The Gators led the Wildcats in total shots, 11-6, but the Cats gained the advantage in shots on goal, 4-3. Kentucky also owned a 3-1 edge in corner kicks on the afternoon.
The Wildcats return to action this Friday to face defending SEC Champion Alabama at the Wendell and Vickie Bell Soccer Complex. The match will be the second leg of a doubleheader at the Bell with Kentucky men's soccer scheduled to play UCF at 5 p.m. before the women hit the pitch at 7:30 p.m.
For the latest on UK Women's Soccer, follow the Wildcats on X and Instagram at @UKWomensSoccer, on Facebook and on the web at UKathletics.com.