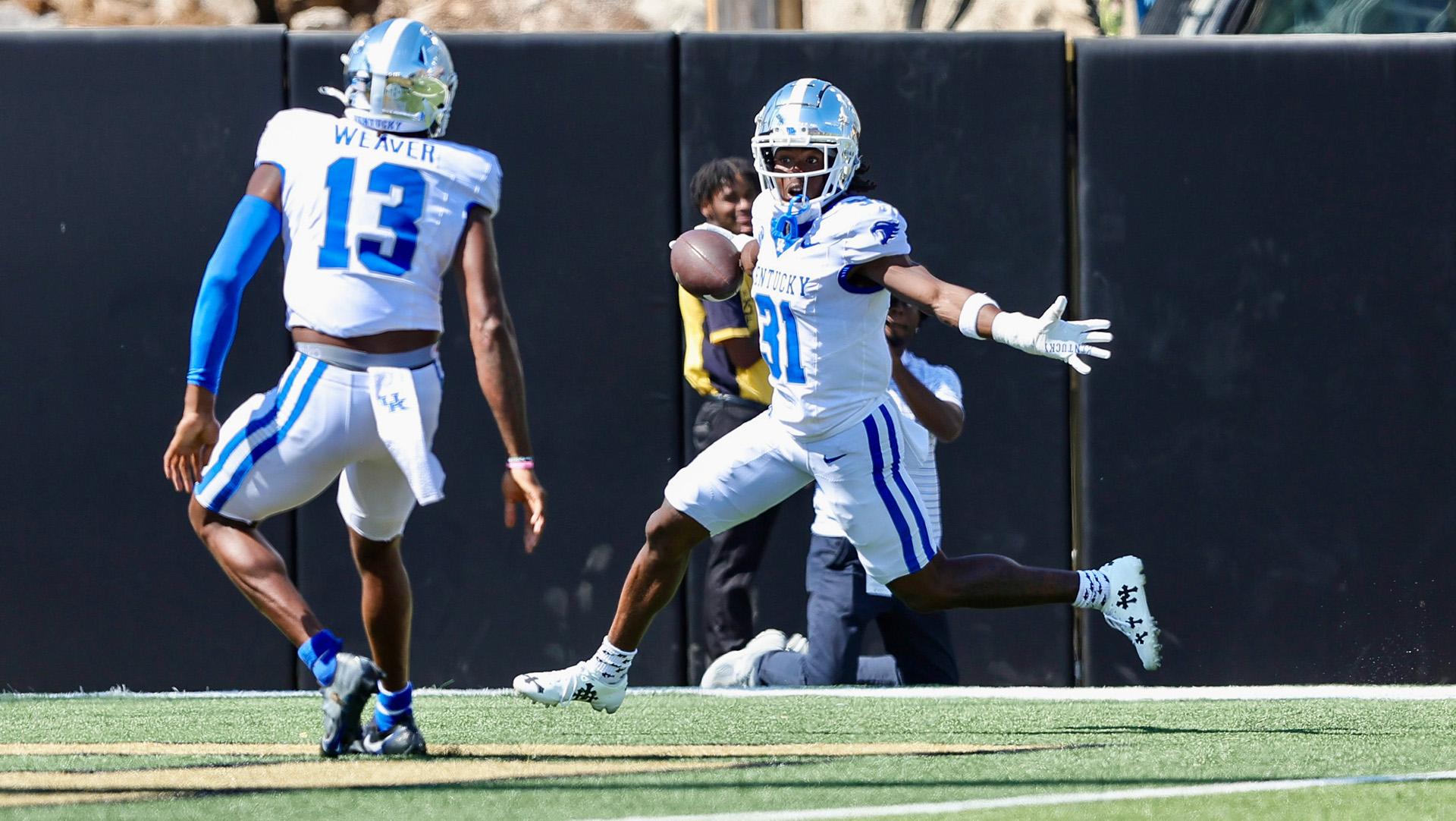 Prior to Saturday's game at Vanderbilt, the Kentucky defense had produced just one interception in three games so far this season. That changed in a big way in the Cats' 45-28 win in Nashville.
The lone Kentucky interception through the first three games came from sophomore Maxwell Hairston. That happened in week two against Eastern Kentucky. The West Bloomfield, Michigan, native was at it again on Saturday. In the process, he had perhaps the game of his life.
Hairston picked off Vanderbilt quarterback AJ Swann not once, but twice in Saturday's win. And not only did he intercept two passes, Hairston took both of them back for touchdowns, the first two scores of his career.
In the process, Hairston became the first player in UK history to have two interception returns for touchdowns in a game. For Hairston, he was simply doing what needed to be done.
"I was just doing my job," Hairston told SEC Network's Alyssa Lang after the game. "When you do your job, the ball just comes your way."
After Kentucky took a 7-0 lead, Hairston went to work. With Vanderbilt deep in its own territory, Hariston picked off Swann and took the interception down the right sideline for a 29-yard touchdown, giving the Cats a two-score lead in the process.
Then in the fourth quarter, Hairston did it again. This time, he picked off Swann at the UK 46 yard line then took off down the very same sideline on his way to his second touchdown of the game. Hairston was pleased with the effort of the UK defense on Saturday.
"We just came out here and did what we were supposed to do," Hairston said. "I love the result."
All of this from a player who entered this season with a total of two tackles and no interceptions.
It wasn't just the interceptions that Hairston contributed to the UK defensive effort on Saturday. He also broke up three passes and made four tackles. Hairston's effort impressed Kentucky running back Ray Davis.
"Did you see what Max did today? Two pick sixes," Davis told Lang after the game. "Crazy thing is, me and Max talked about this all week. This game meant so much to him. He made a statement today. Look at the man, he had a good day."
Saturday was the kind of day that football players dream of having. For Hairston, it was a dream come true in a game that he will never forget.