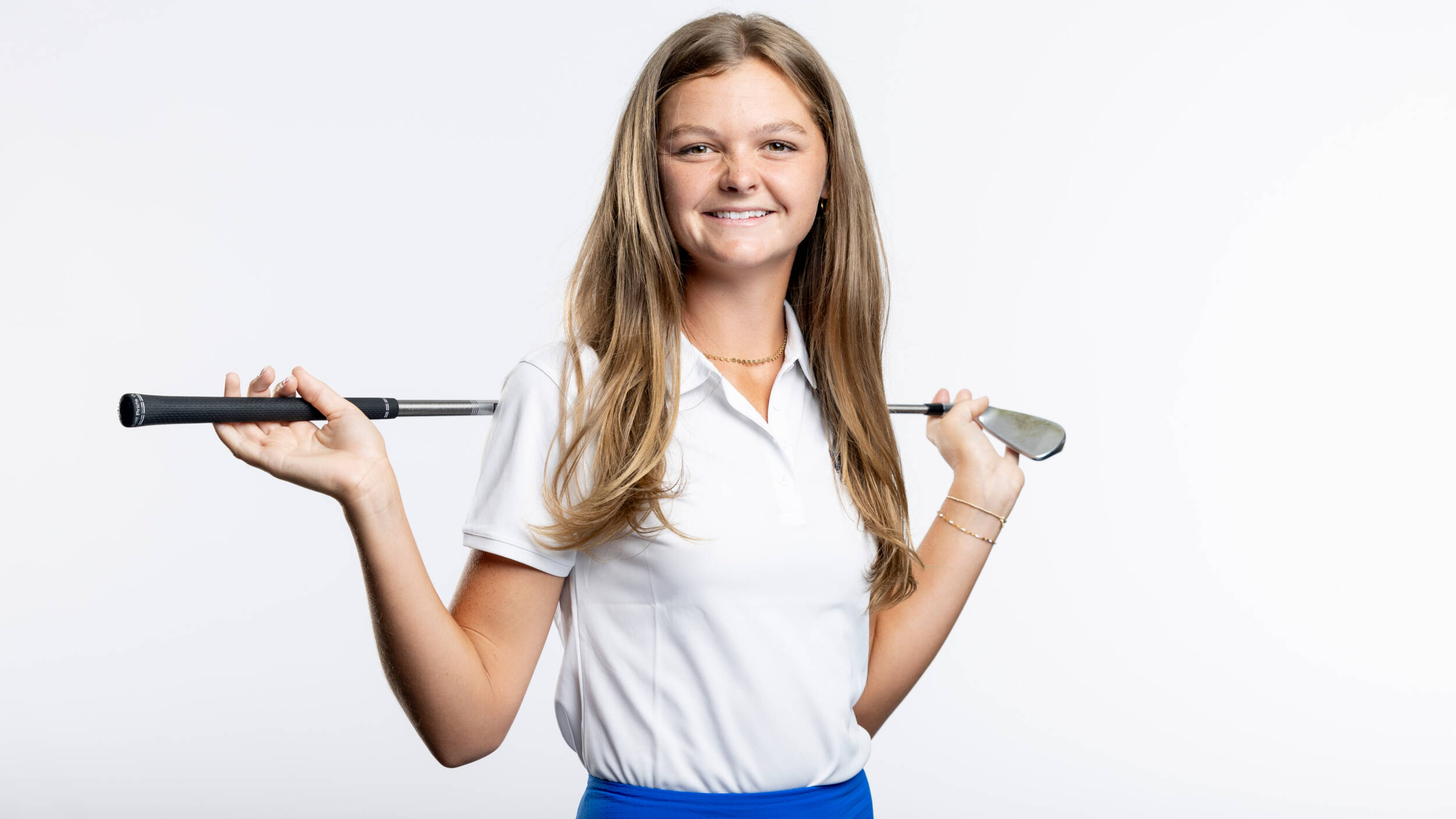 September 23, 2023 - 06:33 PM
Laney Frye is T2 after Mason Rudolph Championship Second Round
FRANKLIN, Tenn. – Laney Frye turned in another solid scorecard in the second round of the Mason Rudolph Championship at the Vanderbilt Legends Club (North Course) in Franklin, Tennessee, recording a 5-under-par 67 to climb up to a tie for second place Saturday. The University of Kentucky women's golf team improved to 1-under (575), as it remains in ninth place ahead of the final round. 
The Wildcats will play their final 18 holes alongside Arizona and South Carolina on Sunday, teeing off hole No. 1 beginning at 9:09 a.m. ET. 
They're 19 shots back from the leader Auburn, and they're just 10 shots back from dipping into the top five. Meanwhile, Frye approaches the final round in contention for an individual title. 
The senior followed up her 69 Friday with a 67 Saturday, earning a trio of birdies and an eagle on the 477-yard, par-5 No. 4. She found success on a different set of holes than she did in the first round, converting two pars and a bogey from Friday into two birdies and an eagle Saturday. 
She leads the field on par-3s, going 4-under on the short holes so far in the tournament. 
The Nicholasville, Kentucky, native is 8-under for the tournament thus far, sitting in a tie for second place with four others. The leader in the clubhouse is Ole Miss' Andrea Lignell, who has a two-shot lead at 10-under. 
Frye is in contention for the first medalist honor of her college career. 
Marissa Wenzler remained consistent Saturday, matching her first-round 71 with a second-round 71. The graduate student began her round 2-under through four holes, before tacking on a bogey and a birdie to wash each other out later on on the front nine. When she made the turn, she recorded a couple more bogeys and another birdie on the par-4 No. 15, a whole she bogeyed Friday, to close out her second 18.  
Wenzler, who boasts a 2-under-par 142 for a share of 21st place, is in the hunt for her second straight under-par tournament total this season and the sixth top-20 finish of her college career. 
Jensen Castle also remained consistent Saturday, matching her previous score of 1-over-par 73. Like Wenzler, the graduate student got off to a strong start, thanks to her back-to-back birdies on hole Nos. 3 and 4. She grabbed a trio of bogeys and 11 pars the rest of the round, giving her a 2-over for the tournament and a share of 49th place. 
Brooke Oberparleiter, UK's lone rookie in the lineup, found several hiccups on the course Saturday, recording five bogeys, one triple and just one birdie through her first 14 holes of the second round. However, she didn't let those blemishes affect her the rest of the way, as the freshman strung together three straight birdies on hole Nos. 16-18.  
With those under-par scores down the stretch, Oberparleiter finished the second round just 4-over, giving her a 7-over-par 151 and a share of 64th place ahead of the final round. She also continued her streak of five straight rounds contributed to the team total.
María Villanueva Aperribay went 6-over Saturday, as the graduate holds on to a 10-over-par 154 and is in a tie for 79th place. 
Fans are encouraged to follow along with live scoring in the final round, which can be found here. 
Scorecard
T2 Laney Frye 69, 67 … 136 (-8)
T21 Marissa Wenzler 71, 71 … 142 (-2)
T49 Jensen Castle 73, 73 … 146 (+2)
T64 Brooke Oberparleiter 75, 76 … 151 (+7)
T79 María Villanueva Aperribay 76, 78 … 154 (+10) 
For the latest on the Kentucky women's golf team, follow the team on Twitter, Facebook, and Instagram, as well as on the web at UKathletics.com.