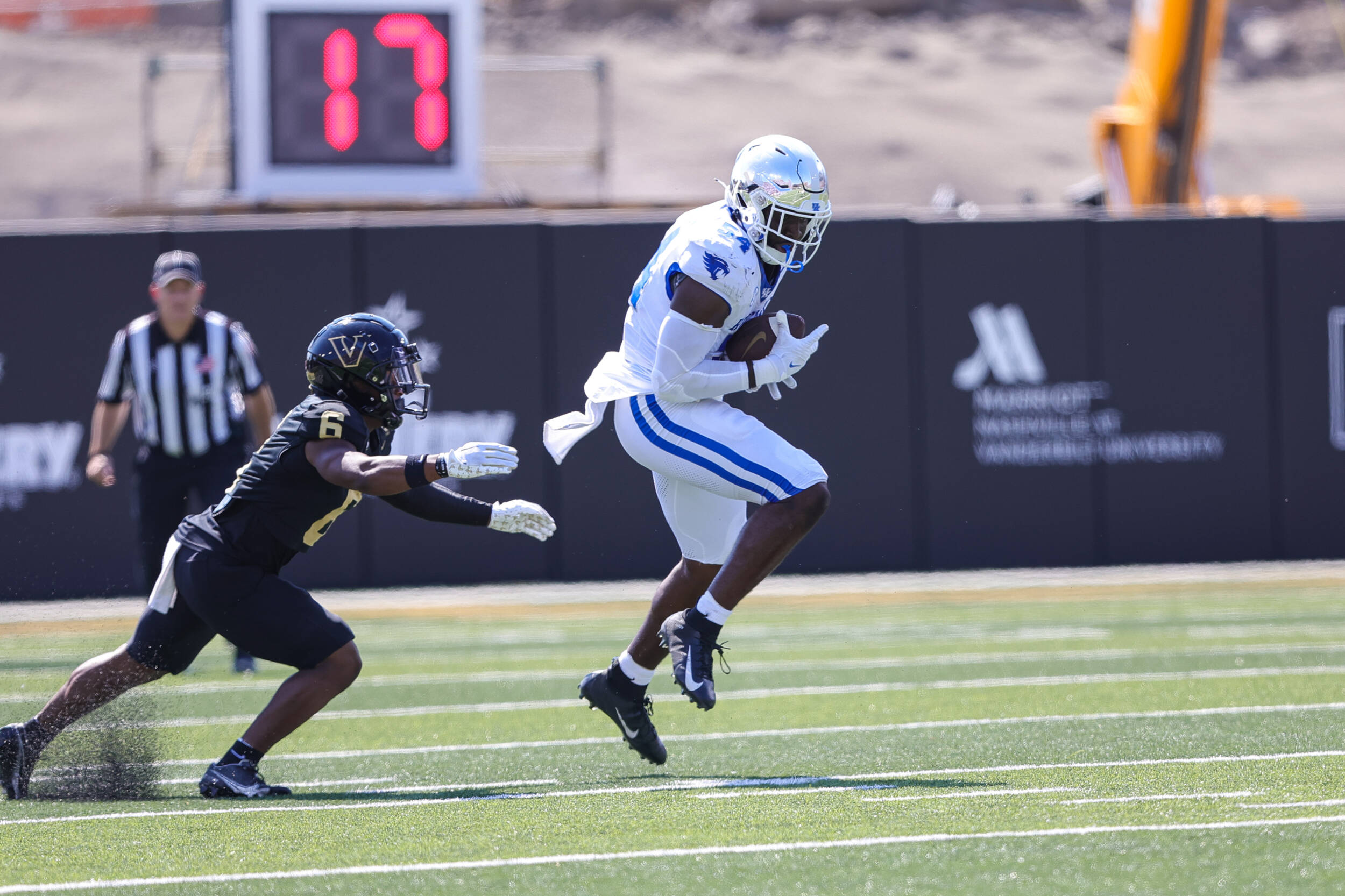 KENTUCKY FOOTBALL POSTGAME NOTES 
KENTUCKY at VANDERBILT
DUDLEY FIELD AT FIRSTBANK STADIUM – NASHVILLE, TENN. 
SEPT. 23, 2023 
FINAL SCORE: Kentucky 45, Vanderbilt 28
Team Records and Series Information
Kentucky is 4-0 on the season, 1-0 in the Southeastern Conference, while Vanderbilt is 2-3 overall, 0-1 in the league.
Kentucky leads the series, 49-43-4.
Kentucky now has won seven of the past nine meetings.
Vanderbilt leads the series in games played in Nashville, 28-22-4.
UK has won the last four meetings in Nashville, tying the Wildcats' longest streak in Music City.
UK also won four in a row in 1977, '79, '81 and '83.
In today's game, Kentucky scored its most points against Vanderbilt since 2005 (48 points in 2005).
Next for UK: The Wildcats return to Lexington for the SEC home opener against Florida.
Game time is set for noon ET and it will be televised on ESPN or SEC Network.  The TV assignment will be finalized following the conclusion of today's games.
Team Notes
Kentucky opened the season 4-0 for the third season in a row.
It is only the second time in history that UK has done that for three straight seasons, also in 1909-11.
Kentucky has won each of the last three SEC openers, marking the first time it has won three straight SEC openers since 1976-79.
UK scored 45 points, the first time since 2007 that UK has scored at least 28 points in its first four games of the season.
Kentucky has scored at least 26 points in each of the first four games of three consecutive seasons for the first time in school history.
UK won its first four games of the season by at least 11 points for the first time since 2018.
UK tied the school record for the most points scored in the first quarter in program history with its 21 points.
It marked the eighth instance in program history and the first since 2016 against Southern Mississippi.
Kentucky had back-to-back games with touchdowns on the opening drive.
Last week against Akron, a seven-play, 75-yard drive capped with a six-yard TD pass to Josh Kattus.
Today against Vanderbilt, a seven-play, 82-yard first possession ended with a 36-yard run by JuTahn McClain.
UK had two interception returns for touchdowns, both by Maxwell Hairston:
UK's first pick-six since Keidron Smith at Florida on Sept. 10, 2022.
UK has had at least one pick-six in the last four straight years and in their last two straight appearances against Vanderbilt in Nashville.
UK's first pair of pick-sixes, and first pair of defensive touchdowns, in the same game since Kelvin Joseph and Jamin Davis both had pick-sixes on Oct. 17, 2020.
UK limited VU to 97 rushing yards.
The Wildcats have held their opponents to less than 100 yards rushing in their last five games.
The Wildcats have held each of their first four opponents of the season to under 100 yards rushing for the first time since at least 1985.
Kentucky has allowed 28 points or less in its first four games of the season for three straight seasons for the first time since 1973-75.
UK has forced eight turnovers in the first four games, the most in its first four games since 2020.
UK has forced at least one turnover in each of the first four games for the first time since 2019.
UK has forced a turnover in eight consecutive regular-season games, dating back to last season, which is its most since 2016-17.
Coach Mark Stoops
Mark Stoops is in his 11th season as Kentucky's head coach, extending his school record for the most seasons as the UK head coach.
UK is 4-0 for the fourth time in the last six seasons under Coach Stoops, joining 2018, 2021 and 2022.
Stoops extended his school records for most total victories (70) and SEC victories (33).
After two games of the 2016 season, Stoops' record was 12-26, but he has gone 58-33 (.637) since.
Player Notes
Quarterback Devin Leary completed 15 of his 29 passing attempts for 205 yards and one touchdown.
Leary also had three carries for 12 net yards, including a career-long, 22-yard run for first down in the second quarter.
Running back Ray Davis had 17 carries for 78 yards and two touchdowns.
He became the first Wildcat to score a touchdown in the first four games of the season since La'Rod King in 2011.
He has the most touchdowns rushing through the first four games of the season (5) since Benny Snell Jr. In 2018 (7).
Running back JuTahn McClain had six carries for 64 yards and one touchdown.
He had a career-long, 36-yard touchdown rushing on Kentucky's first drive of the game, which marked the first touchdown rushing of his career and the third touchdown overall of his career.
Wide receiver Barion Brown had four catches for 105 yards, including two plays of at least 37 yards.
It marked his first 100+ yard game this season, and the third of his career.
He improved his streak of 17 straight games with a reception.
He becomes the fourth UK player with at least 100 yards receiving against Vanderbilt in Nashville in program history, and he is the first to do so since Derek Abney and Derek Smith in 2001.
Wide receiver Dane Key added four catches for 58 yards and a touchdown.
The sophomore caught a 22-yard touchdown pass for his second score of the season, the eighth of his career.
Defensive back Maxwell Hairston had two interception returns for touchdowns, four tackles, which were all solo tackles, and the first three pass breakups of his career.
The two interceptions marked his second and third of this season and of his career, while the touchdowns are his first and second as a collegian.
He is the first UK player to ever have two pick-sixes in one game.
He tied the Southeastern Conference record for interception TDs in a game, becoming became just the sixth player in league annals to have two pick-sixes in one game.
Defensive lineman Octvaious Oxendine led Kentucky with six tackles, which included four solo tackles, adding one quarterback hurry.
Defensive back Andru Phillips had five tackles, which were a team-high five solo tackles, adding one tackle for loss (1 yard) and one pass breakup.
Phillips also took the ball 49 yards down the field after D'Eryk Jackson intercepted and then tossed him the ball, setting UK up for its fourth touchdown drive of the game.
Inside linebacker D'Eryk Jackson had his first interception since 2021, and the third of his career, before making a lateral pass to Andru Phillips, setting UK up for its fourth touchdown of the game.
Inside linebacker Trevin Wallace was credited with a QB hurry on Vanderbilt's second drive of the game, which helped UK to its first pick-six of the season.
He added one solo tackle.
Outside linebacker J. Weaver also was credited with a QB hurry on Vanderbilt's second drive of the game, which helped UK to its first pick-six of the season.
He added two solo tackles and a pass breakup.
Kicker Alex Raynor connected on a 27-yard field goal and went 6-of-6 in point-after attempts.
The Wildcat has now made his last 10 straight field-goal attempts, a streak dating back to Nov. 5, 2022, during his time at Georgia Southern.
Game captains: Eli Cox, Devin Leary, Deone Walker, Trevin Wallace