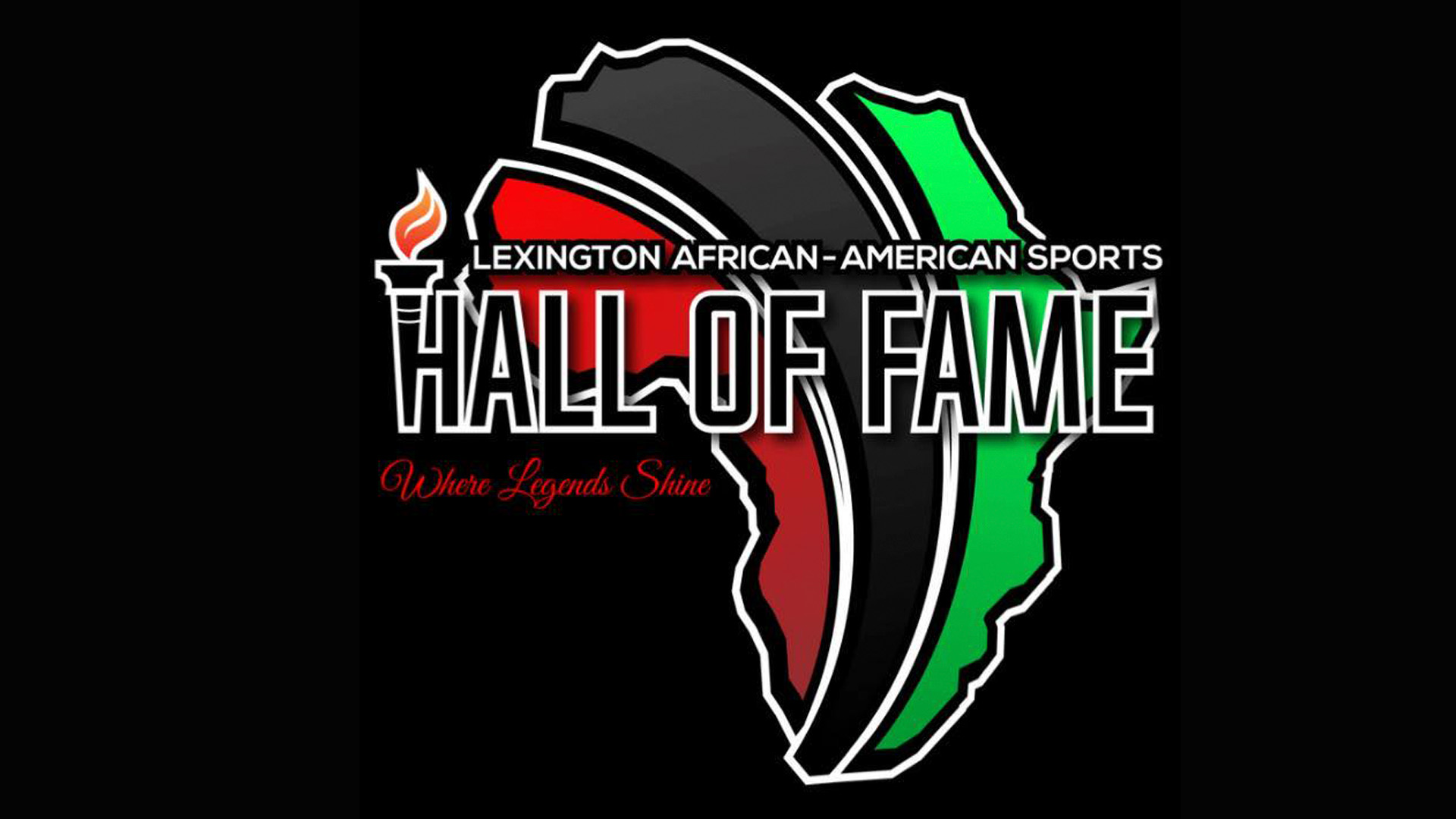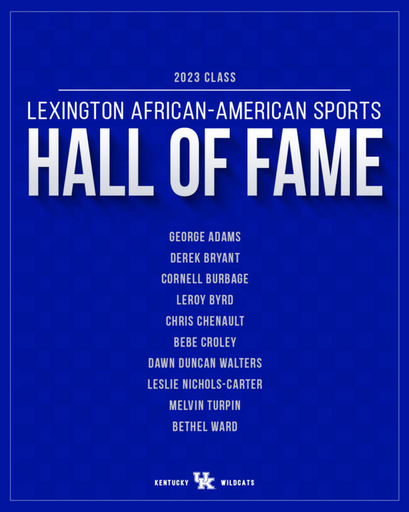 LEXINGTON, Ky. – The Lexington African-American Sports Hall of Fame (LAASHOF) will induct its 2023 class this weekend, including 10 former Kentucky Wildcats who shined in several different sports collegiately for UK Athletics.
Those with ties to UK Athletics include George Adams, Derek Bryant, Cornell Burbage, Leroy Byrd, Chris Chenault, Bebe Croley, Dawn Duncan Walters, Leslie Nichols-Carter, Melvin Turpin and Bethel Ward. More information on each inductee is listed below.
Adams, Burbage and Chenault were letterwinners for the Kentucky football program, while Byrd and Turpin played basketball for the Wildcats. Nichols-Carter and Croley are two of the best to ever play for the UK women's basketball program, while Bryant had a historic career for UK baseball and Ward was a Southeastern Conference Champion in track and field. Walters, the current UK dance team head coach, was a cheerleader for UK as a student.
The 2023 inductees were nominated by the public and hand selected by the founding members of LAASHOF. Tickets to attend the event are sold out. Fans can support the Lexington African American Sports Hall of Fame by donating at laashof.com.
George Adams
A stalwart running back for the Wildcats from 1981-84, Adams led the Wildcats in rushing and all-purpose yardage as a sophomore, junior and senior. His great 1984 campaign was topped by being named first-team All-SEC, UK's Most Valuable Senior, and UK's Most Outstanding Offensive Back. Adams led the Wildcats to Hall of Fame Bowl appearances in 1983 and 1984 and was chosen Kentucky's MVP of the 1983 bowl.
Derek Bryant
Bryant was the first African American baseball player in UK Athletics history, and he finished his Kentucky career as a two-time All-SEC honoree, with a career batting average of .369. The Henry Clay High School alum was drafted by the Oakland A's in 1973, where he played until 1981. After that, Bryant moved to the Mexican Professional League, as a player and a manager. He is a member of the UK Athletics Hall of Fame and Mexican Professional League Hall of Fame.
Cornell Burbage
A talented wide receiver in a run-heavy offense, Burbage had a good career with the Wildcats that led to him playing in 23 career NFL games with the Dallas Cowboys. He also spent time in the NFL with the Pittsburgh Steelers and Minnesota Vikings. At UK, Burbage tallied 25 receptions for 418 yards as a junior. His senior year was his best with Kentucky, leading the team with 24 receptions for 331 yards. He finished his collegiate career with 64 receptions for 988 yards.
Leroy Byrd
Byrd played three seasons for the UK men's basketball program, including his first two under legendary head coach Joe B. Hall. In total, he played in 38 career games, hitting 58.3 percent from the field. Bryd played professionally for the Harlem Magicians and in the World Basketball League for the Vancouver Night Hawks. He was an all-city performer at Bryan Station High School.
Chris Chenault
Chenault, who will be inducted into the UK Athletics Hall of Fame next weekend, is a four-year standout and second-leading tackler in school history for UK football. He totaled 482 tackles as a Wildcat, including 15 tackles for loss and three interceptions in his career, returning one for a touchdown. He earned several honors during his career, including All-SEC second team as a senior, Football News Sophomore All-America and Freshman All-America first team by Football News.
Bebe Croley
Croley was one of the best scorers and rebounders in UK women's basketball history, ranking top-10 all-time in each category when her career ended. She currently still sits top 10 in scoring average after leading UK in scoring for two seasons. A product of Hery Clay High School, Croley played two years with USA Select in Europe. She was a Parade All-American in high school and earned first-team all-state honors.
Dawn Duncan Walters
An accomplished cheerleader for the Wildcats as a student, Walters helped UK claim its first national championship in the sport in 1985. Currently, she is the head coach of UK's nationally recognized dance team. As the program's first African American head coach, she has led UK to its best finish in school history in the Hip Hop and Game Day divisions, finishing second in each in 2021. Walters has been instrumental in the growth of cheer and dance statewide.
Leslie Nichols-Carter
Nichols, a member of the UK Athletics Hall of Fame, remains one of UK's greatest performers on the hardwood as a three-time All-SEC honoree by the league's coaches. She still ranks top-10 all-time on UK's career scoring chart with 1,797 career points good for an average of 18.2 per game. She ranks top-10 in program history in double-doubles, fourth in steals, fourth in career rebounds and fifth in blocks.
Melvin Turpin
Turpin, an All-American center, played at UK from 1981-84 and ranks 16th in UK history with 1,509 career points and averaged 15.2 points per game as a senior. He was named a Helms Foundation All-American in 1983 and garnered All-America honors from the Associated Press, the National Association of Basketball Coaches, the U.S. Basketball Writers Association, United Press International and The Basketball Times in 1984. He went on to play five seasons in the NBA after being drafted by the Washington Bullets with the sixth overall pick in the 1984 NBA Draft.
Bethel Ward
An incredible athlete out of Lafayette High School, Ward won the 1981 SEC outdoor triple jump championship and was named first-team All-SEC as a Wildcat. He was a first-team all-state triple jumper in high school and helped Lafayette win the 1978 state championship. Ward started his collegiate career at Louisville, where he was an all-conference performer before transferring to UK.
About UK Athletics
UK Athletics is a leader in college sports, sponsoring 23 varsity sports teams (12 women's teams, 10 men's teams plus the coed rifle team) and hundreds of student-athletes, competing for championships, ensuring their education and well-being, and providing opportunities for the present and future.
About LAASHOF
The Lexington African-American Sports Hall of Fame, Inc. (LAASHOF, Inc., pronounced "lay-shoff") is comprised of a group of like-minded individuals who believe our local African-American sports heroes deserve to be commemorated in a special way. We are a nonprofit, 501(c)(3) corporation striving to uplift, unite, and reinvigorate our community by shining the spotlight on our sports stars from days gone by.