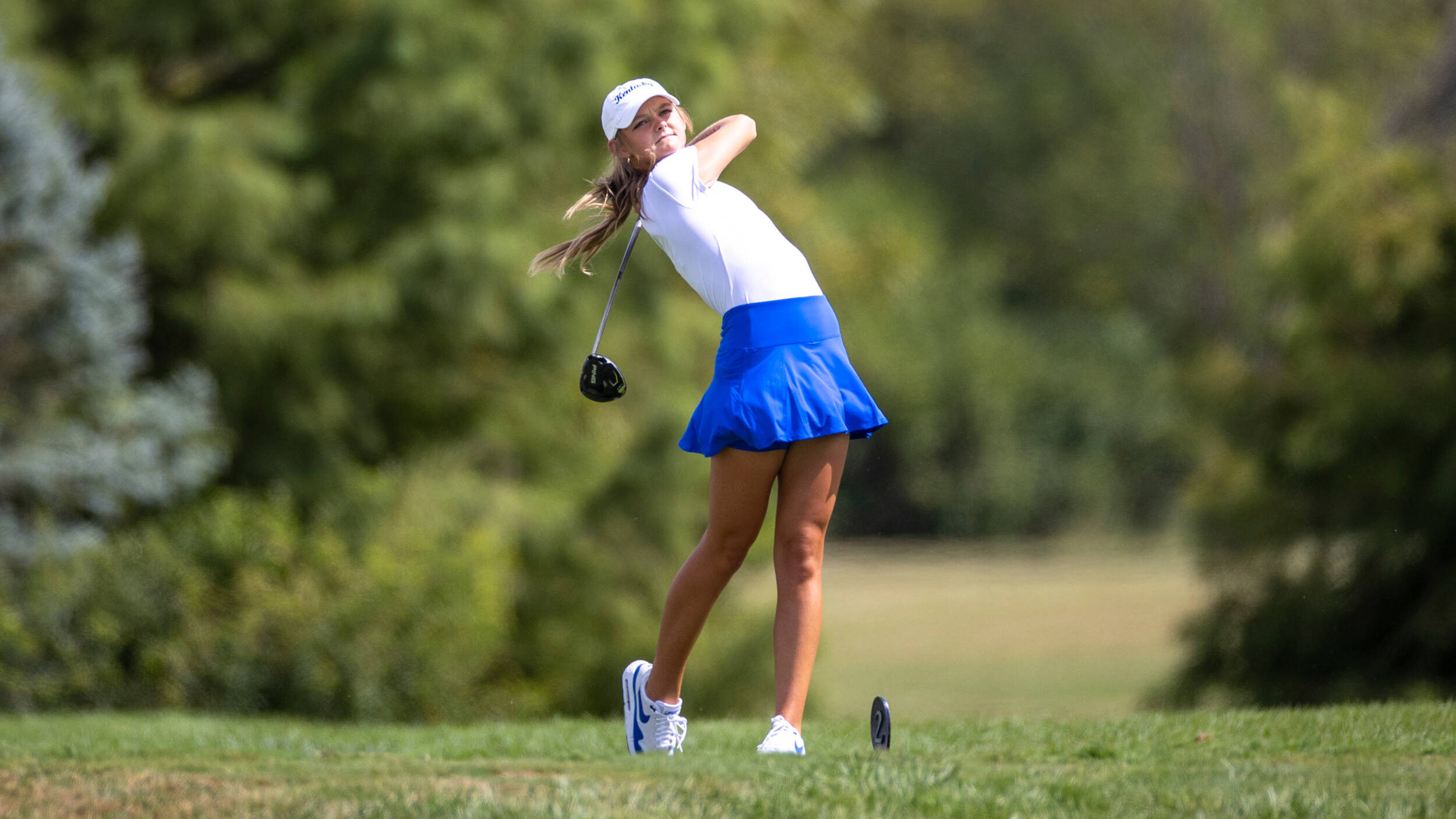 September 22, 2023 - 05:40 PM
Laney Frye, Marissa Wenzler Go Under Par in the First Round
FRANKLIN, Tenn. – Laney Frye and Marissa Wenzler both went under par in the first round of the Mason Rudolph Championship at the Vanderbilt Legends Club (North Course) on Friday, as the University of Kentucky women's golf team shot even-par 288 to find ninth place.
The Wildcats still have 36 holes to play – 18 Saturday and 18 Sunday – with the top three teams in the field currently boasting at least an 8-under.
Auburn is leading the Mason Rudolph Championship at 14-under, followed by Arizona State (-11) in second place and host Vanderbilt (-8) in third place.
Frye, a Nicholasville, Kentucky, native, is pacing the lineup for the second straight tournament this season, assembling a 3-under-par 69. She got off to a hot start, going birdie-par-birdie through her first trio of holes, which allowed her to momentarily share the lead. She suffered a couple of bogeys late on the back nine, where she started, that pushed her down the leaderboard. Though, two birdies and seven pars on the front nine, her second nine holes of the first round, put her right back in contention, as the senior sits in a tie for eighth place.
Ami Gianchandani of Auburn is currently leading the tournament at 8-under.
Just two strokes behind Frye, teammate Wenzler produced a 1-under-par 71.
It marked both Frye's and Wenzler's third rounds under par so far in 2023-24.
All of Wenzler's action happened within a seven-hole stretch right in the middle of her round. During that span, she had two bogeys, but she rallied three birdies and a pair of pars, before finishing the first round on six straight pars. The graduate student from Dayton, Ohio, is currently in a tie for 23rd place.
Another two strokes behind her, Jensen Castle put together a 1-over-par 73 Friday. The graduate student had a strong start, going 1-under through her first five holes, and a strong finish, ending the first round on a birdie-birdie-par series, but her five bogeys spread across the 18 holes was too much to overcome. The Wildcat has a share of 43rd place with 36 holes to go.
Again, two more strokes behind Castle is freshman Brooke Oberparleiter.
The rookie continues her streak of four straight rounds contributed to the team total, thanks to her 3-over-par 75. She capped the first round strong with four straight pars on hole Nos. 6-9, while she is in a tie for 59th place.
María Villanueva Aperribay recorded a 4-over-par 76 in the first round, despite attempting to make a comeback on numerous occasions. The graduate student is tied for 70th place.
Kentucky performed well on the par-3s Friday, averaging a 2.95 (-1) on the short holes. In fact, Frye led the field on par 3s. Of the four par-3s on the course, she birdied three of them.
The Wildcats are back in action Saturday, teeing off in the second round beginning at 9:39 a.m. ET. The Cats will go off the first tee, paired with Arizona and LSU.
Scorecard
T8 Laney Frye 69 (-3)
T23 Marissa Wenzler 71 (-1)
T43 Jensen Castle 73 (+1)
T59 Brooke Oberparleiter 75 (+3)
T70 María Villanueva Aperribay 76 (+4)
For the latest on the Kentucky women's golf team, follow the team on Twitter, Facebook, and Instagram, as well as on the web at UKathletics.com.