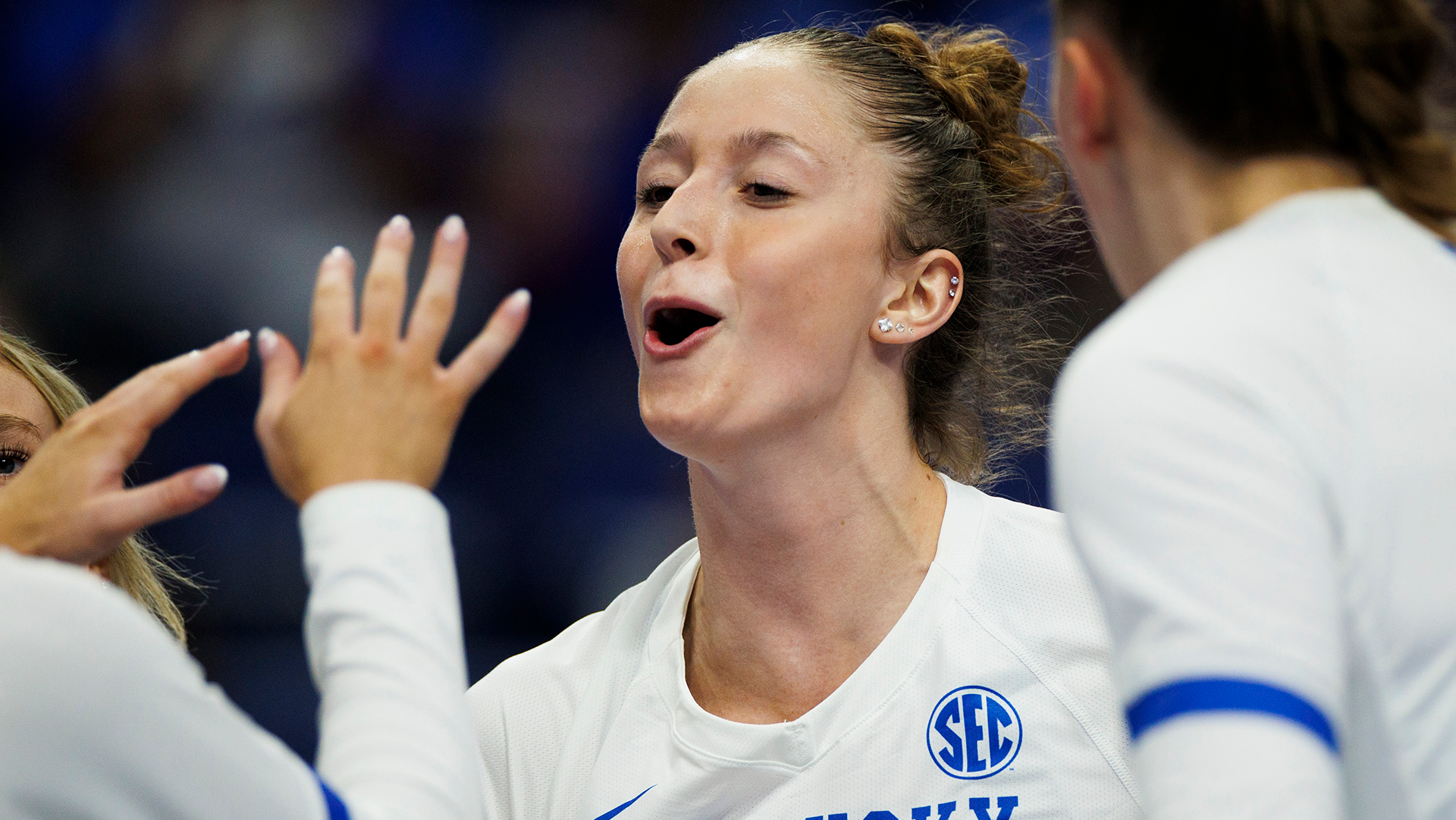 September 22, 2023 - 10:34 PM
Brooklyn DeLeye Steps Up for UK Volleyball on Friday
The Kentucky volleyball team was without its top point scorer, Reagan Rutherford, in Friday's Southeastern Conference opener against LSU. Head coach Craig Skinner and the Cats needed someone to step up in a big way to get conference play off to a good start.
Enter freshman Brooklyn DeLeye.
The Topeka, Kansas, native had the best match of her young career on Friday as the Cats rallied to beat the Tigers 3-1 inside Rupp Arena.
DeLeye, who was the Kansas 6A Player of the Year as a high school senior last season and one of the top recruits in the country, had a career high 19 kills, a career high seven digs, hit a career high .444 and added a block assist in Friday's victory.
The match started well for DeLeye. She had kills on five of her first six swings. In the first set, she had six kills on eight swings, hitting .750. Her hot start continued in the second set as she got a kill on her first swing in that stanza.
DeLeye's previous career high in kills prior to Friday was 13, which she had accomplished twice this season. On Friday, DeLeye had 12 kills through two sets and had 14 through three sets on her way to the career best 19. Skinner could see that this kind of match was on the horizon for the freshman.
"Brooklyn's been training really hard in practice," Skinner said. "This night was coming. It was good to see her score in a variety of different ways. She's never played back row for us and she did that the whole match. Props to her."
DeLeye scored in a variety of ways on Friday. She used her power, both up front and from the back row, but also had a couple of crafty plays that resulted in kills. She says that she's just trying to find a way to get the ball on the floor.
"I was just trying to find the open court, to be honest," DeLeye said.
For DeLeye, Friday's match was about showing support for Rutherford as she had to sit out.
"I think we took Reagan being out to step up and have her back," DeLeye said. "Having an injury is tough. We just wanted to show our support to her and have everyone step up."
DeLeye also knew that getting off to a good start in conference play was a must.
"I knew it was the first game of SEC and we had to come out with fire," DeLeye said. "It was just a big game to show what we were made of."
Without Rutherford on Friday night, the Cats got big efforts from several players, but none bigger than DeLeye.