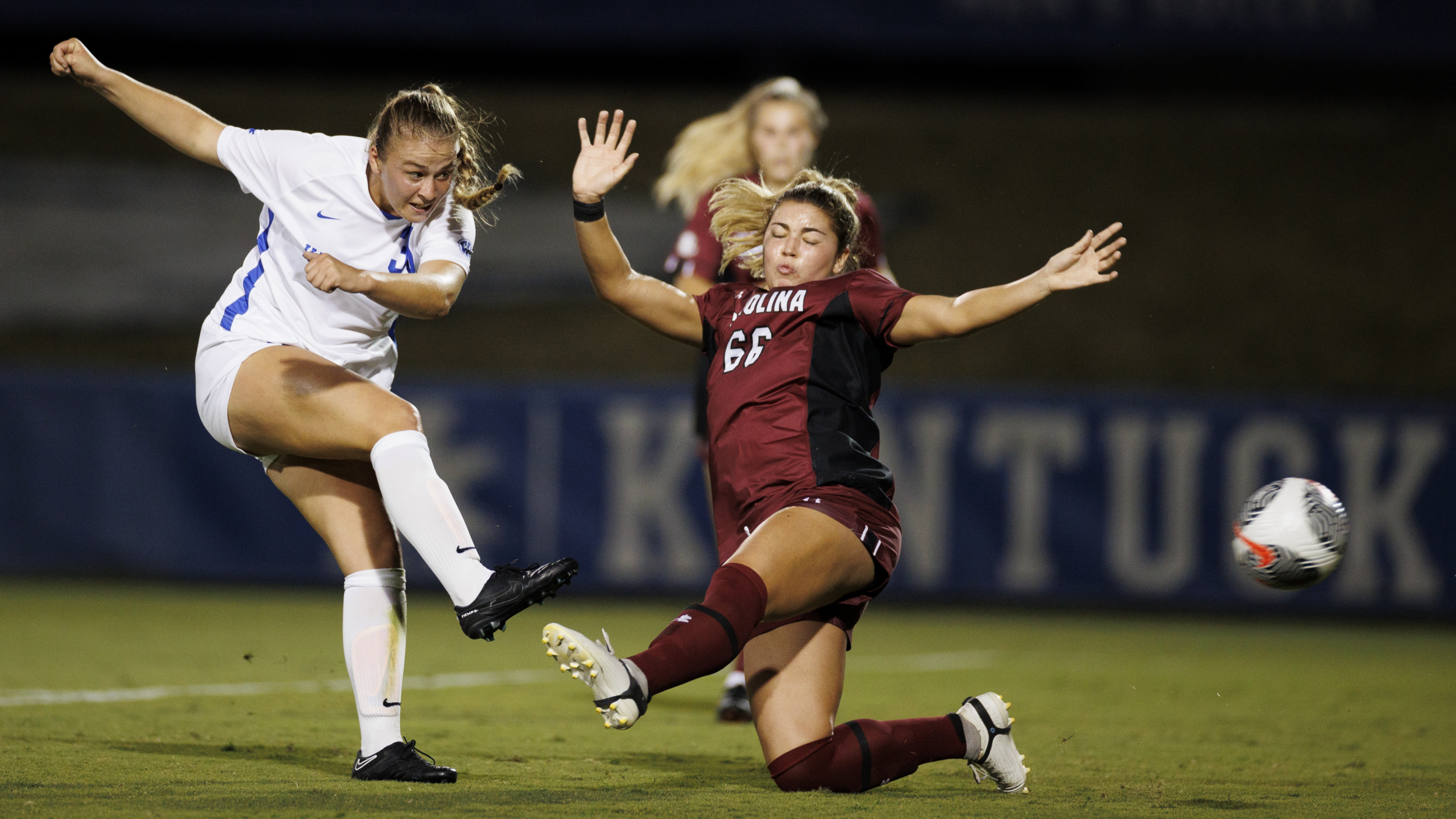 September 21, 2023 - 10:58 PM
Kentucky Takes Point vs. No. 7/8 South Carolina, Remains Unbeaten
LEXINGTON, Ky. – Kentucky women's soccer (6-0-3, 0-0-2 SEC) earned a draw against No. 7/8 South Carolina (7-1-2, 1-0-1 SEC) on Thursday night, playing to a 0-0 result in front of the home crowd at the Wendell & Vickie Bell Soccer Complex in the team's 2023 SEC home opener.
The point is the first for Kentucky against the Gamecocks since 2014, snapping a streak of seven-consecutive losses against SC. UK has now earned results in its opening two SEC matches this season. The Wildcats' nine-match unbeaten streak to begin the 2023 campaign is their longest to start a season since 2005, when the Cats began the year with results in their first 11 contests.
The Wildcats held the Gamecocks without a single shot in the match while firing off nine shots of their own, five of which were on target. UK also had a significant advantage in corner kick opportunities, generating six corners to SC's one. The shutout was the sixth clean sheet for the Cats this season.
The night's best chances all belonged to the Wildcats. In the 23rd minute, UK transitioned through the midfield down the left side of the pitch before outside back, Grace Phillpotts played a ball into the box for Jordyn Rhodes. Rhodes gathered near the penalty dot, fending off her marker to put a right-footed shot on frame which was saved just inside the left post by South Carolina keeper Heather Hinz.
Kentucky threatened again in the 59th minute as Anna Young took a pass from Maya Lacognato and struck a left-footed shot from more than 20 yards out which glanced off the fingertips of Hinz before ringing off the crossbar. Another quality opportunity arose in the 79th minute when Phillpotts played a long-range free kick toward the left post which was initially dropped by Hinz, allowing Kentucky's Mia Bookhard and Maggy Henschler each to take a swing before the Gamecocks' keeper collected again.
Kentucky's starters logged significant minutes in the contest, with seven Cats playing a full 90 minutes while three others clocked at least 84 minutes on the field.
The Wildcats get right back on the pitch this Sunday when they are slated to visit Florida in Gainesville. The match will begin at 2 p.m. and will be nationally televised live on ESPNU.
For the latest on UK Women's Soccer, follow the Wildcats on X and Instagram at @UKWomensSoccer, on Facebook and on the web at UKathletics.com.