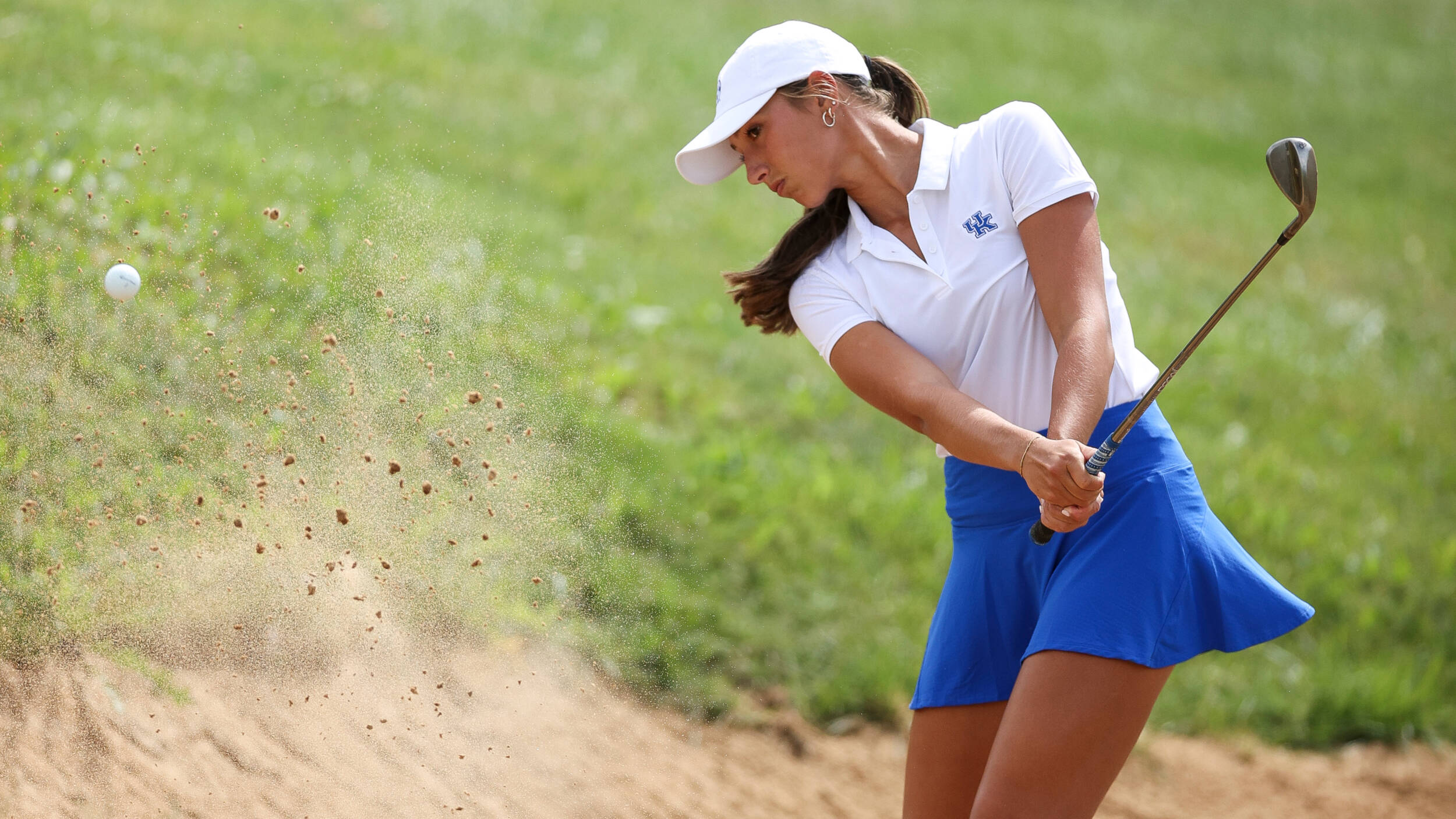 September 21, 2023 - 09:54 AM
Kentucky Takes On Strong Field at the Mason Rudolph Championship
FRANKLIN, Tenn. – The University of Kentucky football program isn't the only team competing in the greater-Nashville area this weekend. The Wildcats' women's golf team, a group that is on a record-breaking streak of late, will compete at the Mason Rudolph Championship at the Vanderbilt Legends Club (North Course) in Franklin, Tennessee, from Sept. 22-24. 
 Kentucky is paired with Alabama and Charleston for the first round Friday, teeing off the tenth tee beginning at 10:29 a.m. ET. 
UK's veteran-heavy lineup, which includes Laney Frye (68.6), a Nicholasville, Kentucky native, María Villanueva Aperribay (70.0), Jensen Castle (69.6) , Marissa Wenzler (70.6) and Brooke Oberparleiter (71.6), will aim for another top-five finish in its second of four fall tournaments this season. 
Through one tournament in 2023-24, all five players are averaging rounds under par. 
The 18-team field at the Mason Rudolph Championship, which features seven teams ranked in the Women's Golf Coaches Association Top 25, includes Alabama, Arizona, No. 14 Arizona State, No. 9 Auburn, No. 12 Baylor, UCLA, Charleston, Chattanooga, Denver, Florida Atlantic, Kentucky, No. 4 LSU, Louisville, Middle Tennessee, No. 16 Ole Miss, North Carolina, No. 7 South Carolina and No. 17 Vanderbilt. 
The Wildcats have met just three of those teams thus far in 2023-23, at their season opener at the Cougar Classic in mid-September, including Charleston, LSU and Ole Miss. The Cats finished in fifth place out of 17 teams at the Cougar Classic, with several notable performances coming out of the first tournament of the season. 
UK's tournament total of 832 (-20) marked the third best in program history, while its first round of 270 (-14) marked the second-best, 18-hole round in program history. Meanwhile, Frye came out of the gate hot, recording a 64 (-7) in the first round, the second-best, 18-hole round of her college career. 
Similar to the Cougar Classic, the upcoming tournament is a familiar one for most of the lineup.  
The Wildcats have competed at the Mason Rudolph Championship at the Vanderbilt Legends Club (North Course) for the past two straight seasons, earning ninth place (+13) in 2022 and fourth place (-3) in 2021.  
Castle, now a graduate student, has had some individual success at the Mason Rudolph Championship, earning a pair of top-15 finishes in UK's last two stops at the tournament. In fact, in 2021, she earned the third-best tournament total of her college career there, a 208 (-8) to finish in a tie for third place. 
Fans  traveling to Nashville for the Kentucky-Vanderbilt football game Saturday are encouraged to also catch the women's golf team in action at the Mason Rudolph Championship. Otherwise, fans can follow along with live scoring here. 
For the latest on the Kentucky women's golf team, follow the team on Twitter, Facebook, and Instagram, as well as on the web at UKathletics.com.