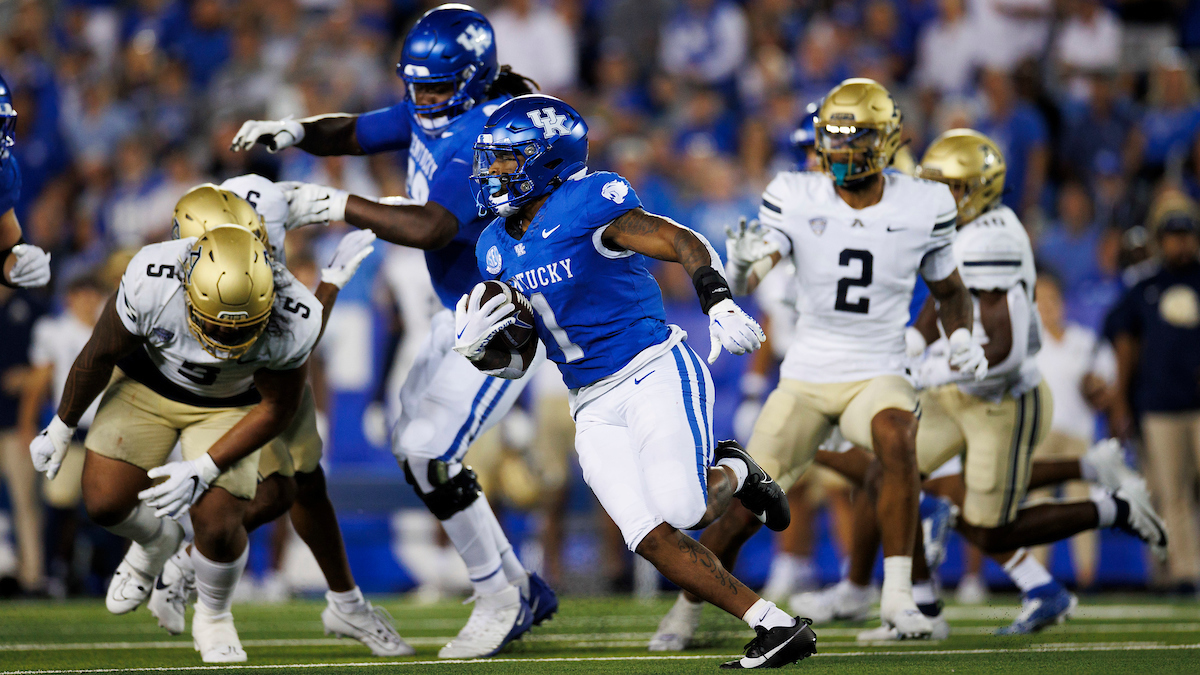 The main storyline for this week's Kentucky-Vanderbilt football game seems obvious – UK running back Ray Davis returning to Nashville to face the team that he played for the last two seasons.
While Davis may be the center of attention, he knows that this game is more about the Cats and the 'Dores than just him.
"The biggest thing I've told a lot of people is, it's not Ray Davis versus Vanderbilt, it's Kentucky football versus Vanderbilt," Davis said. "That's the kind of mindset I've been able to have. I'm just attacking it like a normal game. Not trying to get too high, not trying to get too low."
Ironically, when the Commodores upset the Cats 24-21 at Kroger Field last season, it was Davis who did much of the damage for VU. Davis rushed 26 times for 129 yards and a touchdown. He also caught a one-yard touchdown pass in the upset win.
Davis will be glad to see his former teammates, some of whom remain friends. But he also knows that once the game kicks off, it's time to get down to business.
"It's definitely exciting to get on the field and see those guys and warm up and have (conversations) pregame," Davis said. "Once the game starts, that friendship is gone. They're competitors and we're trying to win a game and they're trying to win a game. I don't think there will be much love during the game but after the game I think we'll be able to express some love after that."
Davis has fond memories of his time at Vanderbilt and he knows that he left his mark on the Commodores' program.
"I think I finished 10th in Vanderbilt history, going for 1,000 yards," Davis said. "So, being on that field again and knowing I'm forever cemented there. Just knowing that, it will be emotional but I'm trying to go out there and get a win. I'm not on Vanderbilt any more, I play for Kentucky and that's all that matters."
Davis knows the Vanderbilt defense very well, having faced many of the same players in practice last season.
"A lot of those guys are still my friends to this day," Davis said. "CJ Taylor he's a heck of a player. He's going to give 110 percent. They've got some real good players. You've got to give them their respect. I got to go against them in fall camp last year. I love those guys but when Saturday comes, that love is gone and I'm trying to go get that 'W'."
Davis is on the other side of this Southeastern Conference showdown for 2023. Through three games this season, Davis leads Kentucky with 33 carries for 236 yards and three touchdowns. He has also caught nine passes for 143 yards and two scores. Davis and UK quarterback Devin Leary seem to be developing a chemistry, something that started in fall camp.
"We talked about a lot of different stuff," Davis said. "We had some good chemistry during fall camp. We've got to be on the same wavelength, and we've been getting better at that."
Davis hopes for a happy return to Vanderbilt this weekend in a game when he will be wearing blue instead of gold.