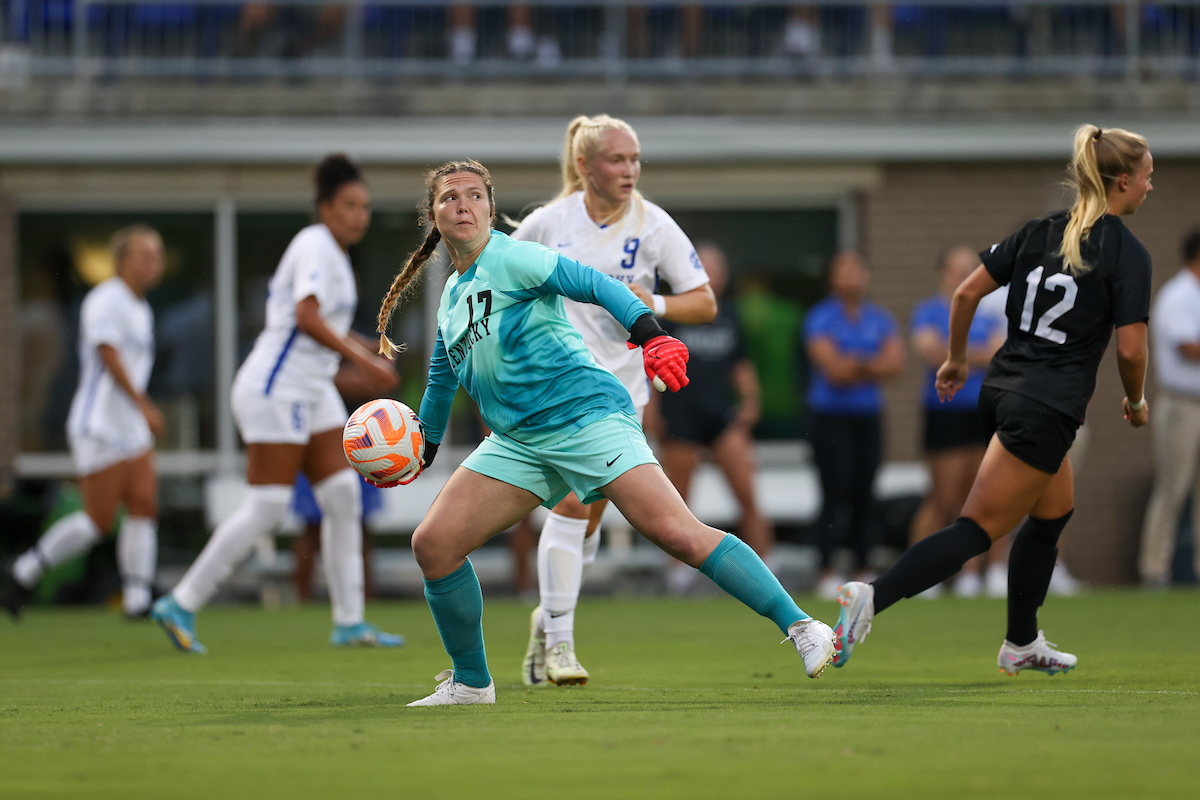 September 19, 2023 - 01:35 PM
Marz Josephson Thriving in First Season at UK
The Kentucky women's soccer team has gotten off to an unbeaten start this season. The Cats have a number of new players on the roster, including standout goalkeeper Marz Josephson, who has made a huge impact on the 2023 Cats.
Josephson is a transfer student who spent her first four years of collegiate soccer at North Carolina. Despite this being her first season at UK, Josephson has veteran experience and talent and has earned the role of full-time starter for the first time in her career.
"I know it's my first year here, but I feel like I have a lot of experience," Josephson said. "I mean it's my fifth year in college, so if I don't have that experience already it's on me."
Transferring schools and joining a new team, and conference, comes with many challenges. Josephson knows that the mental toughness she has developed in this season of transition and change has been important.
"Mental toughness is something I have struggled with in the past," Josephson said. "Just having the self-confidence and self-belief in myself is something I have worked on through undergrad. Obviously, it's always a work in progress and you're always going to have your ups and downs, but I'm not here to prove anything to anyone else. Predominately, I just have to know it and prove it to myself, and the rest will fall into place."
Josephson spent her first four years of collegiate soccer competing in the ACC. Now, competing at an SEC school, she touched on the differences she has noticed between the competition and rivalries.
"I feel like both conferences are at a high level," Josephson said. "The ACC definitely has more of an emphasis on tactical and technical ability. Not to say that the SEC doesn't have athletes like that, but I think the SEC is more of a physical conference. You have to be more athletic, make harder tackles, there's people running into each other more, it's quicker, and more running. There's not a right or wrong, they're just different."
Earning the job as the starting goalkeeper comes with a certain amount of pressure, which affects the way she must prepare and train for every game. Josephson is using the pressure to her advantage and has found that it has instilled a new passion and desire for the game within her.
"I really haven't put a lot of thought into starting," Josephson said. "I'm really just enjoying soccer, not that I didn't love soccer before coming here, but it's been a good change of scenery that has made me re-fall in love with the game. Not that it felt like a job, but now it's a new passion."
Josephson argues that goalkeepers possess a greater amount of pressure and risk as opposed to other positions.
"With the nature of the position, the stakes are a little higher," she said. "If a forward misses the ball or a midfielder makes a mistake, it's just a turnover. But if I make a mistake, more than likely, the ball is in the back of the net. In that sense there is more pressure. One of my coaches said, there are 22 people on the field. 20 of them are chasing the ball around and two of them are smart enough to wait for the ball to come to them."
Josephson is a strong addition to the Kentucky women's soccer program and still has a lot to give and prove for the remainder of the season. Thus far, both she and the team are off to a fine start.