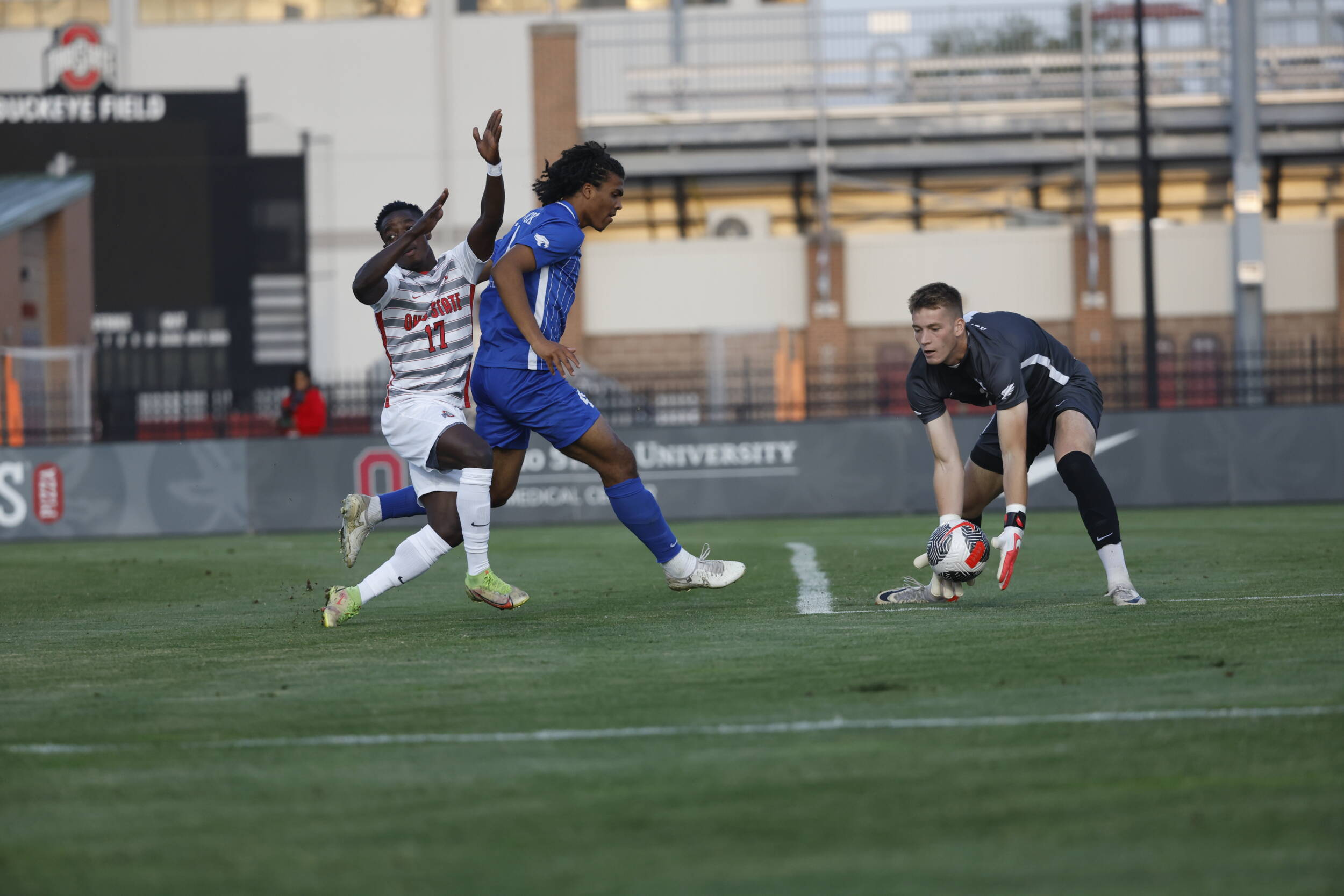 September 19, 2023 - 09:58 PM
Kentucky Falls to Ohio State in Columbus, 0-3
COLUMBUS, Ohio. – Kentucky men's soccer (3-4-0, 0-1-0 Sun Belt) fell 0-3 to Ohio State (2-3-2, 0-1-0 B1G) on Tuesday at the Jesse Owens Memorial Stadium.
The first 45-minutes of regulation ended with the Wildcats and Buckeyes tied scoreless. However, Ohio State did not waste time in the second half with an unassisted breakaway goal by Michael Adedokun following a blocked corner kick by Isaiah Chisolm.
With Kentucky trying its best to even the score, Ohio State found another goal 10 minutes later in the 61st minute. Luciano Pechota, assisted by Marko Borkovic, found an opportunity with Casper Mols out of the net to score the second goal of the night.
Two minutes later, Pechota scored a brace to put the Buckeyes up 3-0 over Kentucky. The goal turned out to be the game-winner for Ohio State.
UK closed the match with 11 shots fired, with three on goal, to OSU's 14 (eight on goal).
The two programs now hold a 6-6-4 UK all-time series record with the first match of the series played in 1991.
Kentucky will set its sights on its next road contest at Old Dominion on Sunday.
Big Blue Nation can purchase single match or season tickets for the 2023 homestand by clicking here. Tickets will also be available for purchase upon arrival to The Bell.
For the latest on Kentucky Men's Soccer, follow @UKMensSoccer on X, Facebook and Instagram, as well as on the web at UKAthletics.com.