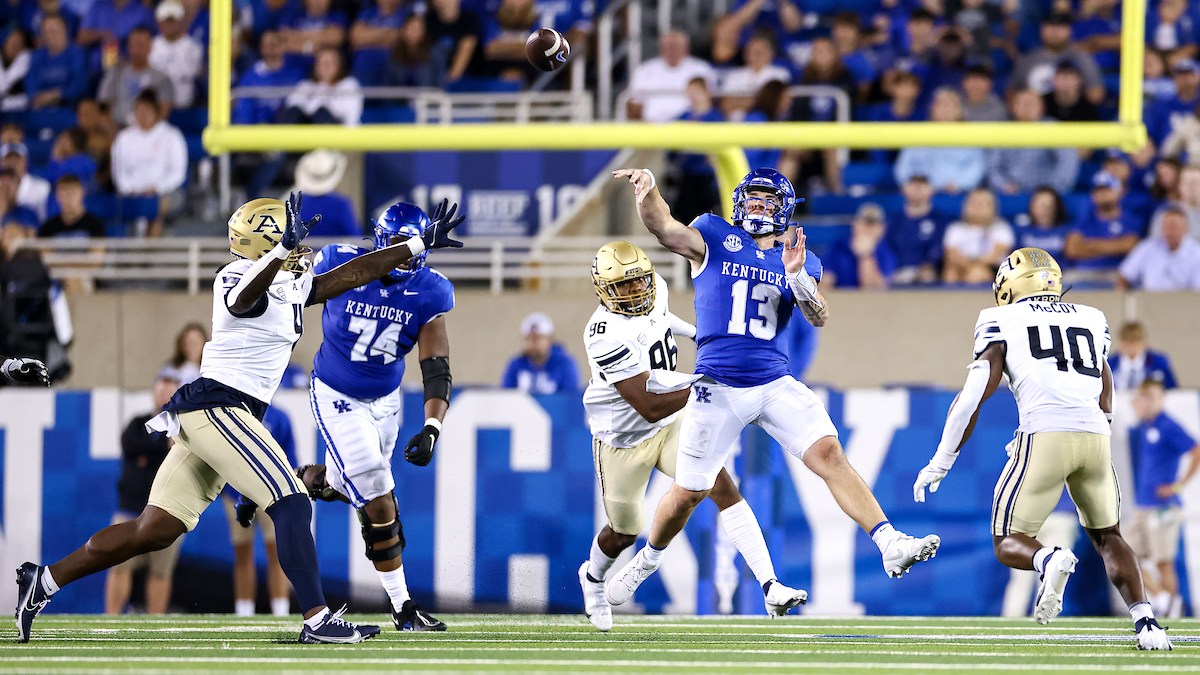 Through three games so far this season, Kentucky has faced minimal adversity on the field. The Cats have beaten Ball State, Eastern Kentucky and Akron by an average of 24.4 points per game.
This week, things get ratcheted up as UK steps into Southeastern Conference play, visiting Vanderbilt on Saturday in Nashville. Kentucky head coach Mark Stoops knows that this week will be vastly different from the first three for multiple reasons.
Reason One – it's against a conference foe, away from home.
"Going to Vandy, first road game of the year, SEC opponent," Stoops said. "They are coming off a tough loss, sitting there at 2-2. Knowing Coach Lea like I do, he's going to have that team ready to play."
Reason Two – an 11 a.m. local time kickoff, something that Stoops knows can be tough for 18-22 year old players.
"I've got to get them ready, no matter what the situation," Stoops said. "We've tried many different things. Just the way we get them up, get them rolling, get some music going. I want high energy early in the morning. That's always been our approach with the early kicks."
Reason Three – the Cats will be playing in a stadium that is currently under construction, something that Stoops and his staff will address with the team.
"It needs to be talked about so they're not surprised because it definitely will be the most challenging environment we will play in this year," Stoops said. "Aesthetically, getting dressed, logistically. We'll deal with it and our players will handle it just fine."
Reason Four – Vandy came into Kroger Field last season and beat Kentucky 24-21, something that Stoops brought up more than once on Monday.
"I saw it a year ago, I watched the energy they play with, I watch how hard they play and how physical they are," Stoops said. "Any time you do that it gives you an opportunity to win. I know they'll be ready."
Reason Five – making sure Ray Davis is simply Ray Davis.
Last year, Davis rushed for 129 yards and a touchdown for Vanderbilt in the Commodores' 24-21 win at Kroger Field. This time around, Davis will be on the Kentucky sideline. Davis leads the Cats in rushing with 236 yards and three touchdowns. Stoops will talk to Davis about facing his former team during this week leading up to the game.
"At some point, it will be a three-minute conversation," Stoops said. "He's a very mature young man. But he's coachable. He's very mature and takes coaching."
Stoops is hoping that the Cats will show improvement this week. That would include being more efficient on both sides of the ball.
"We have to concentrate on ourselves, going on the road and playing a better, more efficient style than we have been," Stoops said. "We've got to be better in a lot of areas."
It's always tough to win on the road in the SEC. Kentucky faces that challenge, and many more, on Saturday at Vanderbilt.