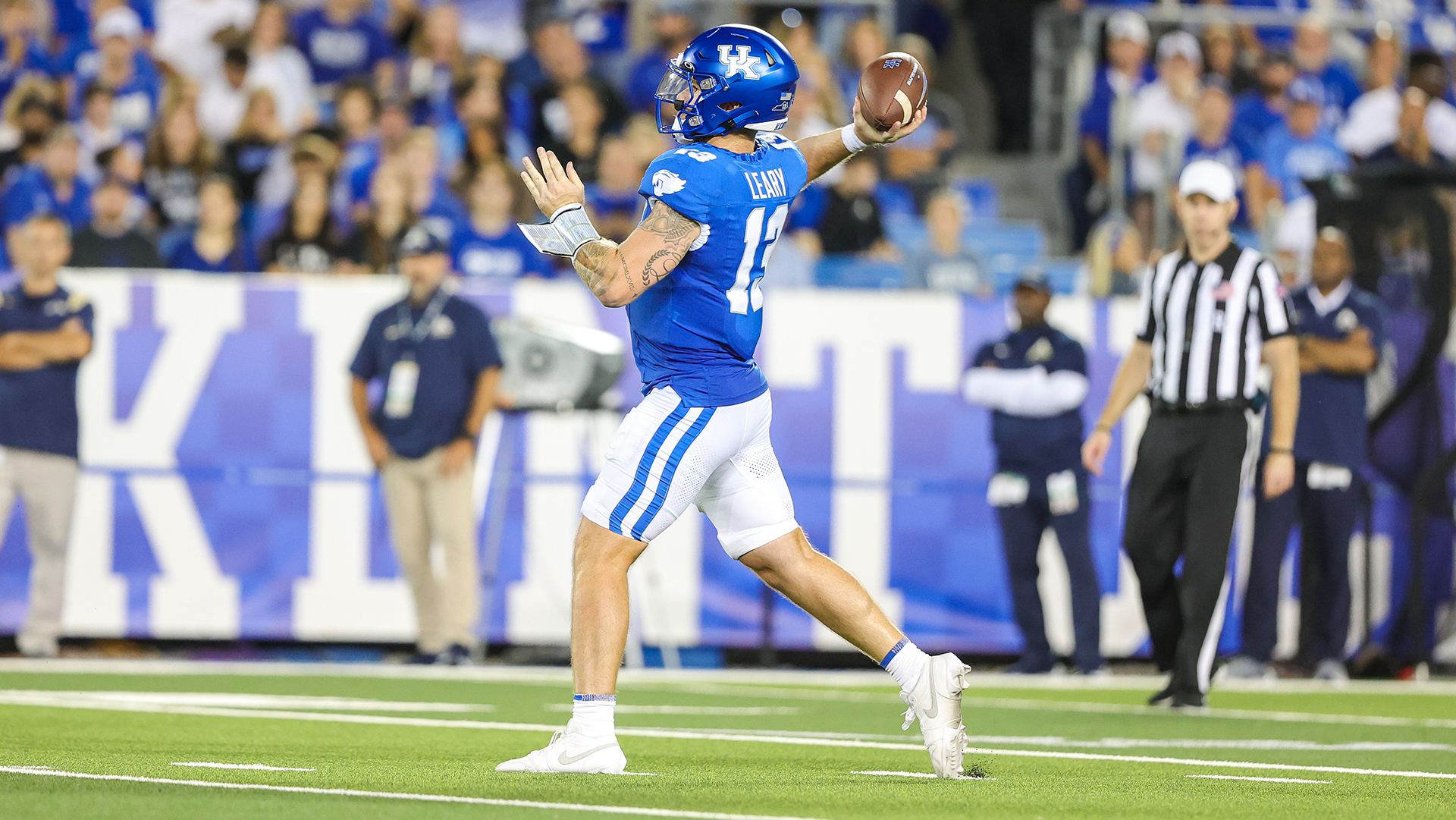 During the spring, and again this fall, Kentucky offensive coordinator Liam Coen has been impressed with his quarterback Devin Leary, especially when it comes to keeping plays alive. On Saturday night, Leary showed that ability in a big way, making the play of the season for the Cats through three games.
It was the third quarter and Kentucky was leading Akron 14-3. UK faced a third and 11 from its own 42 yard line. Leary took the shotgun snap and the Zips came hard with the pass rush. Leary appeared to be on the verge of being sacked for a huge loss.
Then, he did exactly what Coen has talked about. He kept the play alive. And the result was a play that will be remembered for many years.
Despite being in the grasp of a defender, Leary somehow found Ray Davis open on the right side of the field. Davis took the pass and, after reversing field to the left sideline, and with a wall of blockers ahead of him, scampered 58 yards for a touchdown that extended the UK lead to 21-3. Kentucky would go on to win 35-3 to move to 3-0 on the season. Head coach Mark Stoops knows that it was truly a special effort by both Leary and Davis.
"That was a heck of a play by Devin and by (Davis) on a broken play," Stoops said. "And sometimes you have to do that. And it certainly happens against us sometimes, you know. Plays get off schedule, you have to create and have some guys that just have some instincts, and they made a great play on that."
Full play pic.twitter.com/Hkqprr8ckQ

— Kentucky Football (@UKFootball) September 17, 2023
Stoops knows that Leary's ability to keep plays alive can be huge, just as it was on Saturday.
"It is very important. Even in that moment we certainly needed it," Stoops said. "And just to get the offense going, get them some confidence and for him to just get out there and play ball. Again, he was hurt early, early in the season last year. He is going to get better with reps. There were things he did well today and things we just missed."
Leary had his best game as a Cat on Saturday, connecting on 16 of 25 through the air for 315 yards, his first 300-yard passing game in a Kentucky uniform. It was the ninth time in his career that Leary has thrown for at least 300 yards.  Leary also had three touchdowns in Saturday's game, giving him seven over the last two games.
Leary did have a scare late in the game. He went back to pass and was hit hard by Akron's Bryan McCoy and was forced to leave the game. He did not return, although Stoops said afterward that Leary just had the wind knocked out of him and that he could have returned.
With each game, Leary has continued to improve his play. And in the process, the Cats have quickly moved to 3-0 on the season.