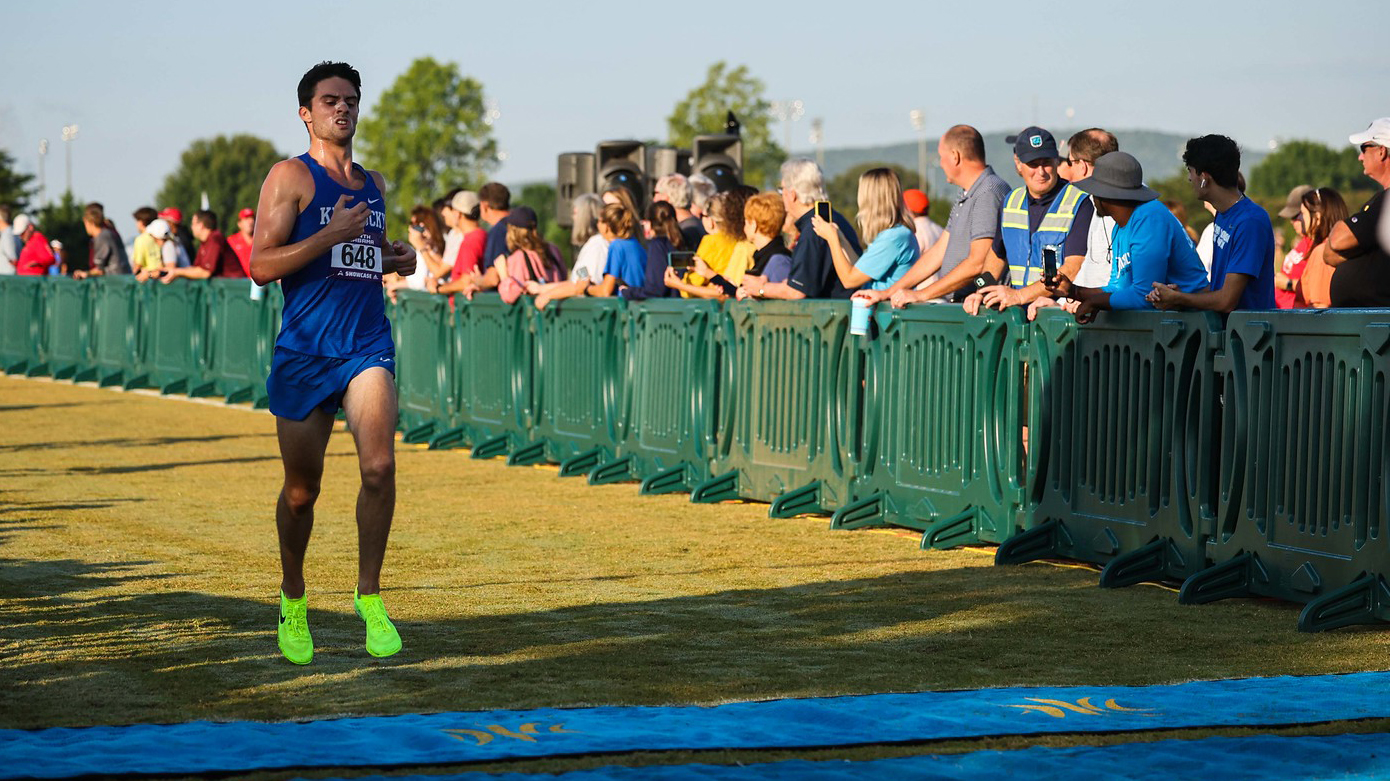 September 15, 2023 - 03:14 PM
Allen and Kruger Lead Wildcats To Fourth Place Finishes At Southern Showcase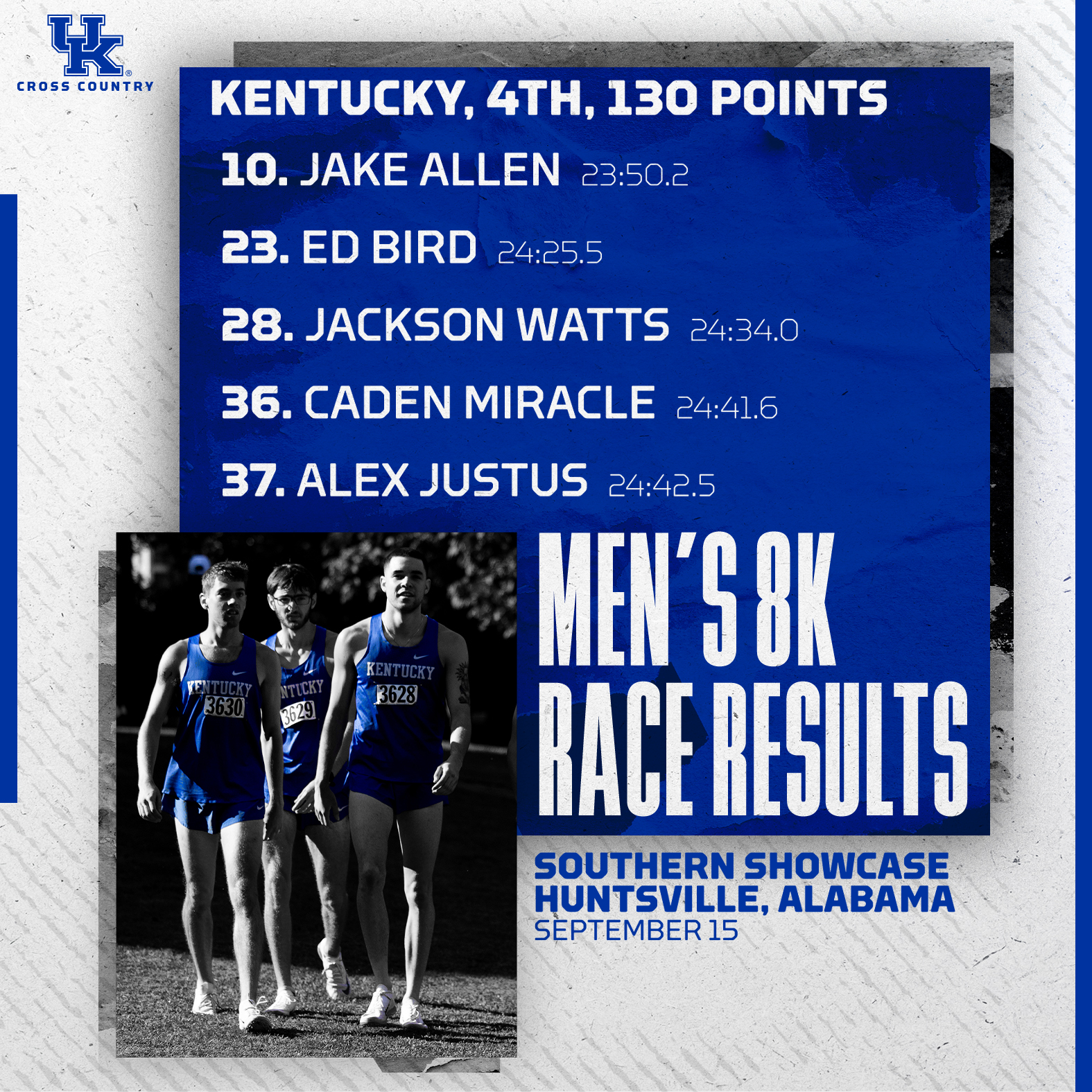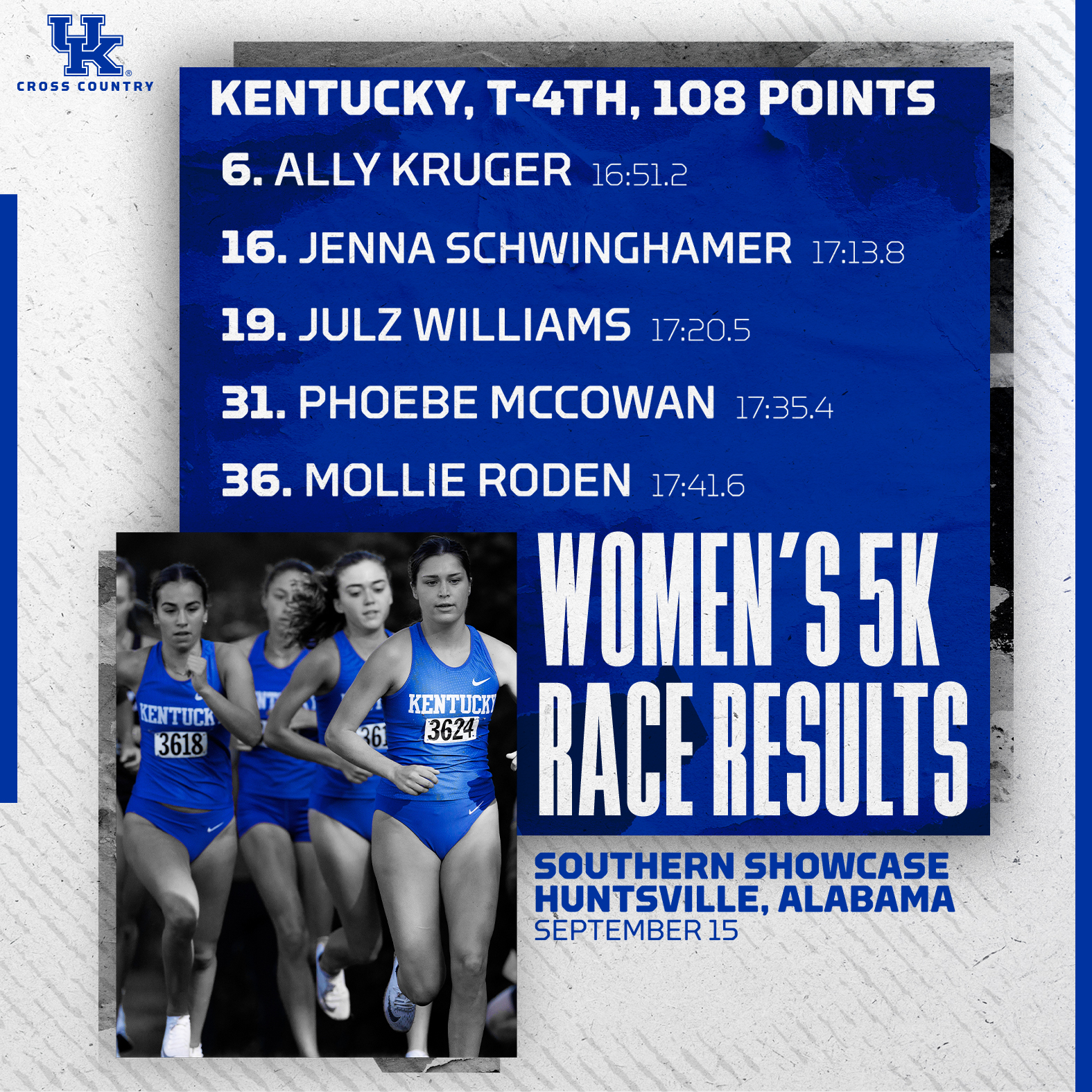 HUNTSVILLE, Ala. – Jake Allen and Ally Kruger collected career-high finishes and personal bests in their respective races as the Kentucky men's and women's cross country teams opened the 2023 season in Huntsville, Alabama Friday morning with a pair of top-five finishes.
Held at John Hunt Park, the men's team placed 4th overall with 130 points in the men's 8,000-meter race after Allen led the pack with a personal best time of 23:50.2 to place 10th, his highest career finish in an 8k.
Ed Bird was next to cross the line for the Wildcats placing 23rd on his Kentucky debut with a time of 24:25.50. Jackson Watts followed in 28th with a time of 24:34.00.
Caden Miracle finished 36th on his Kentucky debut with a time of 24:41.60 with Alex Justus just behind in 37th with a time of 24:42.50 to wrap up the top five finishers for the Wildcats.
The women's team tied for fourth with Southeastern Conference opponent Alabama on 108 points in the women's 5,000-meter race. Ally Kruger recorded her highest finish in a 5,000-meter race crossing the line in 6th with a personal best time of 16:51.20.
Jenna Schwinghamer was next to cross the line in 16th with a time of 17:13.80 while Julz Williams was not far behind in 19th with a time of 17:20.50. Phoebe McCowan placed 31st with a time of 17:35.40 with Mollie Roden rounding out the pack of experienced Wildcats in 36th with a time of 17:41.60. All five runners recorded personal bests in the 5,000-meter race this morning.
"I was really pleased with our first invitational this year." UK assistant coach Hakon DeVries stated. "Both groups showed they put in a lot of work over the summer and are headed in the right direction as we move into the main part of our season as well as the championship season in late October and November. On the women's side, we had multiple people with personal bests of roughly 40 seconds highlighted by Ally Kruger with her top 10 finish running 16:51 which was almost 40 seconds faster than she ran on the same course last year. In addition to Ally, the rest of our top five led by Jenna Schwinghamer grouped up well which was an important early season strategy allowing them to all maximize how well they can finish. On the men's side obviously, we were led by Jake Allen with a strong run, 17 seconds faster than on the same course a year ago, I was also really pleased with freshman Ed Bird with his first NCAA competition and being really poised moving throughout the field the whole time. I'm really looking forward to our next meet in two weeks and I think our team is going to have a lot of momentum headed through this season."
UKXC Men's Team: 4th, 130 points (first five finishers count toward team scoring total)
UK 8k individual results; 303 total runners
10. Jake Allen: 23:50.20
23. Ed Bird: 24:25.50
28. Jackson Watts: 24:34.00
36. Caden Miracle: 24:41.60
37. Alex Justus: 24:42.50
42. Harper Moore: 24:46.80
60. Alex Alston: 25:02.20
63. Blake Byer, 25:04.90
69. Ethan Kern: 25:09.90
75. Sami Hattab: 25:13.60
88. Cade Byer, 25:35.60
UKXC Women's Team: T-4th, 108 points (first five finishers count toward team scoring total)
UK 5k Individual Results; 332 total runners
6. Ally Kruger: 16:51.20
16. Jenna Schwinghamer: 17:13.80
19. Julz Williams: 17:20.50
31. Phoebe McCowan: 17:35.40
36. Mollie Roden: 17:41.60
46. Ainsley Edwards: 17:51.50
70. Elly Heine: 18:15.20
72. Logan Brennan: 18:19.10
87. Lyric Olson: 18:33.90
122. Aubree Hay: 18:59.60
135. Brooke Berger: 19:14.40
141. Bryanna Lucas: 19:19.60
The next meet for UK will come on Sept. 29 at the Sean Earl Lakefront Invitational hosted by Loyola University Chicago in Chicago, Illinois.
Follow Kentucky Cross Country on Facebook, Instagram, X, and UKathletics.com.