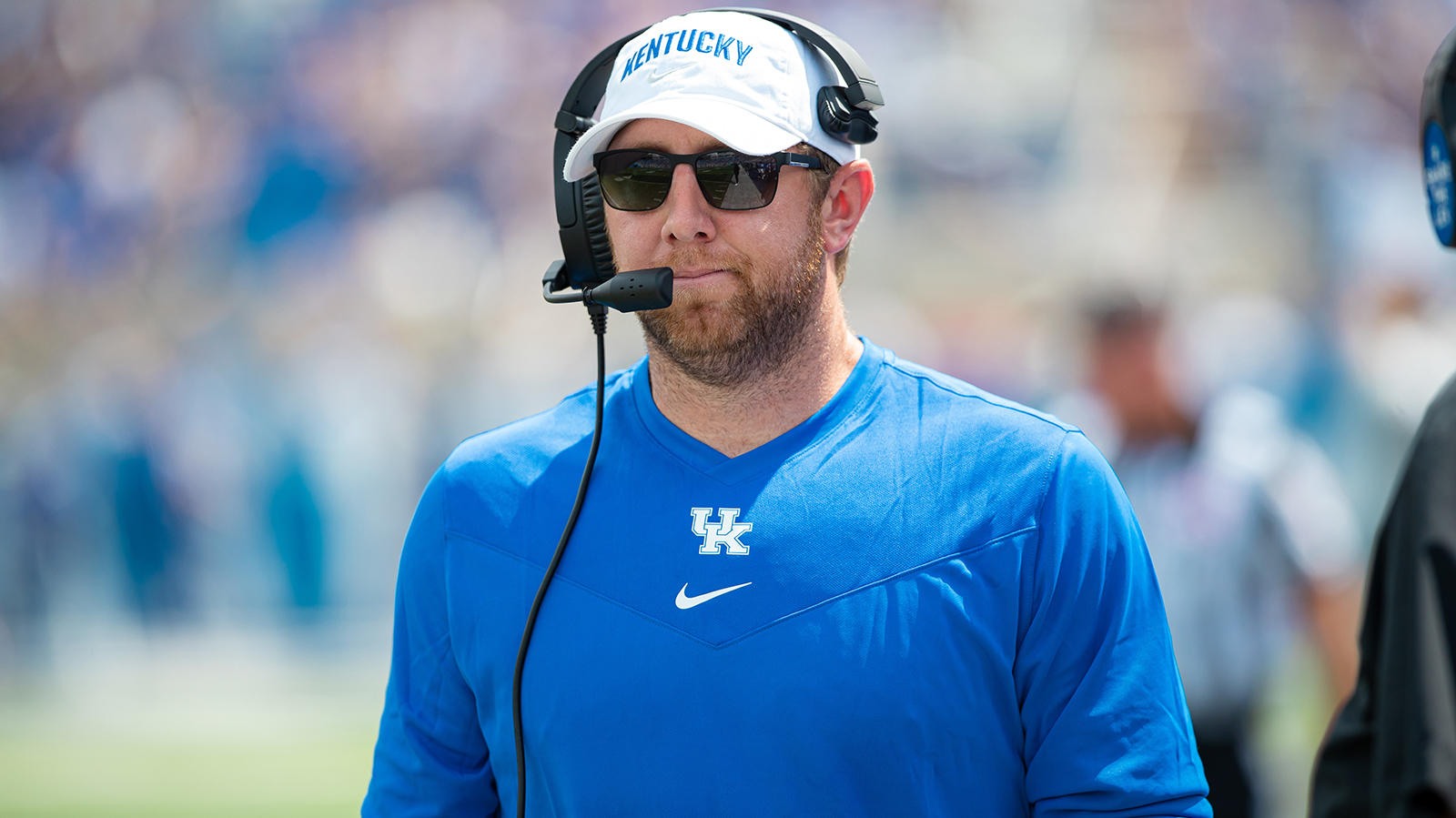 Through two games, the Kentucky offense has gotten off to a pair of slow starts. In UK's season-opening win over Ball State, the Cats scored just three points in the first quarter. Then on Saturday, the Cats needed a late second quarter touchdown to avoid being shut out in the first 30 minutes against Eastern Kentucky.
The Cats found their rhythm in the second half. UK scored on four consecutive drives on their way to a 28-17 win. Kentucky offensive coordinator Liam Coen is hoping that the Cats can find that kind of consistency on Saturday against Akron.
"Toward the end of the first half, you hit the explosive off the sudden change and you rattle off four straight scoring drives and we look like an operation," Coen said. "So, how do we get to that point earlier in the game is the key. How do we get to a place of consistency, rhythm, quarterback is in a comfortable place, we're protecting, we're making plays so that, against some other teams, we don't dig ourselves into too big of a hole that we can't come back from it."
Coen said that the Cats' execution can come with one thing – consistency.
"You aren't going to walk out and beat anybody when you don't do anything consistently," Coen said. "We go out, first drive of the game, third and one and we jump offsides. So, we're punting on the first drive of the game. Those kinds of little things were a little bit of the theme in the first half."
What were the specific things that caused the inconsistency? Coen has identified a couple of items.
"We had a couple of protection issues in communication specifically on third and fourth down situations that we cannot have," Coen said. "The quarterback being on the same page with everybody – receivers, tight ends, running backs, (offensive) line – he has to completely own everything. And, I can be better. I can be better for these kids, I can be better for the staff. Just let these kids go play."
Coen's Health Episode
On Sunday, Coen experienced a health episode while at the UK football facility. He was taken to UK's Chandler Hospital. Coen addressed the situation on Wednesday and was thankful for all of the help and support he received.
"It was a little bit eventful, obviously," Coen said. "I want to thank the people, treatment staff here, athletic department, everybody for their support at the hospital. Just acting quickly. There's not a ton I remember from the situation. Probably need to sleep better, need to eat better, need to be a better version of myself in terms of doing the things that we ask our players to do."
Coen said that the care and support he received made him realize that he made the right decision to return to Lexington.
"It was really cool to be at a place that really does care. That was really cool," Coen said. "I came back here in order to be around people that care and to be around a community that cares., the players, the staff, family, friends. It's been difficult but it's also been eye opening in that, you really did make the right decision to come back to a place that people really do care about you."