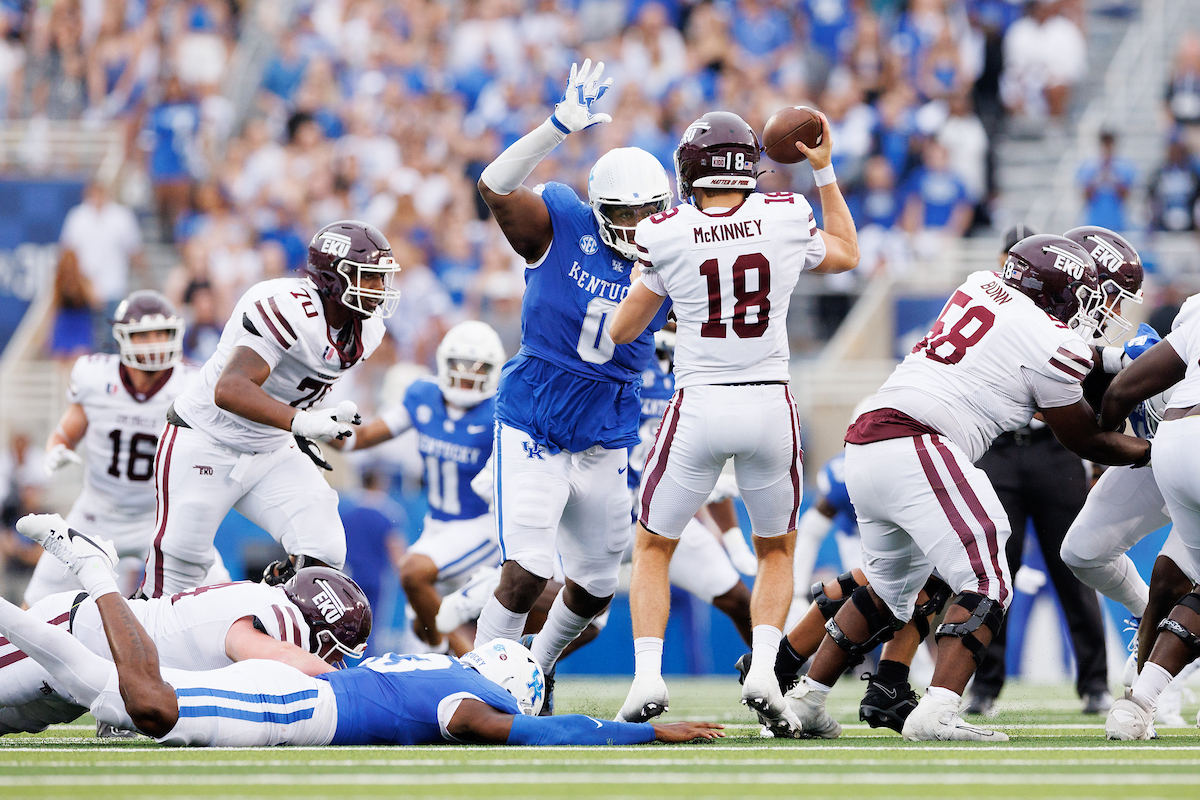 Through two games, the Kentucky defense has held both of its opponents under 20 points. The Cats held Ball State under 300 yards and allowed just 311 total yards to Eastern Kentucky.
Despite these solid numbers, Kentucky defensive coordinator Brad White knows that his unit still has some items to get fixed.
"I think everybody's focused on what we've got to do," White said. "There's games that everybody thinks you've played really good defense and there were little details that people didn't see and you were very close to playing not such good defense that game. I thought we were really close to playing a really good game on defense. But that is the difference – little things. Execution plays, opportunities to get off on third down, opportunities to, instead of being third and four, we could have had it at third and eight."
While those issues are present, White knows that there aren't things that the Cats can't get corrected.
"I think they're all very fixable issues," White said. "Now, there's a lot of times you play bad defense and it's fixable. If there's just way too much fixable, it's bad. I think, it's not to that extreme right now. What you can't do is you can't keep having little brush fires pop up everywhere. You fix these two things, then these two things break. You've seen those cartoons where you're trying to plug the holes in the pipes. We just need to be able to tighten a few things so it's fully secure.
White does believe that the UK defense has made some of the necessary corrections, although some remain to be fixed.
"We're moving in that direction," White said. "We still have a ways to go to be the defense that we want to be."
White and his defensive staff like how their unit has worked on making those improvements.
"We just continue and try to push forward and improve each week," White said. "I'm proud of their effort. I love how they work. They want to get coached. They don't take it personal. We're all just trying to continue to improve each and every week and get ready to play the best we can."
The Cats defense will face another challenge this week against Akron, coached by former Mississippi State head coach Joe Moorhead.
"Coach Moorhead is such a good offensive mind. He's beyond creative. I remember, it was my second SEC game that I called as a coordinator. He ate my lunch that day. I've always had such great respect for him. He throws a lot at you. I hope I've grown as a play caller since 2019 and can help the guys be in good spots. But I have the upmost respect for him and his staff. We've got a big challenge."
Getting the fixable things fixed will help the Cats against the Zips on Saturday.