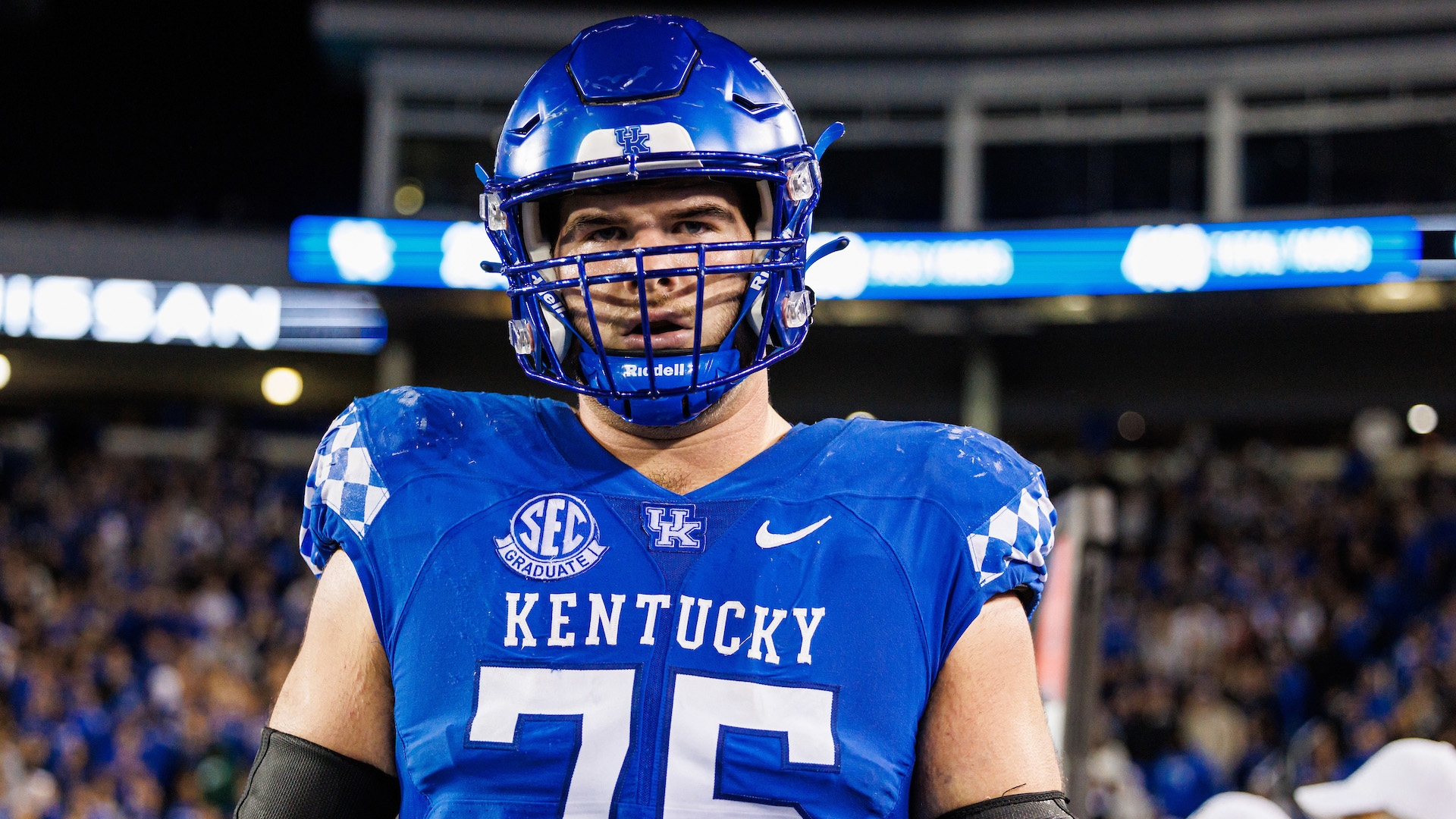 Kentucky offensive lineman Eli Cox has been named Southeastern Conference Offensive Lineman of the Week for his stellar performance in the Wildcats' 28-17 victory over Eastern Kentucky, it was announced Monday by the league office.
This is the second time Cox has won the award in his career.  He also received the accolade following UK's 42-21 victory over LSU in 2021.
Cox, a senior from Nicholasville, Kentucky, played every offensive snap and graded out at 86 percent by the coaches. He did not allow a quarterback pressure or sack and incurred no penalties at both the right guard and center positions. It was the team captain's 32nd career game, 24 of which have been starts, including 15 straight.
The Wildcats (2-0) rank fourth in the SEC in both yards per play and rushing yards per attempt. Cox has been named to multiple preseason All-SEC teams and provides a steady, veteran presence on the interior of UK's rebuilt Big Blue Wall.
UK will play host to Akron at 7:30 p.m. ET on Saturday, September 16. The game will be televised on ESPNU.
Saturday is Youth Sports and Activities Day at Kroger Field, where youth teams from across the area will be eligible for specially-priced tickets starting at $15. For more information, contact Caleb Young at caleb.young@uky.edu or (859) 218-4978.
Saturday is also Girl Scout Day where scouts from across the area can get specially-priced tickets starting at $15 each. For more information, contact Makenna Miller at makenna.miller@uky.edu or 859-562-2058.
As part of Extra Yard for Teachers at Kroger Field, UK will participate in the College Football Playoff Foundation's Extra Yard for Teachers Week. Extra Yard for Teachers elevates the teaching profession by inspiring and empowering teachers through the implementation of programs in four focus areas: resources, recognition, recruitment and professional development.
All teachers and school employees, in addition to University of Kentucky faculty & staff, will be able to purchase specially-priced tickets for the Akron game. Purchases will be restricted to those with Kentucky public school email address domains ("@COUNTY.kyschools.us"). University of Kentucky faculty & staff purchases will be restricted to those with a UK email address ("@uky.edu"). For questions, or to add your school or school district's email domain to the list of eligible purchasers, contact Jordan Smith at jordanx.smith@uky.edu or (859) 257-5788.
UK will also celebrate the 50th anniversary of Kroger Field and the UK Alumni Band on Saturday.