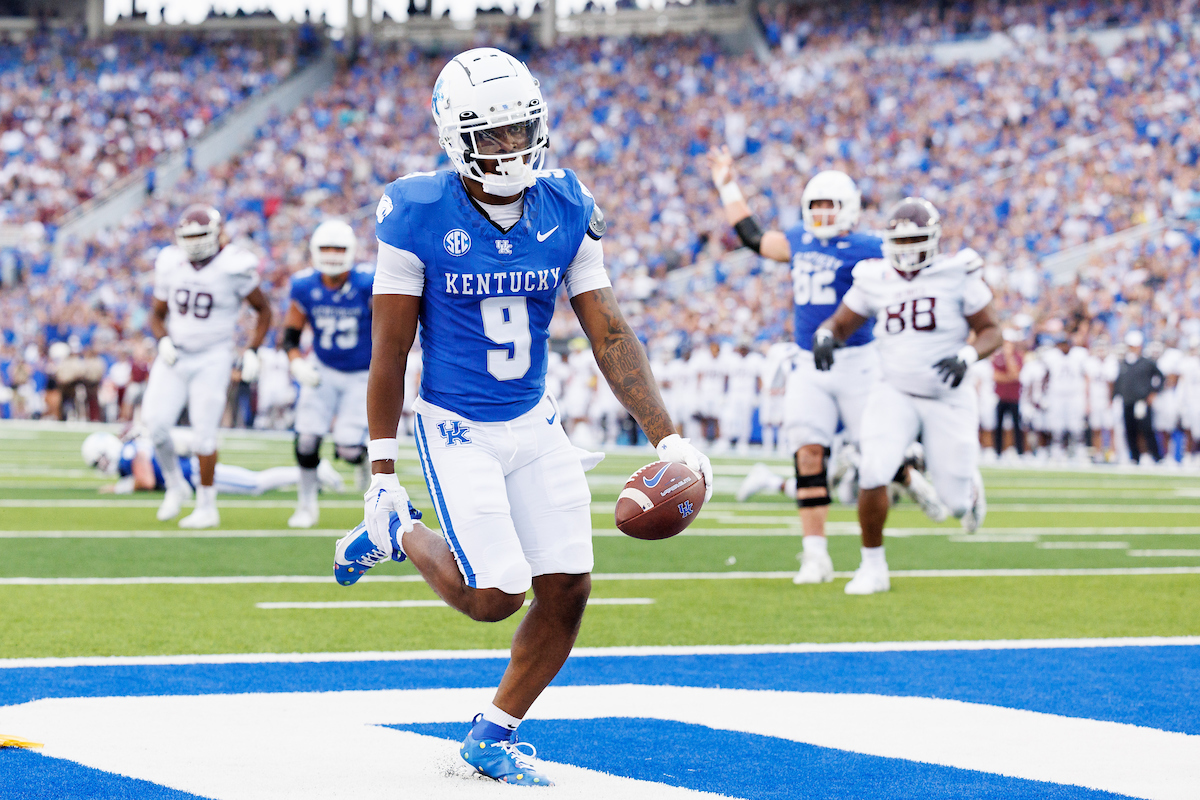 Kentucky finds itself at 2-0 to open the 2023 season and at least some portion of that can be attributed to the Cats' experience.
Quarterback Devin Leary has started slowly in both of UK's games this season, only to bounce back with huge second halves, including on Saturday when he threw three touchdowns after halftime.
Running back Ray Davis leads Kentucky in rushing through two games. He also made a big play in the passing game on Saturday, something that UK head coach Mark Stoops touched on during his Monday press conference.
"It was super to see him get the explosive play on the wheel route," Stoops said. "It was a great throw, a great catch and a tremendous finish by him. To go strong with two hands and dive at the pylon and get the touchdown is a heck of a play by him. Ray has been a great member of our team. Very mature, very talented and has done some really good things. May have pressed a little too much himself this past week. He had a couple (of runs) that were there that he usually hits, right where we designed them. He maybe wanted them a little too much and he bounced them. He's a complete back. He can play every down. We knew he was very talented."
Another experienced player who is making a difference for UK is wide receiver Tayvion Robinson. On Saturday, Robinson made a number of big plays as the Cats rallied from behind to beat Eastern Kentucky. Stoops likes Robinson's attitude this season.
"Tayvion, we challenged him, he's responded, he's been more consistent," Stoops said. "There's a great example of just maturity. Just being an older guy and being coachable and playing within the offense. You have to just play within the offense and he's done that. If you play within the scheme, people are going to have their big games."
Guard Eli Cox continues to be the steadying force on the Kentucky offensive line. On Monday, Cox was named Southeastern Conference offensive lineman of the week after his big game on Saturday, which included five knockdown blocks. Stoops knows how important Cox is to the team.
"Eli is just such a solid guy. Great leader," Stoops said. "One of those guys that's just a rock, an anchor. You just expect him to be out there playing well at whatever position."
As the Cats head into week three and begin preparing for Akron, Stoops is looking for his team to respond, as they did on Saturday, to the message that the coaches are preaching.
"A lot of the message will still be the same," Stoops said. "I expect our team to respond. They did last week. We did in practice. There were certain things on film that did show up. The drive-stalling things cannot happen, we know that. We've got to get those things cleaned up. They're going to jump up and hurt us if we don't get them corrected. I'm confident that we will."
Having so many veterans, on both sides of the ball, can only help the team embrace, and ultimately execute this week's game plan.