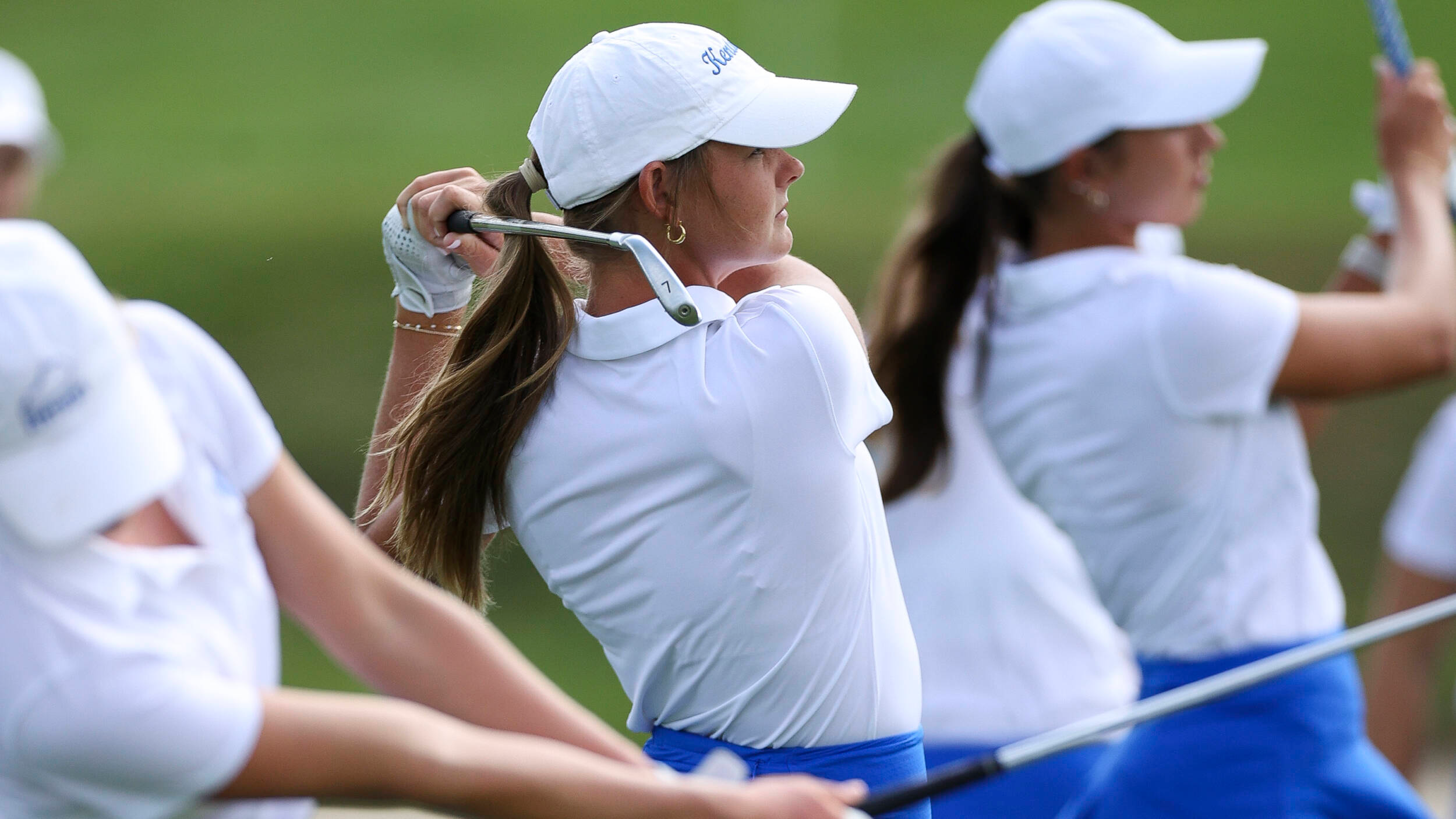 September 10, 2023 - 08:00 AM
Kentucky Women's Golf Begins New Season at Cougar Classic
LEXINGTON, Ky. – The No. 23 University of Kentucky women's golf program will begin a new season this week, as it competes at the Cougar Classic at Yeamans Hall Club (par 71, 6,269 yards) in Charleston, South Carolina, on Sept. 11-12. The Wildcats will play 36 holes in a shotgun format Monday beginning at 8:30 a.m. ET, followed by 18 holes in a shotgun format Tuesday beginning at 8:45 a.m. ET.
"It feels good to be back in Charleston and at Yeamans Hall," said head coach Golda Borst. "Most of the players in our lineup played here last year, so we have a bit more familiarity with the course, which is always a positive, especially on the greens. Our team is ready to get this season going! Go Cats!"
Kentucky is one of 17 teams competing in the field, which features six teams that qualified for the 2023 NCAA Women's Golf Championship last season. The field includes host Charleston, Central Florida, Clemson, Florida, Furman, Georgia, Illinois, Kentucky, LSU, Maryland, Miami (Fla.), Michigan State, Ole Miss, N.C. State, Penn State, Tennessee and Wisconsin.
The Wildcats returned four players from its traditional lineup last season for 2023-24, which includes All-Americans Laney Frye and Jensen Castle and Marissa Wenzler and María Villanueva Aperribay. That foursome averaged a 72.85 scoring average last season, helping the team to two tournament titles, one individual title, 11 school records and an NCAA Regional appearance.
Castle, Wenzler and Villanueva Aperribay are all currently taking advantage of the fifth season granted to them by the NCAA.
Frye, now a senior, paced the team last season with a school-record 70.9 scoring average, and she returns at the top of the lineup for the season opener. She followed up her impressive resume last season with another stellar summer, coming off a U.S. Women's Amateur qualifier win to then reach the U.S. Women's Amateur Match Play Round of 32. The Nicholasville, Kentucky, native also earned runner up at the Sea Island Women's Amateur for the third straight summer.
Behind Frye, the rest of the lineup for the season opener is Wenzler, Villanueva Aperribay, Brooke Oberparleiter and Castle.
Oberparleiter, a Laurel Springs, New Jersey, native, will make her college debut at the Cougar Classic. The freshman signed to attend the University of Kentucky last November, bringing a noteworthy junior career with her to the Bluegrass, which includes winning the 2022 Jones/Doherty Amateur Championship in Fort Lauderdale and winning the 2021 AJGA Imperial Headwear Junior Classic.
The veterans in the lineup are familiar with Yeamans Hall Club, since all four of them competed at the prestigious golf course last fall. Then, Frye paced UK, finishing in seventh place with scores of 69, 71 and 67 for a 206 (-7).
Fans are encouraged to follow live scoring on Golfstat.com throughout the two-day, 54-hole tournament.
For the latest on the Kentucky women's golf team, follow the team on Twitter, Facebook, and Instagram, as well as on the web at UKathletics.com.
**UK's ranking is by Golfweek.