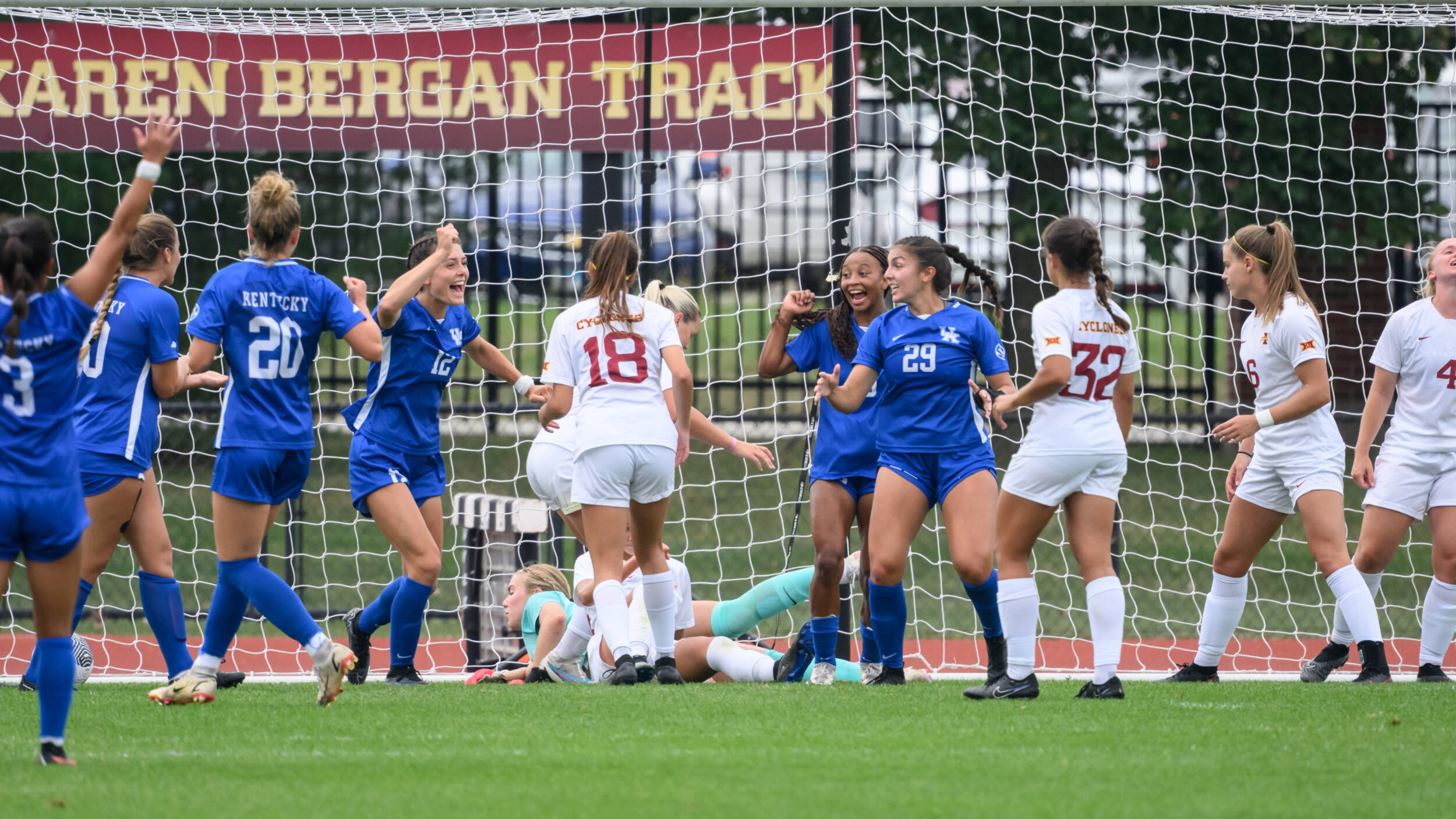 September 10, 2023 - 04:57 PM
Kentucky Upends Iowa State for 3-0 Road Win
AMES, Iowa. – Kentucky women's soccer (6-0-1, 0-0-0 SEC) finished off its first unbeaten run through non-conference play since 2007 with a 3-0 win over Iowa State (3-4-1, 0-0-0) on Sunday at the Cyclone Sports Complex.
First half goals from Úlfa Úlfarsdóttir and Tanner Strickland just two minutes apart gave Kentucky a comfortable advantage, a lead which was padded by Payton Robertson in the 74th minute. Marz Josephson made two saves to post her fourth-straight shutout in net, giving the Wildcats four consecutive blank sheets for the first time since 2019. Josephson and the Wildcat backline are now up to five shutouts on the season and have conceded just twice this year.
The 6-0-1 start for UK is its best through seven matches since the Wildcats were 7-0-0 in 2011. Kentucky has won its last four matches against Power Five competition outside of the SEC, the longest such streak in program history.
UK got its first goal of the match in the 23rd minute as Úlfarsdóttir started the scoring for the second match in a row. Freshman Grace Hoytink sped down the right wing before dropping a beautiful centering pass to Strickland. Strickland's shot was blocked by a Cyclone defender, but the ball caromed right to Úlfarsdóttir who finished with her left foot into the open goal. Less than two minutes after the restart, Kentucky doubled its lead on the first career goal by Strickland.
A Grace Phillpotts free kick from just outside the box on the right wing was headed toward net by Sophia Caruso but blocked by an Iowa State defender. Strickland was first to get a foot on the lose ball, poking it across the goal line to bring the score to 2-0.
Kentucky would carry the 2-0 lead into the half, their fifth halftime lead in seven matches this season.
Robertson, the fifth-year transfer from Buffalo, scored her third collegiate goal and first as a Wildcat in the 74th minute off a corner kick by Maddie Eastman. For Eastman, the assist was the first of her collegiate career.
For the match, Kentucky outshot the Cyclones 12-4 overall and 3-2 in shots on goal. The Cats earned 10 corners to ISU's one. With the win, the Wildcats improve to 2-0-0 all-time vs. Iowa State.
Kentucky opens SEC play on the road against Texas A&M next Friday at 8 p.m.
For the latest on UK Women's Soccer, follow the Wildcats on Twitter and Instagram at @UKWomensSoccer, on Facebook and on the web at UKathletics.com.