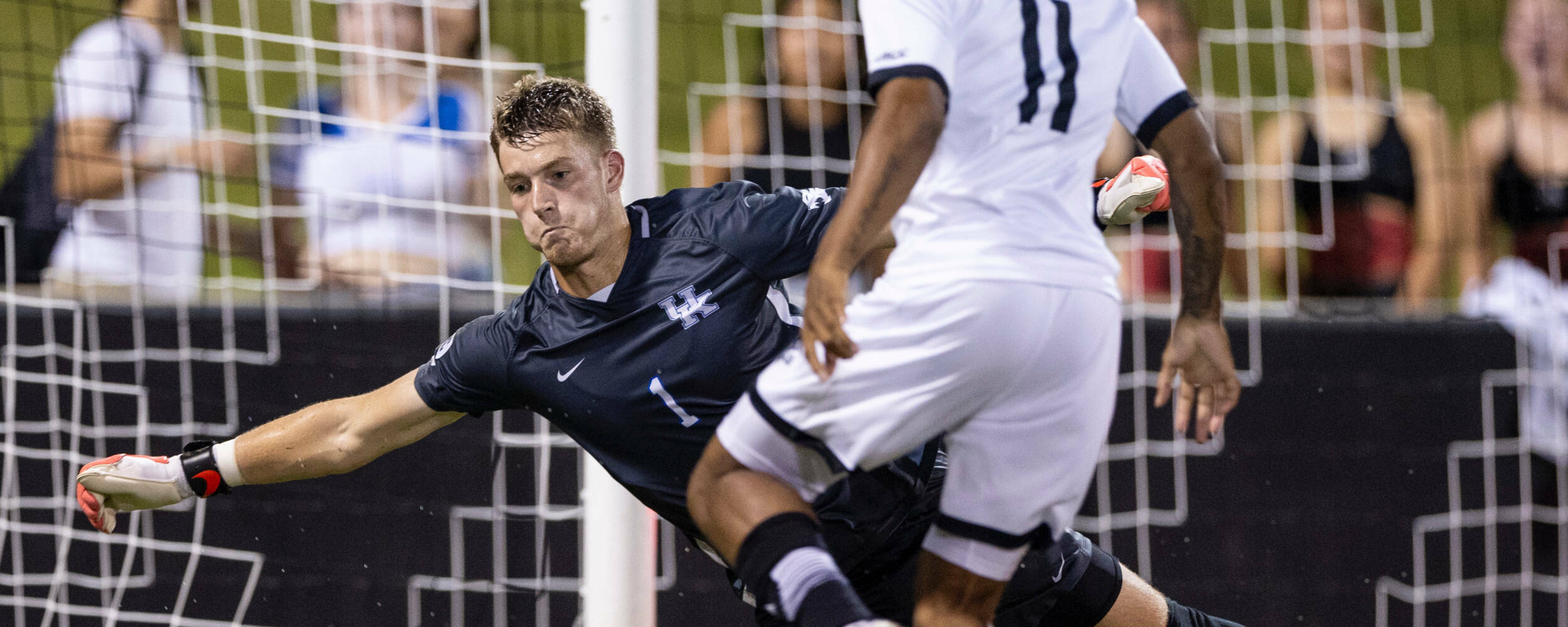 September 5, 2023 - 11:09 PM
Wildcats Fall Short Against Cardinals on Tuesday
LOUISVILLE, Ky. – No. 19 Kentucky men's soccer (2-3-0) fell to No. 7 Louisville (4-0-0) on Tuesday at the Dr. Mark & Cindy Lynn Stadium, 2-4.
Leading into the match, the Cats held a three-match win-streak against the Cardinals. However, that was broken in the evening's contest. Kentucky became the first team to score on Louisville thus far in the 2023 season.
The Cardinals were the first to score with a goal by Konstantinos Georgallides in the 9th-minute. Up 1-nil, Louisville's defense was able to hold Kentucky back from getting a goal of its own. With 10 minutes left in the first half, the Cards found another scoring opportunity with Gage Guerra making it past keeper Casper Mols in the 35'. UK and UofL entered the halftime period 2-0 Cardinals.
The second half of the contest resulted in another Louisville goal as Guerra scored a brace in the 56th-minute. However, it did not take Kentucky long to answer with a goal by freshman Isaiah Chisolm to put the Cats on the scoreboard. He was assisted by Casper Grening in the 61'.
Parker Forbes scored shortly after for Louisville to change the score to 4-1 in the 73rd-minute. The goal was the last for UofL on the night, but Kentucky found another opportunity in the 79' as newcomer Logan Dorsey scored with an assist by Brennan Creek.
In the net, despite allowing four goals, Mols recorded a career-high nine saves.
The Wildcats and Cardinals first faced off in September 1979 which resulted in a 4-0 UK victory. The all-time series record between the programs is now 15-15-4.
Kentucky will be back at The Wendell and Vickie Bell Soccer Complex Friday to host Lipscomb for a 7:30 p.m. EST match.
Big Blue Nation can purchase single match or season tickets for the 2023 homestand by clicking here. Tickets will also be available for purchase upon arrival to The Bell.
For the latest on Kentucky Men's Soccer, follow @UKMensSoccer on Twitter, Facebook and Instagram, as well as on the web at UKAthletics.com.