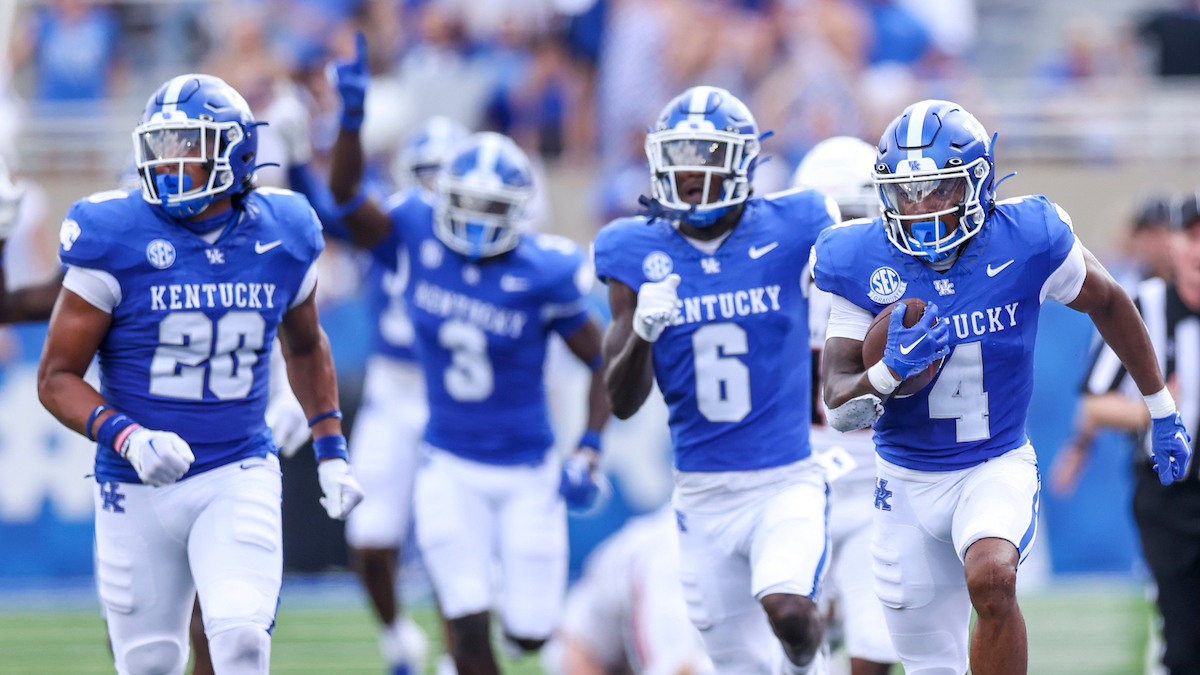 Coaches are always looking for ways to get their teams to improve. Sometimes, those things are obvious while other times they are not.
After winning the 2023 season opener over Ball State 44-14, Kentucky head coach Mark Stoops still found plenty of things that his team needed to do better. Not necessarily big things, but things that could be improved to make the Cats better going forward.
"What we did not play is clean," Stoops said at his weekly press conference on Monday. "It's a fundamental game. We played hard, we played physical but we were not always fundamentally sound. That will bite us eventually. Those are things we need to work on. (The players) want to make an impact and therefore, fundamentally you suffer sometimes. That was evident on both sides."
For example, on offense, Stoops knows that there are some things that his team can definitely do better.
"Offensively, some of the issues were identifying and making calls and we need to clean some things up with protection," Stoops said. "But there weren't a lot of guys getting beat."
The better that Kentucky does the little things, the better off they will be, according to Stoops.
"Bottom line is that it comes down to the details," Stoops said. "Being more detailed, being more focused and executing at a higher level. If we can keep the same intensity, keep working on the physicality, just being more detailed and execute better in critical moments, we can get some things fixed."
It wasn't all bad. After all, the Cats did win by 30 points, so there were a lot of things to like, despite some of the frustrations on Saturday.
"I will say that the biggest compliment I can say for our team is that they were definitely ready to play the game emotionally," Stoops said. "I thought physically, we were ready to play the game."
Stoops hopes that the positive momentum from a season-opening win can carry over into practice this week.
"I love our team's attitude and effort," Stoops said. "I expect us to have a great week of preparation this week. We need to focus on ourselves. We need to improve this week."
On the horizon is Eastern Kentucky, a team that knows Kentucky very well. And not just because of the proximity of the two schools.
"Looking forward to playing EKU," Stoops said. "I know Walt (Wells) well. He spent some time with me here. Maxwell (Smith) is on their staff as the quarterback coach and CJ (Conrad) is the tight end coach. They know us very well and they do a very good job."
This week, Stoops hopes his team will do a very good job of focusing on the little things and cleaning up the details. That could help the Cats make a big jump from week one to week two.