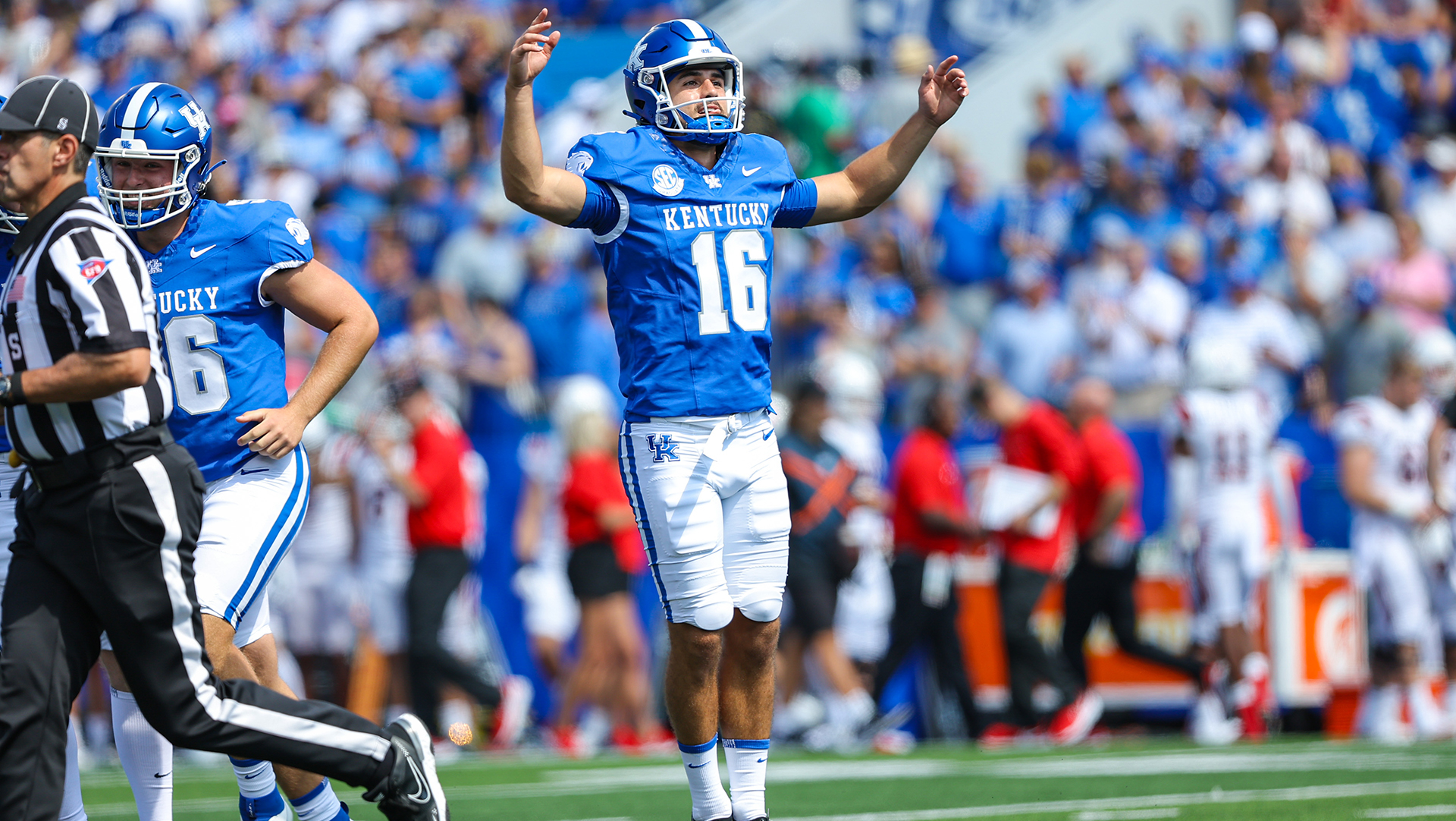 During the 2022 football season, the Kentucky special teams were lacking at times. UK head coach Mark Stoops realized that the units involved needed to be better this season, so he hired assistant coach Jay Boulware over the winter to remedy that situation.
Through one game, it appears that things are already in much better shape.
In Saturday's 44-14 win over Ball State, the UK special teams were, well, special. UK got a 99-yard kick return touchdown from Barion Brown, new kicker Alex Raynor made all three of his field goals and all four of his extra points and Octavious Oxendine blocked a field goal. It was a day full of big plays from the Kentucky special teams units.
Stoops was pleased with the effort and execution of his special teams on Saturday.
"I will say that things I had talked about, and you guys have witnessed with special teams, have improved," the UK head coach said. "That's a very big positive I think. We had one snap that was a touch high, but other than that everything was smooth, very good kicks. The kickoff return, the punt game was good. Kickoffs were strong."
Stoops liked a number of areas of his team's special teams effort on Saturday.
"Just overall I think just the team has worked hard in all phases, not just snapping, holding, kicking, but the blocks for that," Stoops said. "We were just solid across the board it looked to me."
Brown, the speedster from Nashville, returned a kickoff for a score for the second time in his career. Last year, in the season opener against Miami (Ohio), Brown covered 100 yards for the touchdown. This year, he was one yard short of that, but he still got into the end zone. Stoops enjoyed the execution of his unit on that play, and was excited for Brown.
"He's one of those guys that works so hard," Stoops said. "He's ready to go. He wants that ball. He wants to go score. So that was good for him and good for us. Our group has really worked hard as a group. He got some good blocking and some good effort there. Great individual effort by him."
Raynor, who transferred to UK from Georgia Southern, was solid in his first effort in blue. After UK converted just 66.7 percent of its field goals last season, it was a welcome change for Stoops and the Cats to make all three of their attempts, all of which came from beyond 40 yards.
"I think everybody enjoyed seeing the field goal kicker kick it through the uprights, right?," Stoops said, laughingly. "Three (points) probably felt like seven on the opening possession for us, so that was a good thing."
Wilson Berry punted twice for an average of 47 yards, well above last season's 40.2 yards per punt.
Stoops hopes that the solid special teams effort can be the rule rather than an exception this season.
"Some special teams I thought today were special," Stoops said. "Let's continue to do that and make the routine look routine. Don't take anything for granted."