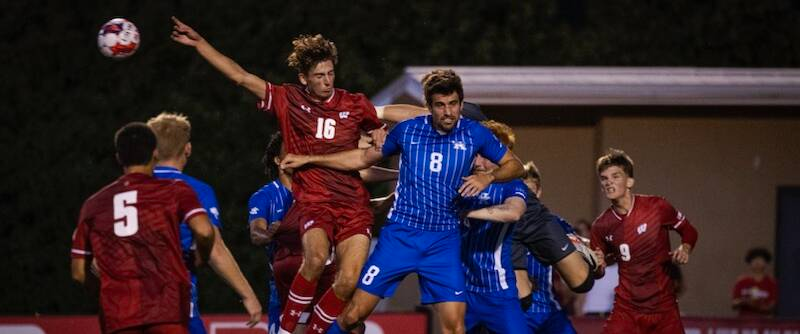 September 1, 2023 - 11:13 PM
Men's Soccer Falls to Wisconsin in Friday Contest
MADISON, Wis. – No. 2 Kentucky men's soccer (2-1-0) fell 0-1 to Wisconsin-Madison (3-0-0) at the McClimon Track/Soccer Complex in the first road test of the season. The loss was the first for the Wildcats since 2021.
Friday night's match proved to be a battle with the Badgers scoring in the first two minutes. Allowing his first goal of the season thus far, Casper Mols failed to stop the score by Wisconsin's Mitchell Dryden.
Captain Max Miller saved another close call in the 24th minute. The Wildcats entered the halftime period down one and re-entered the match for the second set of 45 looking to find a goal of their own.
Senior Martin Soereide checked in the match in the 31st minute for the first time since suffering a major injury against Pitt late last season. He played 44 total minutes on the pitch.
Kentucky held Wisconsin back from scoring another goal but did not find a successful scoring opportunity for themselves in 90 minutes of play.
UK kicked off 2023 with a 3-0 season-opening victory versus Florida Gulf Coast and 1-0 win over East Tennessee State earlier this week in Lexington.
Friday's match marked the first time the Wildcats and Badgers have faced off on the pitch which began a new series of play for the record books.
The Wildcats will return to Kentucky on Tuesday face in-state rival Louisville at the Mark & Cindy Lynn Stadium for an 8 p.m. EST matchup.
Big Blue Nation can purchase single match or season tickets for the 2023 homestand by clicking here. Tickets will also be available for purchase upon arrival to the Wendell & Vickie Bell Soccer Complex.
For the latest on Kentucky Men's Soccer, follow @UKMensSoccer on Twitter, Facebook and Instagram, as well as on the web at UKAthletics.com.