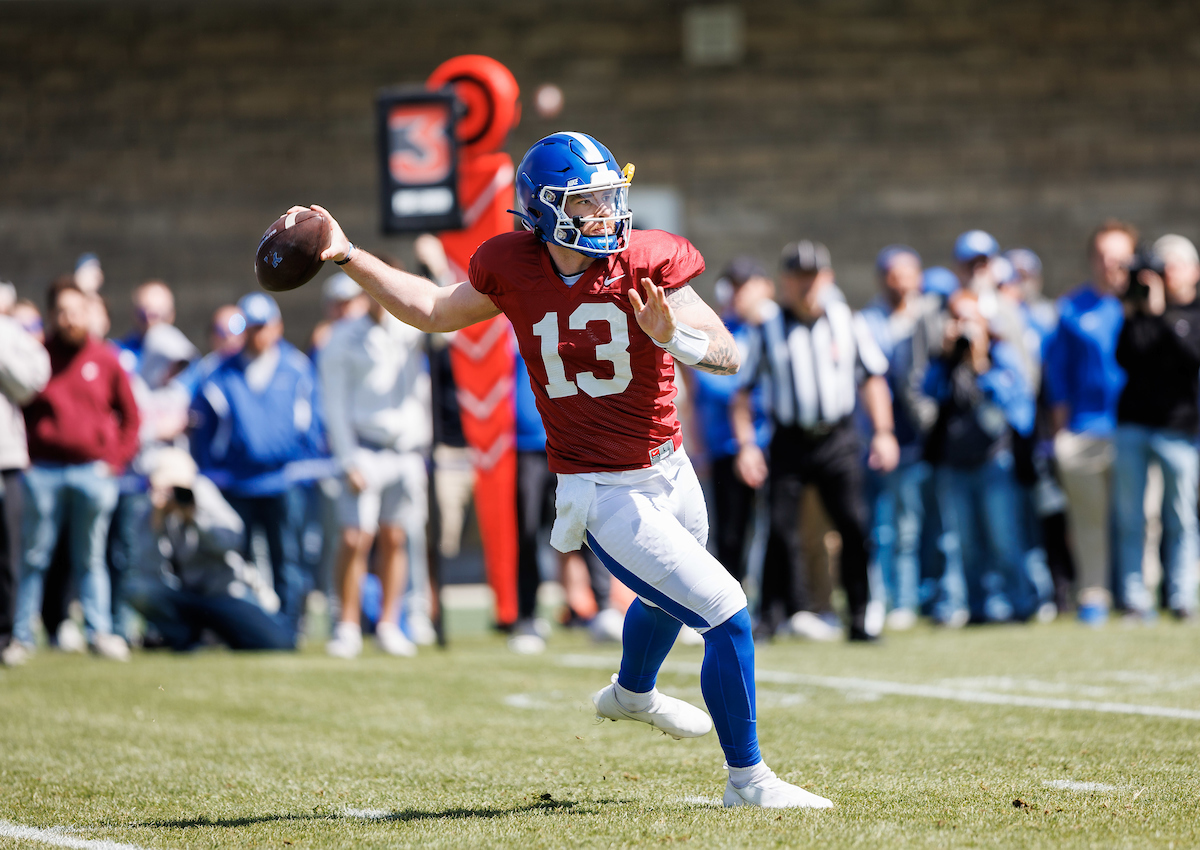 Devin Leary has not played in a college football game in nearly 11 months. As the quarterback for N.C. State last season, Leary was injured against Florida State on October 8, 2022, and he has not played since.
That will change on Saturday when Leary, now the quarterback at Kentucky, takes the field in the Wildcats' season opener against Ball State. Leary is ready to get the 2023 season going.
"It's been a long time since I've played football," Leary said. "Just can't wait to go out, first time rocking the blue, Kroger Field. I'm excited. I can't wait to get out there and compete with my teammates."
Kentucky offensive coordinator Liam Coen has been impressed with Leary's preparation during fall camp. The OC and the quarterback have a solid working relationship.
"He's been up probably about an hour each day before meetings to come up and really get ahead of the game plan," Coen said. "He'll tell me 'I like that, I don't really love that, what are you thinking here, can we tweak this' and you definitely listen. You listen to the guy who's had experience. There's some things that I feel strongly about and I want to do, and there's some that I can bend a little bit on that for him to be able to get what he's looking for. It's been a good process. Kind of bridging the gap between the two of us. He's pretty dialed in."
Being a graduate student has helped Leary get acclimated to the way Coen does things.
"It definitely helps now that I'm a graduate. I'm not spending a super amount of time on campus," Leary said. "It's cool to hang at the facility and hang with Coach Coen. Just try to be an extended coach out on the field as well. Just to pick his brain, to see how he sees their defense and how he wants to specifically attack them."
One of the things that has impressed Coen is Leary's ability to keep a play alive and remain in a position to get the ball downfield.
"That's one of the things he's most comfortable doing," Coen said. "When he has to get out of the pocket, move up, escape a little bit, he does a good job of breaking contain and remaining a passer. That's one of the things he does at a high level. He keeps his eyes down the field can really see things, we can get some plays off scrambles, those are the things we're really looking forward to seeing. He can extend the play and keep things open down the field and keep some options open."
Leary attributes that ability to playing a lot of football.
"That really just comes with experience playing the quarterback position, seeing a lot of defenses, seeing a lot of coverages," Leary said. "Really, just for me, studying our playbook. I love this system, I love studying it, I love watching film on it. I just want to relay, whoever is out there, first read, last read, expect the ball. I'm challenging myself to make sure I make every single option viable. I remind the receivers, regardless of what play we have, any time of the game, expect the ball because I could be coming your way."
As for facing Ball State in the season opener, Leary knows the Cats need to be on their toes.
"You've got to prepare like you're playing anyone else," Leary said. "Study you're opponent, make sure you've got the game plan down pat. Regardless of what conference they're in, you can't take anyone lightly. We just have to make sure we're prepared."
Leary is prepared, and excited, for Saturday's season opener.