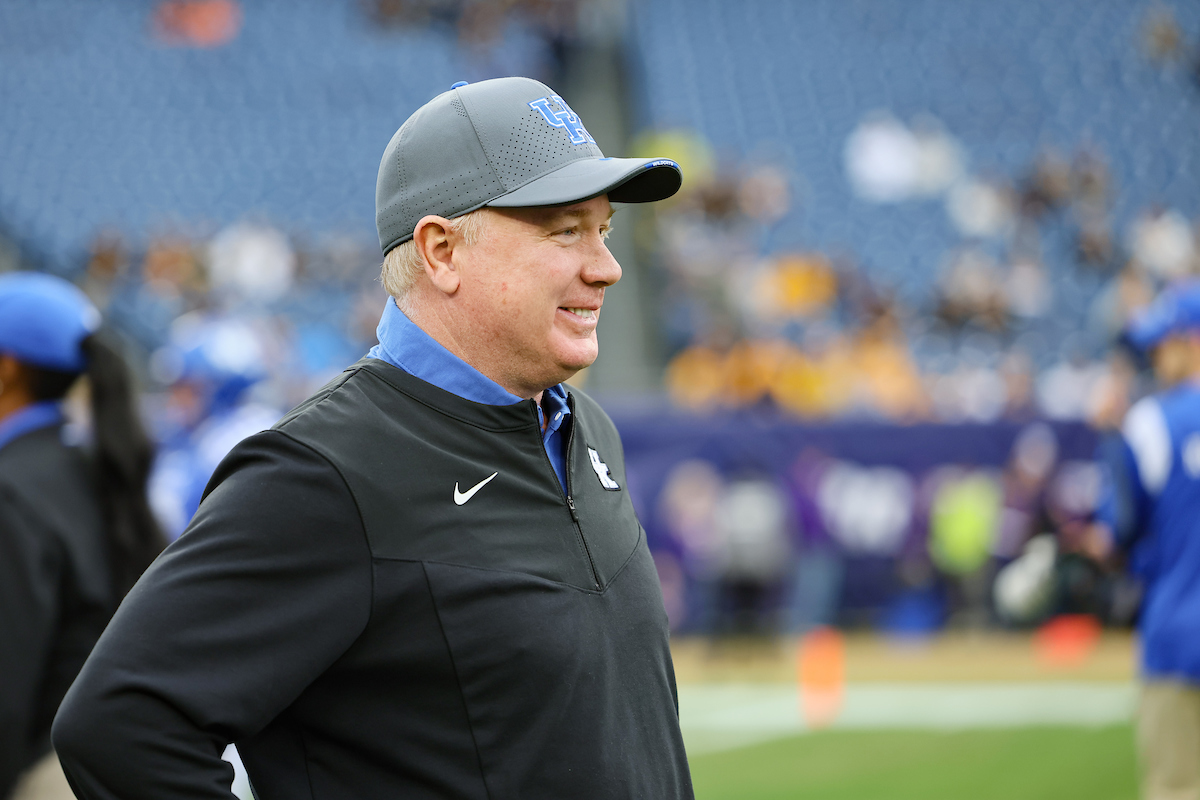 As he approaches his 11th season as the head coach of the Kentucky football team, Mark Stoops is no stranger to guiding his team through fall camp. Still, he gets excited when this week – game week – finally arrives.
"It's always different. It's always an exciting time and it picks up," Stoops said on Monday at his weekly press conference. "I have a hard time sleeping anyway, but last night was definitely different knowing just this routine, getting back into Monday press conferences, and I have a radio show tonight. The prep, the messaging with the team, it feels good getting in the game week. It never feels routine and every year it's a different challenge, different excitement level, and different anxiety level, whatever you want to put on it, but its time to go."
Stoops and his team have been in fall camp for about a month, and the UK head man is ready for his team to face someone else.
"Very excited to get started," Stoops said. "We've been doing a lot of talking through the last month and we've been doing a lot of practicing. The players have worked really hard; the coaches have worked hard. You know, just like most camps, sometimes it feels extremely long and other times it feels like it goes by rather fast, but definitely excited to get in our normal game week preparation, getting together with our team this afternoon and introducing Ball [State]."
The Cardinals, from the Mid-American Conference, were 5-7 last season. But Stoops knows that his team will need to be ready for Saturday's noon kickoff.
"Any of these MAC schools can jump up and beat anyone at any time," Stoops said. "And this is one of those teams."
As for his team, Stoops is hoping that the return of offensive coordinator Liam Coen will boost an offense that struggled at times last season. The UK head coach also knew that improving offensive line play would be very important, and it's something he believes has been accomplished.
"I feel like were improved," Stoops said. "You've heard us talk about that we needed to improve.  We needed to address certain areas and we have. You see some guys getting back to their more comfortable position."
As his team prepares for its first contest of the year, Stoops wants to see certain things out of his offensive unit.
"I think early in game one, you're just looking clean," Stoops said. "I know that's broad based, and can entail a lot, but taking care of the football first and foremost. We can't go into a game like this and turn the ball over or be sloppy with the football. We have to protect the football and take care of that. You're looking for the operation, pre-snap penalties, anything like that. We are a pro style, but not trying to take up the whole play clock every play as well. We want to get a rhythm, get going, and play with some tempo, so I think the operation is really important for us."
The time for talking is now over. It's time for the Cats to take the field to face Ball State in Saturday's opener. Stoops is excited to get back into the game week routine and excited to see how his team performs this weekend.