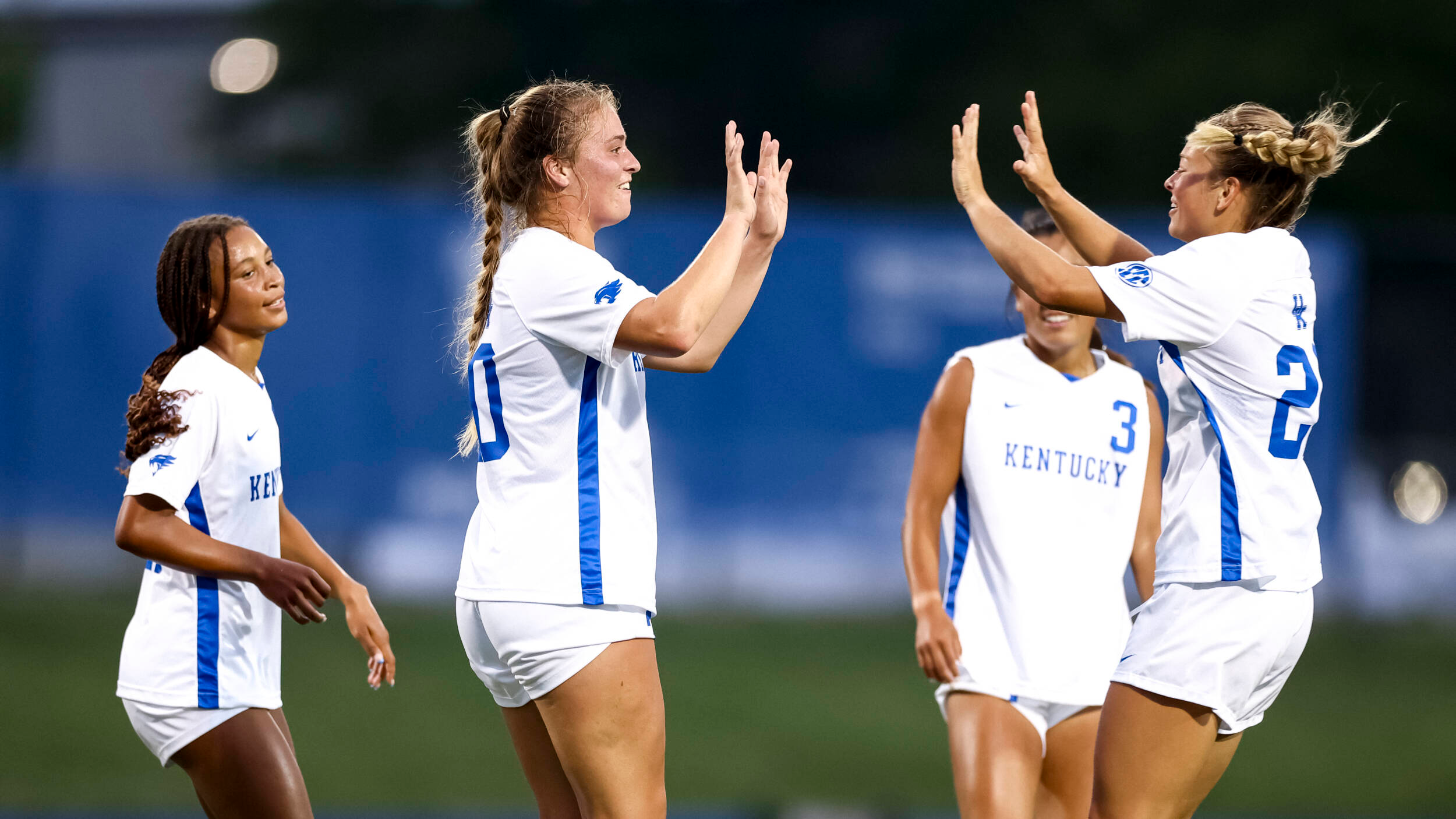 August 24, 2023 - 08:31 PM
Jordyn Rhodes Scores Two, Cats Power Past Racers
MURRAY, Ky. – Forward Jordyn Rhodes continued her torrid start to the 2023 campaign, netting a pair of second half goals to send Kentucky (2-0-0, 0-0-0 SEC) past Murray State (0-3-0, 0-0-0 MVC), 2-1, on a scorching Thursday evening at Cutchin Soccer Field.
Rhodes, who also scored in Kentucky's opening night win over EKU, added two more goals to her early season total, bringing her to 39 for her Kentucky career, the second most in program history.
The first half finished scoreless with few chances to be found as the sun beat down on a day where real feel temperatures exceeded 110 degrees. UK's best opportunity was in the 31st minute when a cross from Claudia Najera went through the hands of the Racers' goalkeeper and landed in front of freshman Ella Kane. Kane's effort went over the bar, however, and the halftime whistle blew without a goal for either side.
The Wildcats ramped up the intensity in half number two, beginning to generate sustained pressure in the offensive end. The Cats broke the seal in the 56th minute when Grace Phillpotts and Rhodes connected for the second time this season, this time off a Kentucky corner. Phillpotts' entry floated to the back post where Rhodes used her head to finish off the goal and put Kentucky in front, 1-0.
Murray State quickly responded to erase the deficit as 2022 MVC All-Freshman selection Mary Hardy scored less than two minutes after the Rhodes' goal, knotting the tally at one.
Shortly after the match's final hydration break in the 75th minute, Rhodes found paydirt once more, scoring her second goal of the day and third of the season. Defensive pressure by the Kentucky forwards forced a Racers' turnover in the UK attacking third, leading to grad-transfer Maya Lacognato slipping a pass through the defense to Rhodes. The forward finished the sequence with a right-footed boot into the bottom right corner, putting the Wildcats ahead for good, 2-1.
With the win, Kentucky improves to 4-0-0 against Murray State all-time. The Cats are now 9-1-0 in non-conference games under second year head coach Troy Fabiano.
Freshman forward, Annalise Cannada made her collegiate debut in the match, logging seven minutes.
For the latest on UK Women's Soccer, follow the Wildcats on Twitter and Instagram at @UKWomensSoccer, on Facebook and on the web at UKathletics.com.