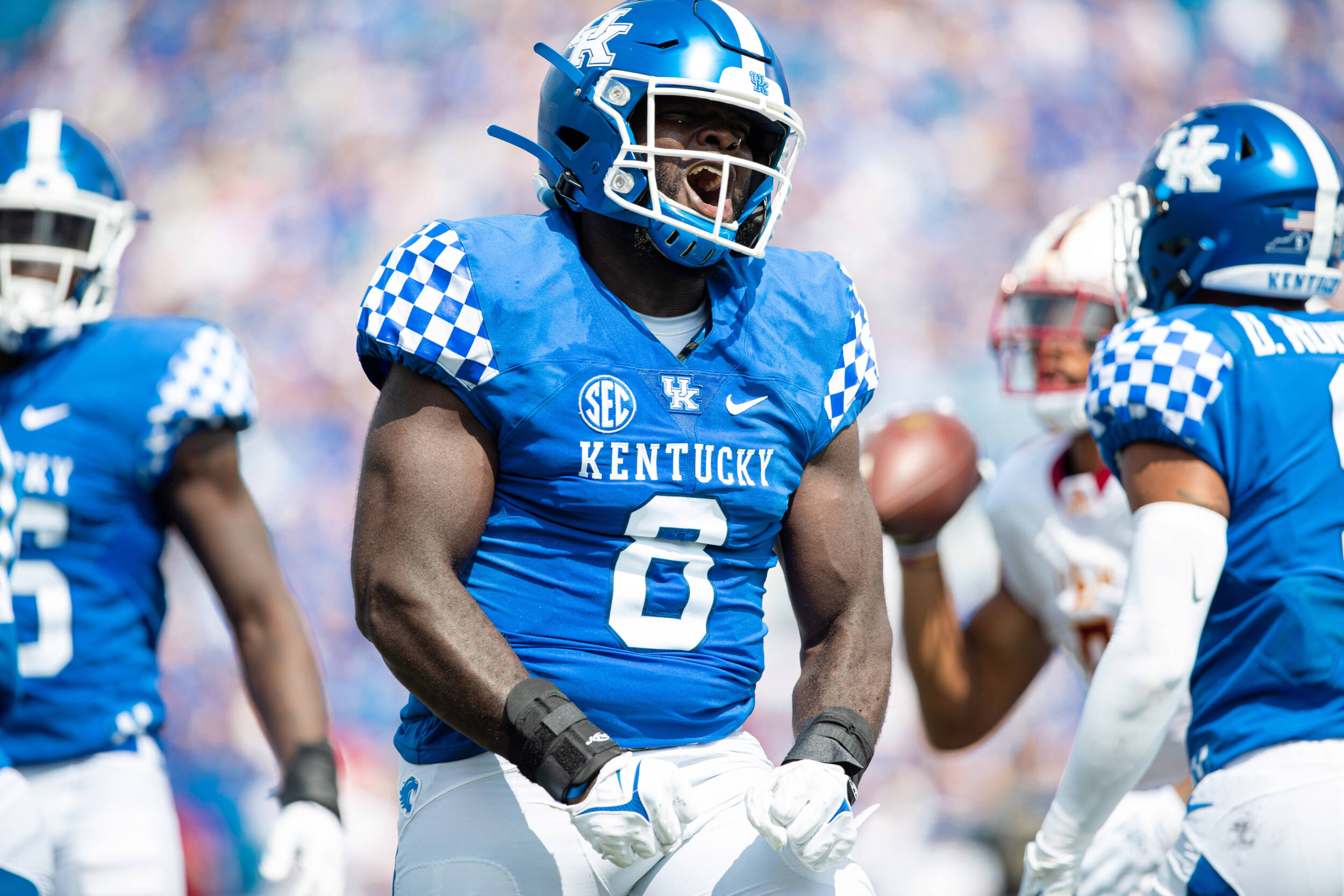 Eleven University of Kentucky football players were added to the 11th Annual Reese's Senior Bowl Watch List, it was announced Tuesday.
Seven of the 11 players chosen are on offense with quarterback Devin Leary, running back Ray Davis, wide receiver Tayvion Robinson and offensive linemen Eli Cox, Marques Cox, Jeremy Flax and Kenneth Horsey all making the list. The four players on defense are safety Zion Childress, defensive tackle Octavious Oxendine, cornerback Andru Phillips and outside linebacker J.J. Weaver.
The Reese's Senior Bowl is widely regarded as the preeminent college football all-star game and the first stage in the NFL Draft process. The longest continual-running all-star game has taken place in Mobile, Alabama the past 74 years. More than 900 NFL personnel, including key decision-makers from all 32 teams, and more than 1,100 media members from around the country were credentialed last year. In each of the past three years, the Reese's Senior Bowl has had 100 or more players drafted and more than 40 percent of the entire draft class, which are both record-setting figures for any all-star game.
The game is set for February 3, 2024 at Hancock Whitney Stadium on the campus of South Alabama. It will kickoff at 1 p.m. ET and be televised live on the NFL Network.
The Big Blue Nation's excitement for the upcoming season is represented by record sales figures this year. Season tickets are sold out. Limited tickets remain for the first three home games: Sept. 2 vs. Ball State, Sept. 9 vs. EKU and Sept. 16 vs. Akron. Fans are highly encouraged to secure their seats for the first few chances to watch the 2023 Wildcats play. Each game week will feature exciting promotions as well as the return of the college football traditions and energy brought by the Big Blue Nation.
Those looking for single-game options, including fan-to-fan resale tickets, should utilize the UK Athletics Official Marketplace powered by Ticketmaster.
The verified resale marketplace is completely integrated with UK Athletics' ticketing system and uses barcode verification technology to ensure the authenticity of all tickets. As the official fan-to-fan marketplace of Big Blue Nation, Ticketmaster provides fans with reliable and convenient access to purchase tickets for games and sections that otherwise may be sold out, as well as the ability to post verified tickets for sale. Fans are cautioned against purchasing tickets from any other outlets.
With so much interest in the 2023 season, fans are encouraged to take advantage of the ticket availability for the first three weeks of the season, with exciting promotions coinciding with each game.
For more information on the UK football team, visit ukathletics.com/football and follow the team on Facebook, Instagram and "X," formerly Twitter.