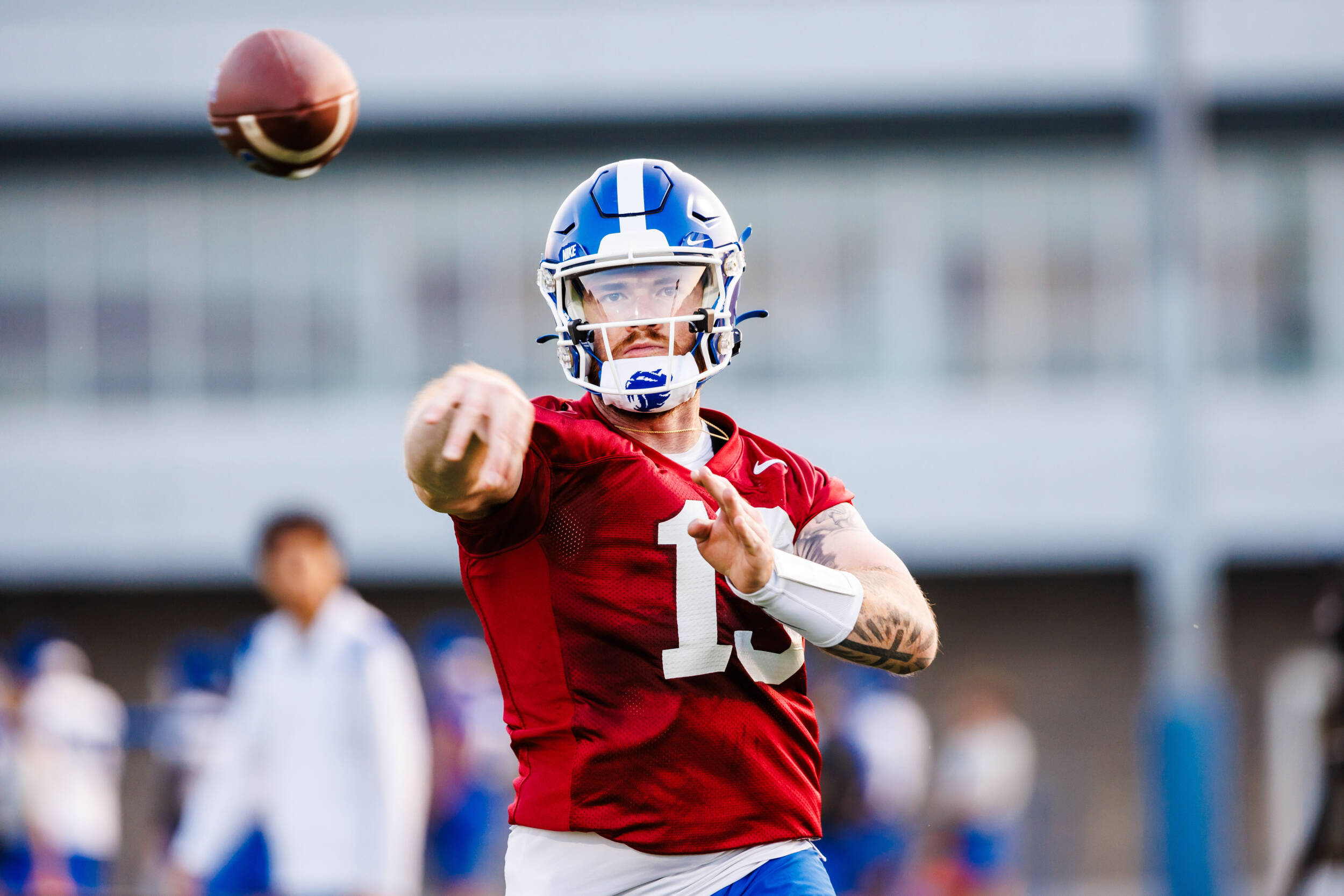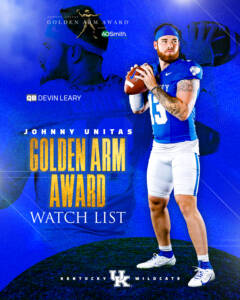 The watch lists keep rolling in for senior quarterback Devin Leary as he has been named one of the nation's top 48 quarterbacks for the 2023 Johnny Unitas Golden Arm Award. The award annually recognizes the top senior or upperclassman quarterback set to graduate with their class. Leary was a semifinalist for the award last season.
The preseason watch list, semifinalists, finalists, and award recipient are selected by the distinguished Johnny Unitas Golden Arm Selection Committee, a group of prominent college football journalists, commentators, announcers, and former players. This year's watch list was selected based on career player performance and expectations heading into the 2023 college football season.
The namesake of the Golden Arm Award has a storied history. Johnny Unitas was an 18-year veteran of the NFL, who played his collegiate career at the University of Louisville before joining the Baltimore Colts in 1958. His career passing figures include 2,830 pass completions for 40,239 yards, 290 touchdowns and throwing a touchdown pass in 47 consecutive games.
Leary, a native of Sicklerville, New Jersey, transferred to Kentucky in January after four seasons at NC State. He completed 568-of-944 passes for 62 touchdowns and his 6,807 career passing yards ranks sixth on NC State's career list. His 60.2 percent completion mark ranks fourth. Leary was 17-9 overall as a starter.
In 2022, he led NC State to a 5-1 record and a top-15 ranking in the national polls before suffering a season-ending injury. Prior to that, he was named the Atlantic Coast Conference Preseason Player of the Year.
Leary graduated in December of 2022 with a degree in sport management and is currently working on an undergraduate certificate in business from UK.
He is also on the watch lists for the Maxwell Award, Davey O'Brien Award and the Comeback Player of the Year.
The 2023 award winner will be presented the Golden Arm Award trophy by The Johnny Unitas Educational Foundation President, John Unitas, Jr., as well as other notable attendees at the Golden Arm Award banquet and celebration at the Four Seasons Hotel in Baltimore, Maryland on Thursday, Dec. 7, 2023.
The Big Blue Nation's excitement for the upcoming season is represented by record sales figures this year. Season tickets are sold out. Limited tickets remain for the first three home games: Sept. 2 vs. Ball State, Sept. 9 vs. EKU and Sept. 16 vs. Akron. Fans are highly encouraged to secure their seats for the first few chances to watch the 2023 Wildcats play. Each game week will feature exciting promotions as well as the return of the college football traditions and energy brought by the Big Blue Nation.
Those looking for single-game options, including fan-to-fan resale tickets, should utilize the UK Athletics Official Marketplace powered by Ticketmaster.
The verified resale marketplace is completely integrated with UK Athletics' ticketing system and uses barcode verification technology to ensure the authenticity of all tickets. As the official fan-to-fan marketplace of Big Blue Nation, Ticketmaster provides fans with reliable and convenient access to purchase tickets for games and sections that otherwise may be sold out, as well as the ability to post verified tickets for sale. Fans are cautioned against purchasing tickets from any other outlets.
With so much interest in the 2023 season, fans are encouraged to take advantage of the ticket availability for the first three weeks of the season, with exciting promotions coinciding with each game.
For more information on the UK football team, visit ukathletics.com/football and follow the team on Facebook, Instagram and "X," formerly Twitter.