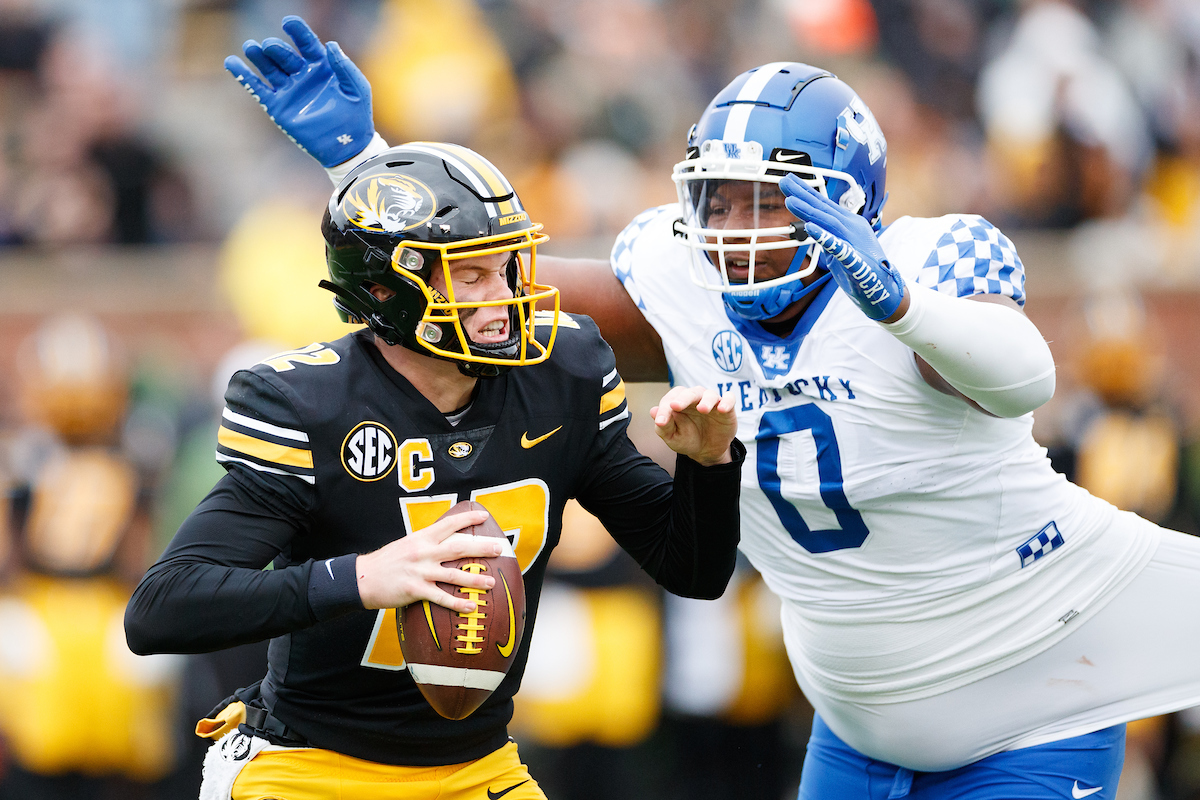 Following Saturday's Kentucky football scrimmage, head coach Mark Stoops was addressing the media when he saw a particular player walking through the lobby of the Joe Craft Football Training Center. Stoops called Deone Walker by name.
"There's big Deone over there," Stoops said. "Deone, I had to throw you out of the scrimmage today so we could get a play off."
Big things are expected from the big man from Detroit this season. As a true freshman last season, the 6-6, 348-pound Walker made an immediate impact. He made 40 tackles, including 4.5 tackles for loss and a sack, while playing in all 13 games. He earned Freshman All-American honors from several outlets and was named to the Southeastern Conference All-Freshman team.
This preseason, Walker has already been named to the watch lists for the Lott IMPACT Trophy, the Bronko Nagurski Award and the Outland Trophy.
Kentucky defensive coordinator Brad White knows that Walker will need to adjust, both physically and mentally, to all of the attention he's expected to get from the opposition this season.
"Obviously, as a player, you have to be mentally ready for that. You have to be mentally ready for the attention that comes," White said. "When there's attention and when there's double teams, some frustration can set in. If they're putting two of them on you, you've got to do something special to beat a double team. So, you've got to mentally prepare yourself and not forego your technique or forego the defense because you feel like you're not making as many plays as you were in the past when you were getting singled. You've got to stay true to yourself and let the play come to you."
White knows that Walker can cause major problems for UK's opponents. But White wants Walker to work on a couple of particular things.
"We know he's a disruptive force. For him, it's about consistency," White said. "There are days out there that he has this incredible energy and everybody feeds off it. Defense, offense, everybody feels it. And now it's for him to learn how to bring that every single day. And it's hard. Nobody can just be cloud nine every day. But the really good ones, the elite ones, they find a way to push through their bad days. Their bad days are better than most. Especially from an energy standpoint. For him, he's still growing through that. He's really improved in that area. I feel him more all the time in practice."
Walker is a physically imposing figure who will anchor the UK defensive line this season. White hopes that, as Walker matures, his performance will not only improve but will become even more consistent.