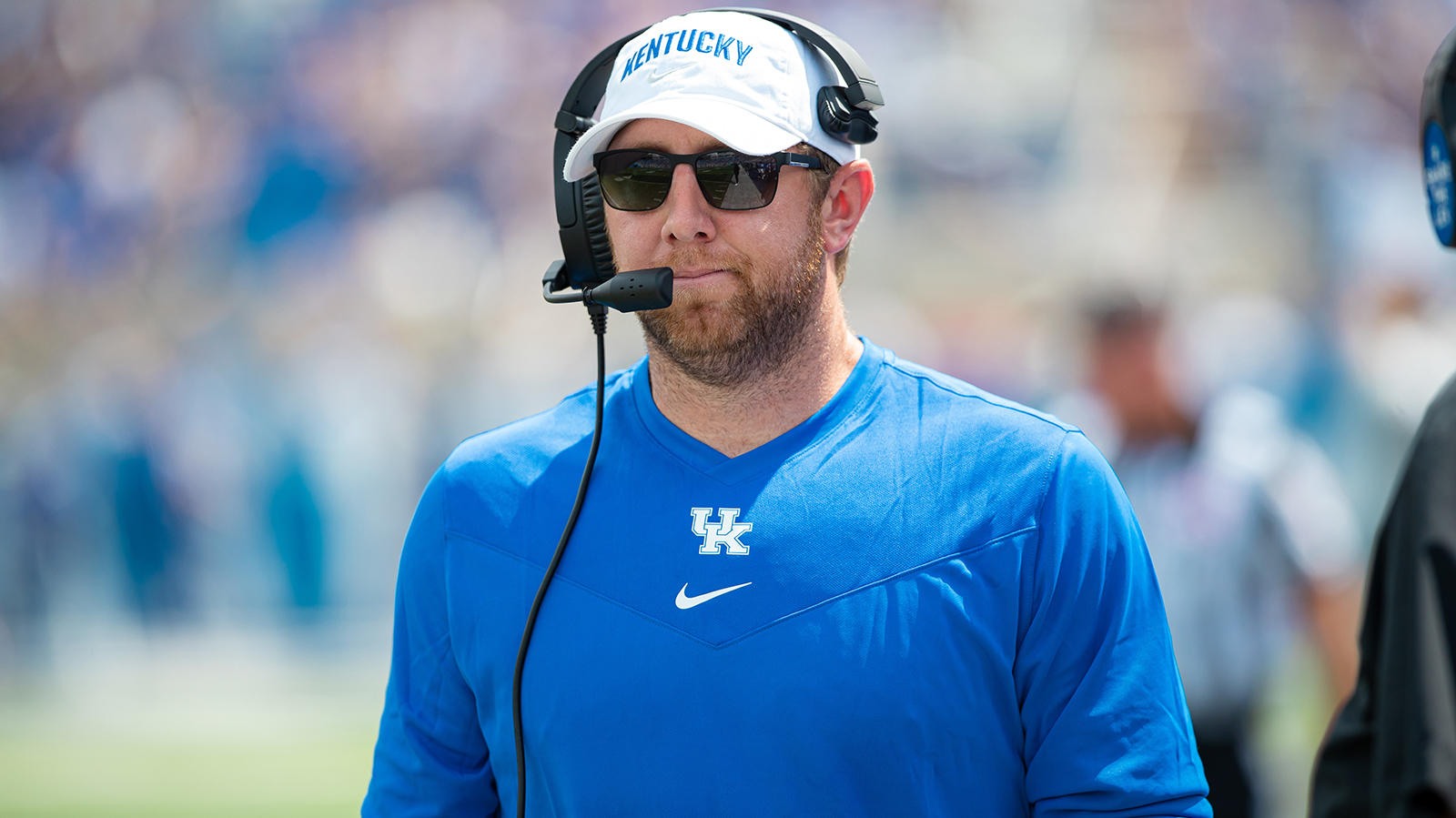 During the 2021 season, the Kentucky football offense was flying high. New offensive coordinator Liam Coen had quarterback Will Levis, running back Chris Rodriguez and wide receiver Wan'Dale Robinson clicking on all cylinders.
Kentucky finished 2021 fifth in the Southeastern Conference in scoring (32.3 points per game) and eighth in the league in total offense (424.1 yards per contest).
After the season, Coen departed for the Los Angeles Rams and Kentucky hired Rich Scangarello as his replacement. But Scangarello's time in Lexington was marred by injuries to Levis and a rebuilding offensive line.
The result was an offensive that struggled at times. The Cats were last in the SEC in scoring offense (20.4) and total offense (324.7).
Now, Coen is back and big things are expected from the offense again this season. With less than two weeks to go before the Cats kick off the season against Ball State (Sept. 2, noon ET, Kroger Field, SEC Network), what was Coen's evaluation of his offense in Saturday's scrimmage?
"I thought we did some nice things in the red zone at times," Coen said. "Had some young guys make a lot of plays. Had some things that came up on the tape that we need to improve on. I thought it was a step in the right direction in terms of from the first scrimmage. I did think you saw a little bit of an improved version of our offense."
New quarterback Devin Leary, a transfer from N.C. State, will be behind center when the 2023 season kicks off. Coen has only had to make minor adjustments with Leary.
"I think your stroke is your stroke and if you've got a natural stroke, a lot of those guys are typically pretty accurate," Coen said. "Not a lot of wasted motion. Not a lot of mechanical tweaks throughout his career. Footwork and above the neck stuff but I have not talked about or touched his stroke at all."
With Rodriguez gone, the running back position will be handled by multiple players. Some of them stood out on Saturday.
"We ran it pretty good in the four-minute drills, that was good to see," Coen said. "You did see some good bursts through the line of scrimmage. Saw Ramon (Jefferson), Ray (Davis) and JuTahn (McClain) do some really good things. Ramon got his first real live work since coming back from the ACL. Jamarion Wilcox did some good things as well. Feel pretty good about those guys. It will be interesting to see them live."
One of the strongest units on the team might be wide receiver, where the Cats return Tayvion Robinson and super sophomores Barion Brown and Dane Key.
"We need Tayvion Robinson to step up and be a playmaker for us," Coen said. "We need Tayvion Robinson to step up and be consistent, tough, physical and be a leader and I think he has some of those capabilities. I think you've got the young kids that had a lot of success last year. Probably three or four guys behind them that you feel good about putting in the game. It's not the deepest of rooms but it's talented."
The tight ends, all of whom have their own strengths, have also impressed Coen so far this fall.
"It gives us flexibility and all of those guys are a little different," Coen said. "They all have their own kind of niche. We definitely need to get those guys on the field and put them in a position to be successful."
Last year, the offensive line struggled at times. But Coen likes how that unit is progressing.
"Those guys are in competition," Coen said. "We want to have more depth, play more guys, get more guys involved. We're going to need to do that. We might need to play seven or eight guys at times."
With Coen back in charge of the offense, Kentucky expects to take a major step forward on offense in 2023.