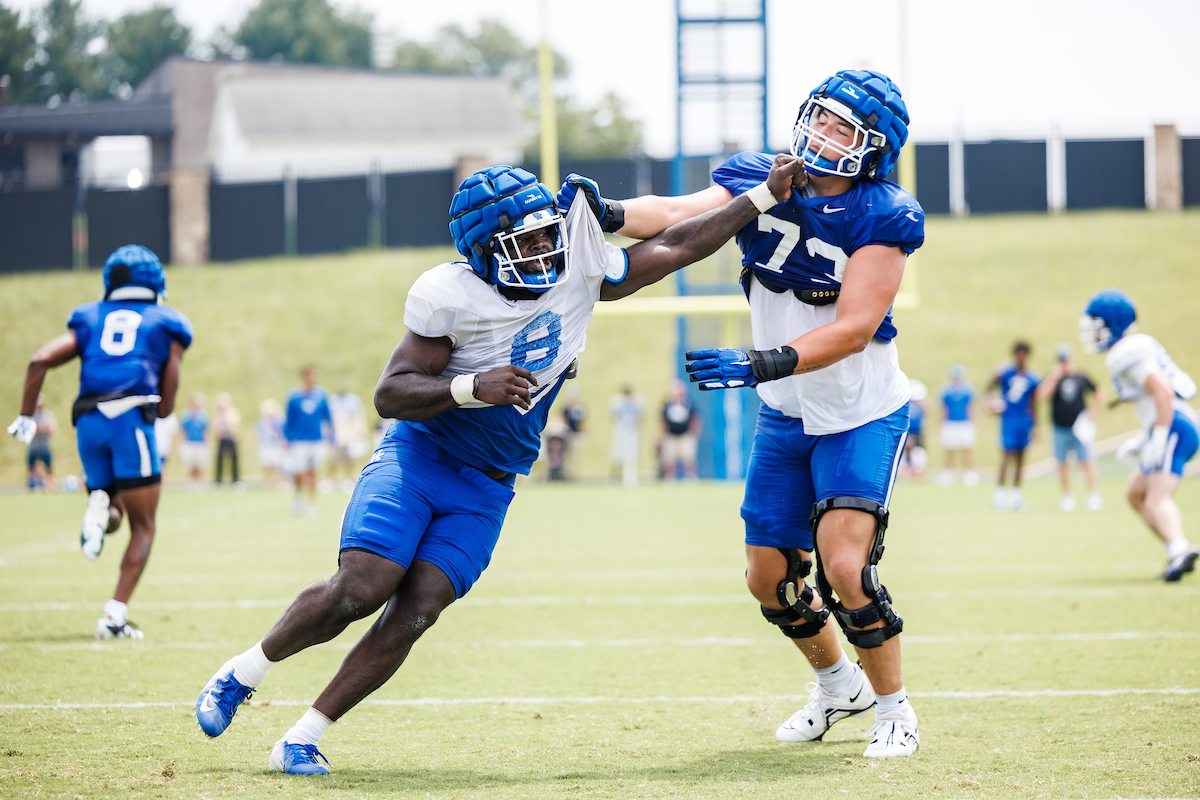 Throughout a football season, every team will face adversity. Kentucky head coach Mark Stoops thought his 2022 Cats fell a little short in dealing with that adversity at times.
During fall camp, Stoops and his team have been working on ways to overcome that inevitable adversity. The UK head coach spoke about that, and his role in helping the team deal with those situations, after Saturday's scrimmage.
"I think we all have to take a good look at yourself, year-to-year, I've never pretended to put it all on any one group," Stoops said. "Ultimately, I have to get that out of them. I have to do a better job and I've just got to put my foot down and demand it out of them and the coaches do and the players ultimately will."
Stoops thinks that this point of emphasis is being received by the team.
"I do think they got that message," Stoops said. "We've been more consistent. We haven't been perfect but I like their attitude and I like their work ethic and I like the energy. At times, I felt like I fell short in that area (last season). I've got to get it out of them."
With two weeks until the first game, against Ball State on September 2, there are still some areas that the Cats are working on improving.
"There has still been some pre-snap things," Stoops said. "We just have try to be as perfect as we can. Turnovers and ball security has been relatively good and that needs to stay. But there's still be some pre-snap penalties and some things of that nature. We've just got to be cleaner and not beat ourselves."
As camp has progressed, Stoops has seen his team improve in many areas. With that first game fast approaching, the UK head coach likes where his team stands.
"Just the demeanor of the team. I like where they're at," Stoops said. "There in a good place, united, committed. If we can stay there and stay hungry and continue to get better. If we can stay in that mindset, we'll be alright."
The Cats hope that all of the work in the preseason will pay benefits during the 2023 season. While it's difficult to replicate the adversity that will come during the season, Stoops and his staff hope that the emphasis on adverse situations during fall practice will translate into better efficiency and consistency during adverse times once the season kicks off.