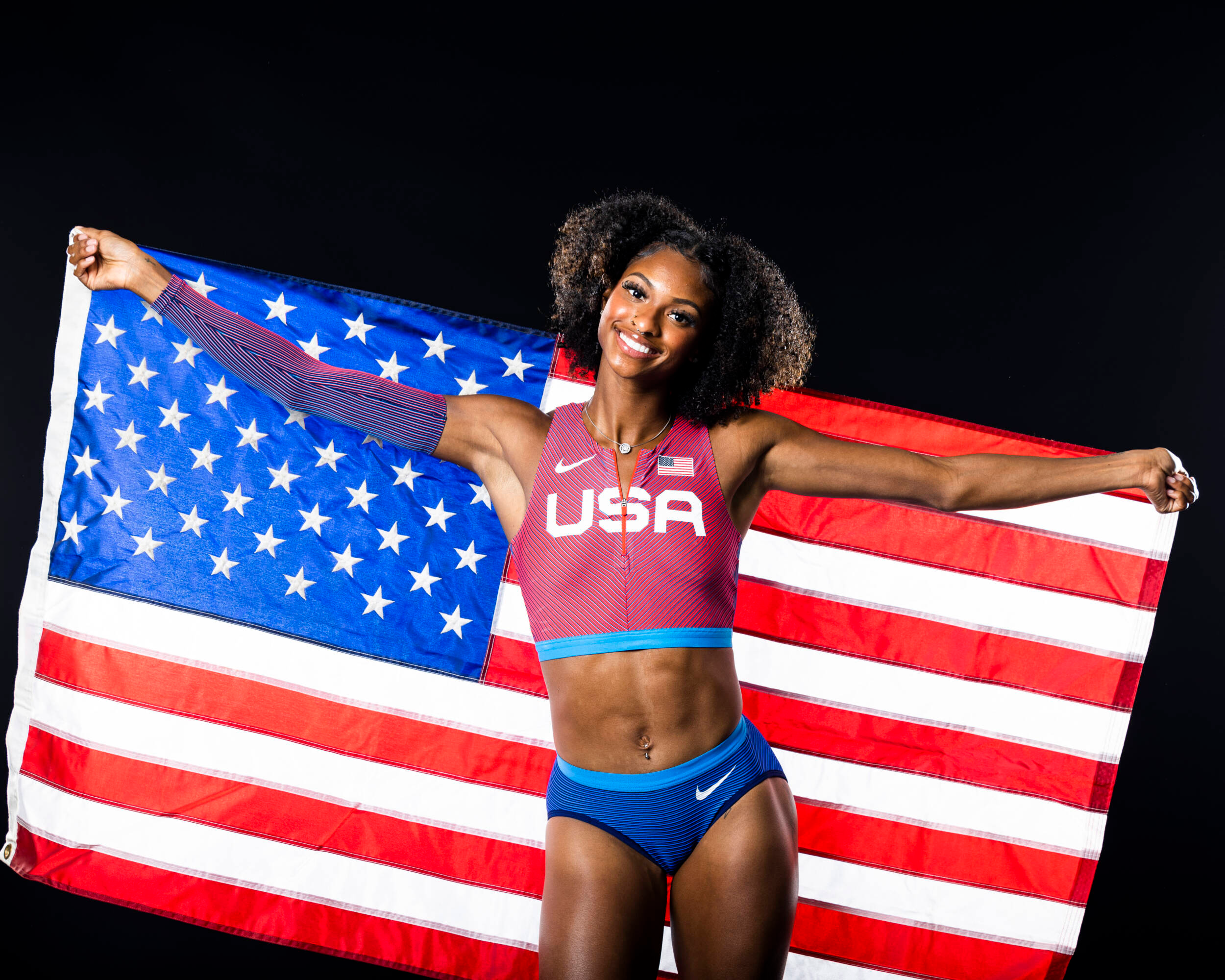 August 18, 2023 - 03:14 PM
Six Wildcats to Represent UKTF at World Athletics Championships
LEXINGTON, Ky. — Six Kentucky track & field alumni and one volunteer coach are set to take the world stage at the 2023 World Athletics Championships at the National Athletics Centre from August 19-27 in Budapest, Hungary.
Below is a list of UKTF-affiliated athletes who will be competing, the country they represent, and their events.
Men
Daniel Roberts '19 – Team USA – 110m hurdles
Women
Jasmine Camacho-Quinn (2015-2018) – Team Puerto Rico – 100m hurdles
Devynne Charlton, volunteer coach, Purdue alumni – Team Bahamas – 100m hurdles
Keni Harrison '15 – Team USA – 100m hurdles
Micaela Hazlewood '19 – Team USA – Discus Throw
Alexis Holmes '22 – Team USA – 4×400 Relay Pool
Masai Russell '23 – Team USA – 100m hurdles
Meet Information
The first day of competition for the Wildcats will include Alexis Holmes in the Mixed 4×400 meter relay on Saturday, August 19th.
The meet schedule, start lists, and live results can be found here.
The meet will be broadcast on NBC Universal's broadcast and streaming platforms.
NBC, CNBC, and the USA Network will combine to air live coverage of each day of the nine-day meet. All TV coverage also streams on NBCSports.com and the NBC Sports app for subscribers.
Peacock will also simul-stream all TV coverage, plus additional live coverage including individual streams of field event finals.
The full TV/broadcast schedule is available here.
Follow Kentucky Track and Field and Cross Country on Facebook, Instagram, Twitter, and at UKathletics.com.
All times below are in Eastern Daylight Time.
| | | | | |
| --- | --- | --- | --- | --- |
| August 19 | Time | Round | Status | TV |
| Mixed 4×400 Meter Relay | 5:05 a.m. | Heats | Alexis Holmes – Team USA | CNBC/NBCSports.com/Peacock |
| Mixed 4×400 Meter Relay | 3:49 p.m. | Final | Alexis Holmes – Team USA | NBC/NBCSports.com/Peacock |
| | | | | |
| --- | --- | --- | --- | --- |
| August 20 | Time | Round | Status | TV |
| Women's Discus Throw | 3:00 a.m. | Qualification – Group A OR | Micaela Hazlewood – Team USA | CNBC/NBCSports.com/Peacock |
| Men's 110H | 7:05 a.m. | Heats | Daniel Roberts – Team USA | CNBC/NBCSports.com/Peacock |
| Women's Discus Throw | 4:30 a.m. | Qualification – Group B | Micaela Hazlewood – Team USA | CNBC/NBCSports.com/Peacock |
| | | | | |
| --- | --- | --- | --- | --- |
| August 21 | Time | Round | Status | TV |
| Men's 110H | 2:05 p.m. | Semifinal | Daniel Roberts – Team USA | USA Network/NBCSports.com/Peacock |
| Men's 110H | 3:40 p.m. | Final | Daniel Roberts – Team USA | USA Network/NBCSports.com/Peacock |
August 22
Time
Round
Status
TV
Women's 100H
12:40 p.m.
Heats
Jasmine Camacho-Quinn – Team Puerto Rico

Keni Harrison – Team USA

Masai Russell – Team USA

USA Network/NBCSports.com/Peacock
Women's Discus Throw
2:20 p.m.
Final
Micaela Hazlewood – Team USA
USA Network/NBCSports.com/Peacock
August 23
Time
Round
Status
TV
Women's 100H
2:40 p.m.
Semifinal
Jasmine Camacho-Quinn – Team Puerto Rico

Keni Harrison – Team USA

Masai Russell – Team USA

USA Network/NBCSports.com/Peacock
August 24
Time
Round
Status
TV
Women's 100H
3:25 p.m.
Final
Jasmine Camacho-Quinn – Team Puerto Rico

Keni Harrison – Team USA

Masai Russell – Team USA

USA Network/NBCSports.com/Peacock
August 26
Time
Round
Status
TV
Women's 4×400 Relay
1:55 p.m.
Heats
Alexis Holmes – Team USA
CNBC/NBCSports.com/Peacock
| | | | | |
| --- | --- | --- | --- | --- |
| August 27 | Time | Round | Status | TV |
| Women's 4×400 Relay | 3:47 p.m. | Final | Alexis Holmes – Team USA | CNBC/NBCSports.com/Peacock |