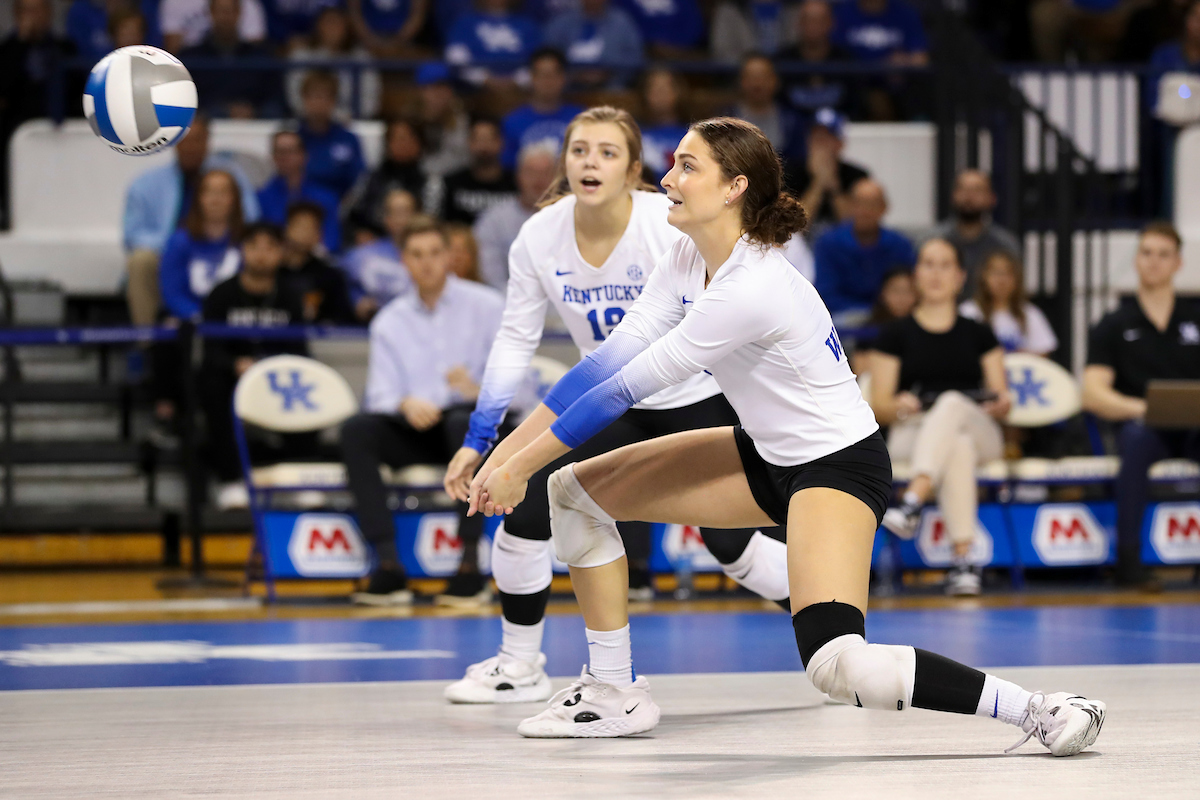 August 18, 2023 - 05:39 PM
Riah Walker Hopes Past Experience Can Help 2023 Volleyball Cats
The 2020 (into 2021) college volleyball season was unlike any before it. Due to the COVID-19 pandemic, the season was split into two parts. Some matches were played in the fall of 2020, while others, including the NCAA Tournament, were delayed until the spring of 2021.
Kentucky fans will always remember that season fondly because that's when the Cats claimed their first national championship. Led by National Player of the Year Madison Lilley, UK went 24-1 and beat Texas in the NCAA title game.
Riah Walker was a freshman on that UK team and was a contributor all season long. Walker is now a senior who is a leader on the current Kentucky team. But she's leaning back on some of the things she learned in 2020-21 to help develop her leadership style.
"The year we won the national championship was such a strange year, with COVID and everything," Walker said. "But it also taught us a lot of lessons that we might not have learned otherwise. Like, head down and grinding and trying not to worry about any other outside factor."
Walker has played with a number of All-Americans, including Lilley, Gabby Curry and Alli Stumler. She has tried to learn from all of those outstanding players.
"I take something away from every single senior that I've been under," Walker said. "Just our core values throughout the year, our standards is what we bring the most."
Those are some of the things that Walker hopes she can teach UK's 2023 freshman class. It's a class that, much like Walker's, has a lot of hype and a ton of potential. Walker is prepared to teach the new players the ways of Kentucky volleyball.
"I definitely feel prepared for it," Walker said. "I'm not as nervous as I thought I would be. It's definitely cool."
During her freshman campaign, the adversity facing the Cats came in the form of the pandemic and everything that came with that. This season, Kentucky will face a different sort of adversity. UK will not be able to play its home matches in Memorial Coliseum due to the renovations that are currently ongoing. To Walker, that adversity seems very familiar.
"This reminds me a little of my freshman year," Walker said. "We had to deal with our what-ifs. This is another what-if. We have to be on the road a lot because Memorial is under construction. We've just been talking about, it might be more difficult. Being away from our fans kind of stinks. But I think we can use it to our advantage."
As the Cats look for a seventh consecutive Southeastern Conference championship, Walker thinks the team is ready to go.
"We're excited for preseason," Walker said. "It's going to be going zero to 100, volleyball-wise with two-a-days."
Walker and the Cats are preparing for a season of adversity. Walker's experience during her freshman year should allow her to help her teammates deal with whatever challenges they face.