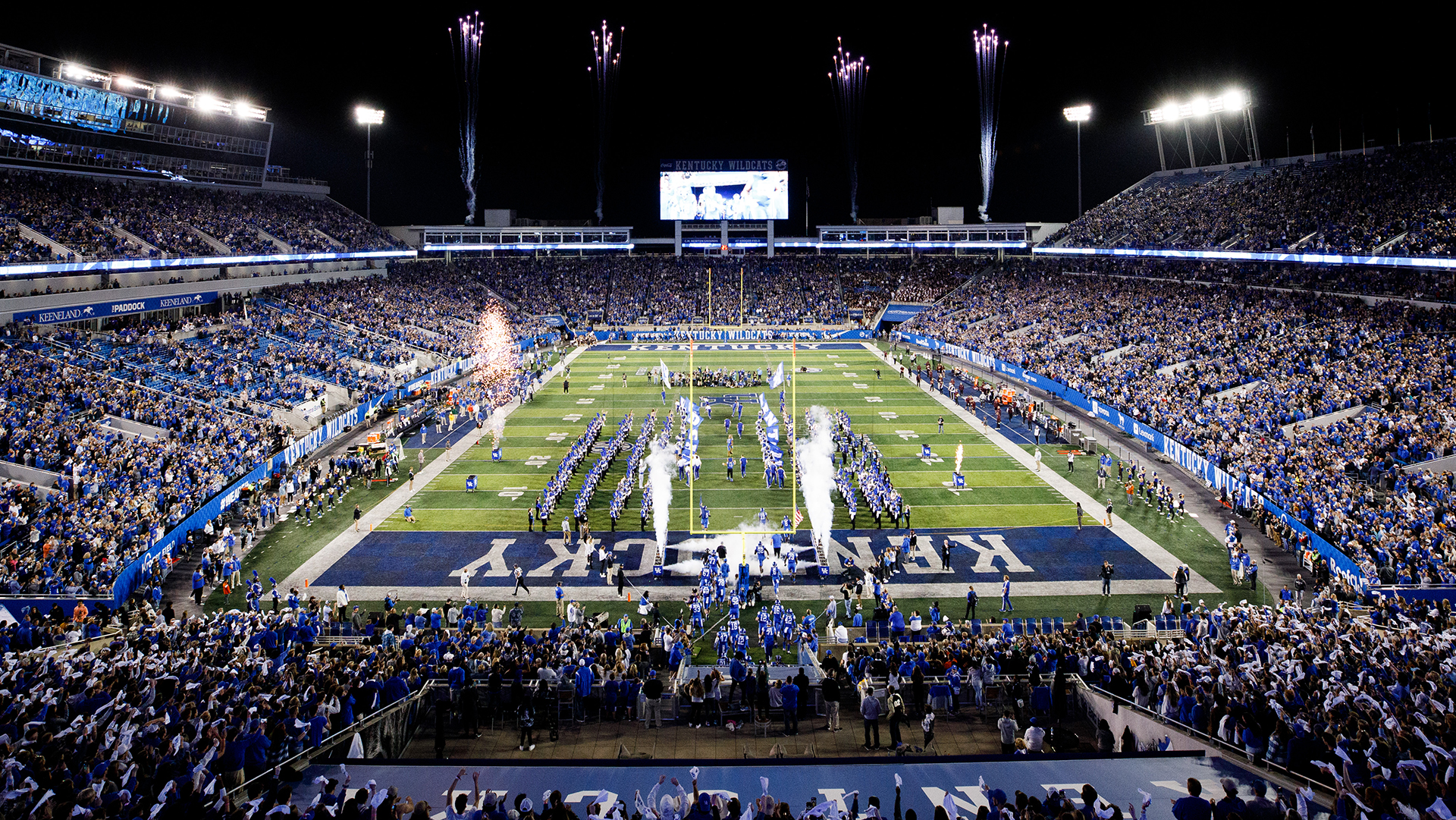 LEXINGTON, Ky. – With a little over two weeks to go before the 2023 Kentucky football season starts, all remaining season tickets in Kroger Field are sold out.
Wildcat fans have secured more than 40,200 season tickets, while all the 6,500 student season passes have also sold out.
The Big Blue Nation's excitement for the upcoming season is represented by record sales figures this year. The season-ticket totals are the most recorded during the Mark Stoops era, dating to 2013, as well as the current configuration of Kroger Field, dating to the 2015 renovation.
The Sept. 30 game vs. Florida is now sold out, joining the Oct. 28 border battle against Tennessee and the Nov. 11 matchup with Alabama as sellouts. 
"We're very excited and thankful to the fans for their great response in anticipation of the upcoming season!" said Mitch Barnhart, UK Director of Athletics.  "Coach Stoops and the team love the support they get from the Big Blue Nation and we've all seen what a difference it can make on game day.  I can't wait to see everyone at Kroger Field this fall!"
Fewer than 1,500 single-game tickets remain available for Homecoming Weekend, when the Wildcats welcome Missouri on Oct. 14, so fans are urged to act fast in securing the remaining seats.
Limited tickets remain for the first three home games: Sept. 2 vs. Ball State, Sept. 9 vs. EKU and Sept. 16 vs. Akron. Fans are highly encouraged to secure their seats for the first few chances to watch the 2023 Wildcats play. Each game week will feature exciting promotions as well as the return of the college football traditions and energy Big Blue Nation plays a huge part in.
Those looking for single-game options, including fan-to-fan resale tickets, should utilize the UK Athletics Official Marketplace powered by Ticketmaster.
The verified resale marketplace is completely integrated with UK Athletics' ticketing system and uses barcode verification technology to ensure the authenticity of all tickets. As the official fan-to-fan marketplace of Big Blue Nation, Ticketmaster provides fans with reliable and convenient access to purchase tickets for games and sections that otherwise may be sold out, as well as the ability to post verified tickets for sale. Fans are cautioned against purchasing tickets from any other outlets.
With so much interest in the 2023 season, fans are encouraged to take advantage of the ticket availability for the first three weeks of the season, with exciting promotions coinciding with each game.
Ball State – Sept. 2 at noon
UK will host Ball State in the season opener for both teams on Sept. 2. The contest against Ball State will also be Boy Scouts Day, with scouts from across the state having access to specially-priced $15 tickets. For more information, contact Alex Geisel at alex.geisel@uky.edu or 859-218-4977.
Eastern Kentucky – Sept. 9 at 3 p.m.
The Cats welcome Eastern Kentucky on Sept. 9. This contest will be Youth Sports and Activities Day, where youth teams from across the area will be eligible for specially-priced tickets starting at $15. For more information, contact Caleb Young at caleb.young@uky.edu or (859) 218-4978.
The game will be Heroes Day as well. Through a partnership with GovX, UK Athletics is pleased to offer members of Heroes Day groups (military, law enforcement, fire, emergency medical services, and government employees) one complimentary ticket for themselves in addition to specially priced guest tickets. This offer is available through UKathletics.com/GovX, while supplies last.
Akron – Sept. 16 at 7:30 p.m.
The game will mark Girl Scouts Day, where scouts from across the area can get specially-priced tickets starting at $15 each. For more information, contact Makenna Miller at makenna.miller@uky.edu or 859-562-2058.
UK will participate in the College Football Playoff Foundation's Extra Yard for Teachers Week at Kroger Field. Extra Yard for Teachers elevates the teaching profession by inspiring and empowering teachers through the implementation of programs in four focus areas: resources, recognition, recruitment and professional development.
All teachers and school employees, in addition to University of Kentucky faculty & staff, have an opportunity to purchase specially-priced tickets for the Akron game through UKathletics.com/EYFT. Purchases will be restricted to those with Kentucky public school email address domains ("@COUNTY.kyschools.us"). University of Kentucky faculty & staff purchases will be restricted to those with a UK email address ("@uky.edu"). For questions, or to add your school or school district's email domain to the list of eligible purchasers, contact Jordan Smith at jordanx.smith@uky.edu or (859) 257-5788.
For more information on the UK football team, visit ukathletics.com/football and follow the team on Facebook, Instagram and "X," formerly Twitter.