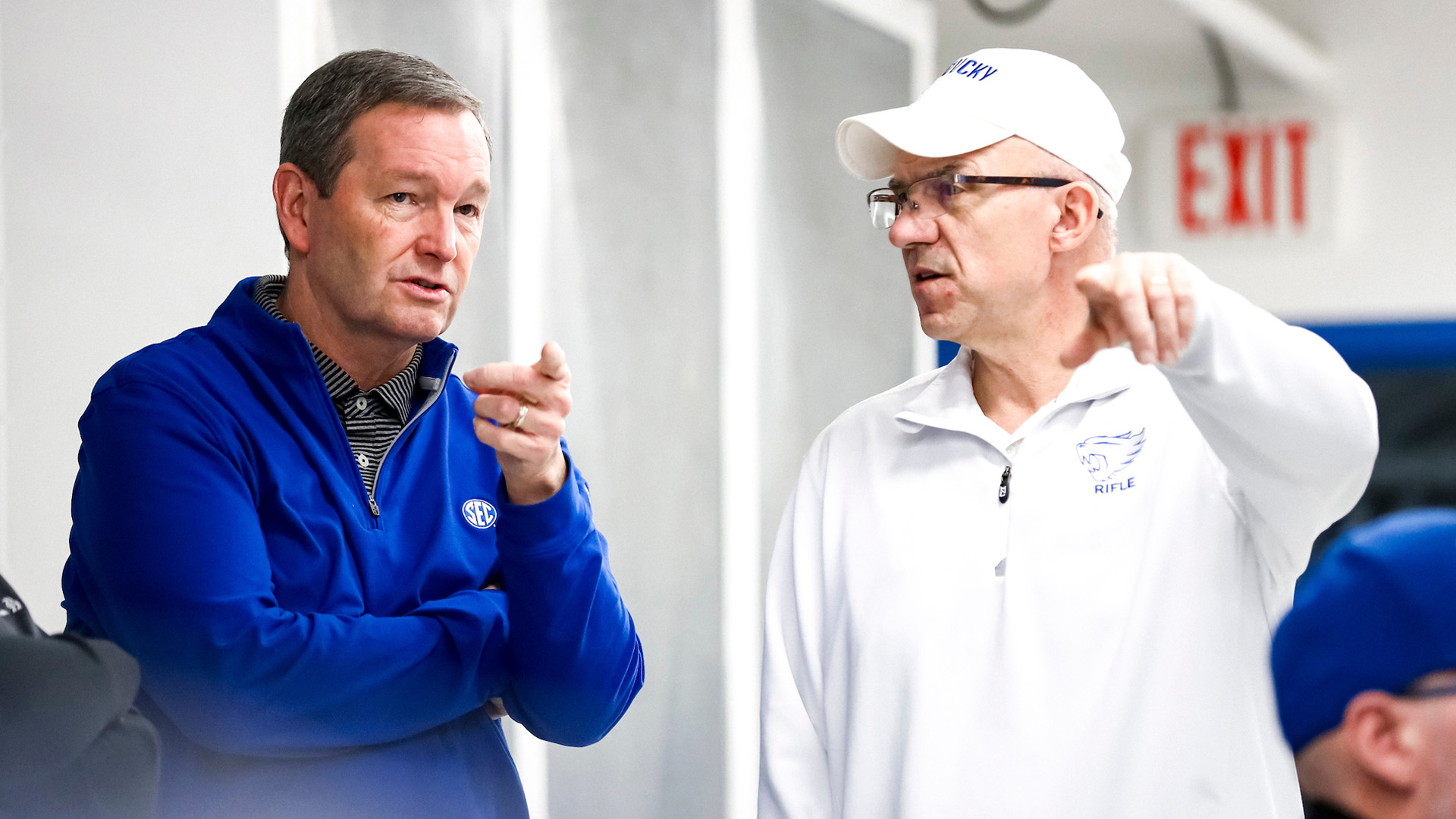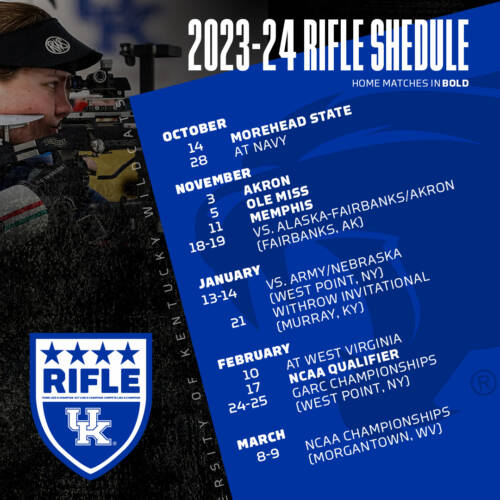 LEXINGTON, Ky. – Looking to continue its high standard of success after earning its third-straight podium finish at last year's NCAA Championships, the University of Kentucky rifle team has finalized its 2023-24 competition schedule.
Kentucky, which has won three of the last five NCAA Championships with team titles in 2018, 2021 and 2022, is set to compete all over North America in 2023-24. After a competitive schedule from October to February, the Wildcats will compete in the Great America Rifle Conference Championships in late February and hope to qualify for their 30th NCAA Championship appearance in March.
"We are very excited about the release of our competition schedule today because it means we are one step closer to getting the season started in a few months," said head coach Harry Mullins, who is entering his 36th season with the program. "Like we talked about last season, there are so many good collegiate rifle teams across the country and you really have to compete at a high level every day if you want to have a chance at holding the ultimate trophy in March. I think this schedule really prepares our student-athletes for that championship grind. Coach Cat and I cannot wait to get them back in the range soon and get to work."
Kentucky will begin its season on October 14 when it plays host to Morehead State inside the UK Rifle Range. Later in the month, UK travels for the first time to Navy on Oct. 28 in Annapolis, Maryland. November will be busy for the Wildcats as UK will host Akron and Ole Miss on Nov. 3 and 5, respectively, followed by a Nov. 11 dual match with Memphis at home. Kentucky concludes the fall season by traveling to Fairbanks, Alaska for the second consecutive season, competing against Alaska-Fairbanks and Akron on Nov. 18 and 19.
As the calendar turns to 2024, Kentucky will travel to West Point, New York to compete against Army and Nebraska on Jan. 13 and 14. The following weekend, UK will travel to Murray, Kentucky for the annual Withrow Invitational. The Wildcats annual dual match with West Virginia will be Feb. 10 in Morgantown, West Virginia this season.
Postseason competition begins Feb. 17 as UK will host a NCAA Qualifier at the UK Rifle Range. The GARC Championships will be Feb. 24-25 in West Point, N.Y., with the NCAA Championships March 8-9 in Morgantown, W.Va.
All home matches will be held inside the UK Rifle Range, which is inside Barker Hall. Matches normally follow a similar schedule with sighting and prep for smallbore beginning at 8 a.m. ET. Spectators are invited to watch smallbore scores up in Barker Hall and enjoy free breakfast during the first part of the relay. The range will be open to spectators for air rifle. Admission to all home matches is free.
Kentucky had a solid 2022-23 season, finishing third overall at the 2023 NCAA National Championships. It marked the 22nd time the Wildcats have finished top five at the national event. UK has finished on the podium in each of the last three national championships, winning the title back-to-back in 2021 and 2022. UK has won three of the last five titles overall and were the undefeated favorites in 2020 when the championships were canceled due to COVID-19. UK's four national titles is the third most in NCAA history.
Prior to the NCAA Championships last season, Kentucky won its fourth straight GARC Regular-Season Championships. It was the first time in program history that UK has won four straight regular-season championships and it was the program's 10th regular-season title overall. All 10 titles have come under Mullins.
UK returns a majority of its 2022-23 roster, including last year's team leader in smallbore and air rifle average and three-time first-team All-America Sofia Ceccarello. Ceccarello won gold at the GARC Championships in air rifle but did not compete in the NCAA Championships due to a prior international obligation. Fellow sophomore AJ Hotko and Martin Voss are also returning, along with juniors Allison Buesseler, Kayla Kalenza and Tori Kopelen. Fifth-year seniors Emmie Sellers and Jaden Thompson anchor the returnees and are poised for strong seasons.
The Wildcats added two rookie stars to this year's team in Braden Peiser and Emily Marne. Both come to Lexington with a length list of accomplishments and are expected to have strong freshman campaigns.
For more information on the Kentucky rifle team, visit UKathletics.com or follow UKRifle on Twitter, Instagram and Facebook.