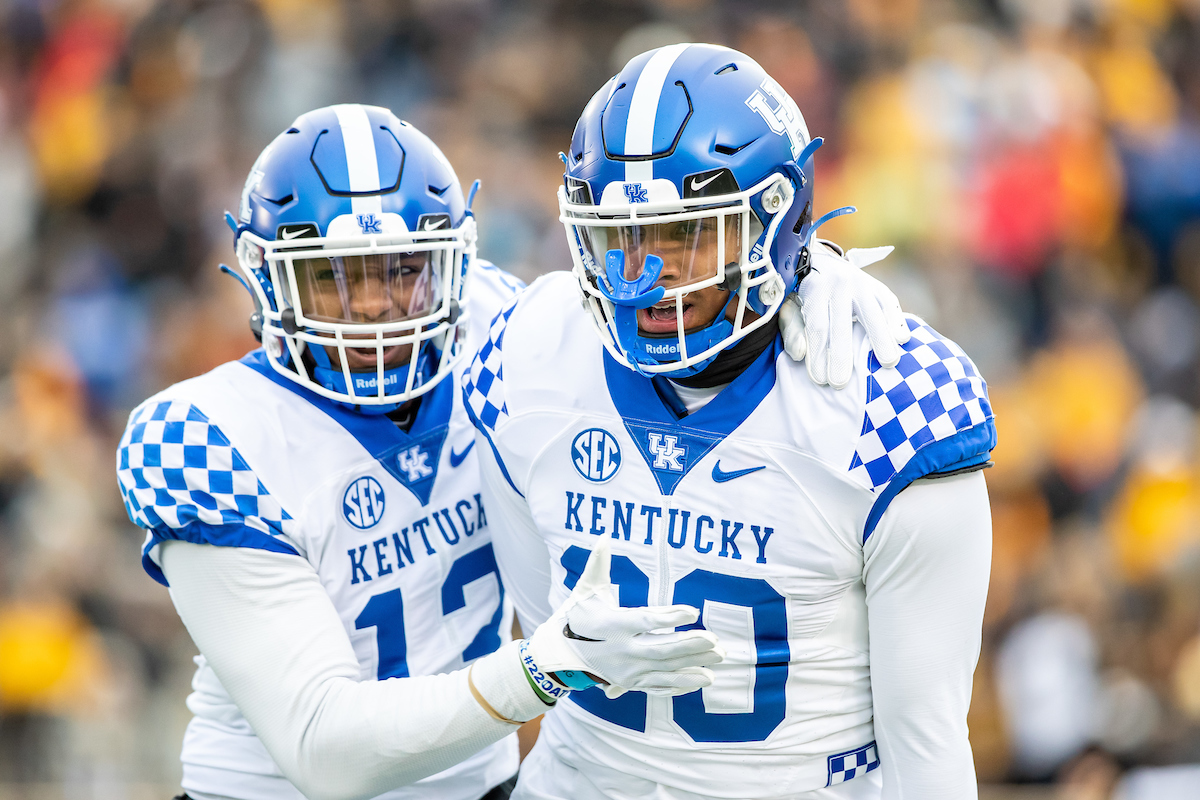 Many times in athletics, a player will make his or her biggest jump between their first and second years. The Kentucky football staff is hoping that will be the case this season with outside linebacker Keaten Wade.
Last season, Wade played in all 13 games as a true freshman. He ended the season with 13 total tackles, including 2.5 tackles for loss, one sack and a pass breakup.
As a sophomore this season, much more will be expected of the 6-5, 250-pound outside linebacker from Spring Hill, Tenn. Defensive coordinator Brad White has already told Wade that a jump is expected.
"Keaten and I have had a lot of talks about this being a big jump year," White said. "Because he is a guy that can be a dominant player."
What will it take for Wade to become that dominant player?
"For him, he's a very easy-going young man. He's very level-headed, very even keeled," White said. "But at the same time, within a given play, you need little spikes. And he'll have plays that he just stays even keeled. Within a given play, I need you to amp up. It's OK to get angry, to get mad. When he has those moments, I try to encourage him that it's OK. I want you to get all the way up to the line."
White sees some of a former Wildcat in Wade.
"I've had that conversation, Josh Paschal will tell you," White said. "Josh had that, early in his career, he was very much a pleaser. He always wanted to be in the right spot. At some point, Josh, it's OK to be a little bit selfish as long as you go make a play. Keaten is a little bit of that same way."
White wants Wade to take more chances and to try to make more plays.
"It's not always going to be right and perfect," White said. "But if he's eight out of 10 on those, I'll take it."
The message is clearly getting through to Wade during fall camp.
"(White) preaches not to think too much, not play like a robot. I've been trying to do that," Wade said. "Even if it's not technically my gap, trying to make a play. Just playing, not trying to do everything right. When I see a play, make it happen. Working on pass rush, definitely."
In order to pull that off, Wade will have to leave his comfort zone.
"I'm really a calm person outside of football," Wade said. "So, it's about flipping that switch. I'm trying to bring my energy."
Specifically, Wade knows there are things that he needs to do more effectively.
"I feel like I need to be disruptive and dominant in the run and pass game, which Coach White said I can," Wade said. "I just need to focus in and do everything right and be confident so I can play my best ability."
If Wade can make that big jump from year one to year two, it should make the UK defense even better, and deeper, in 2023.