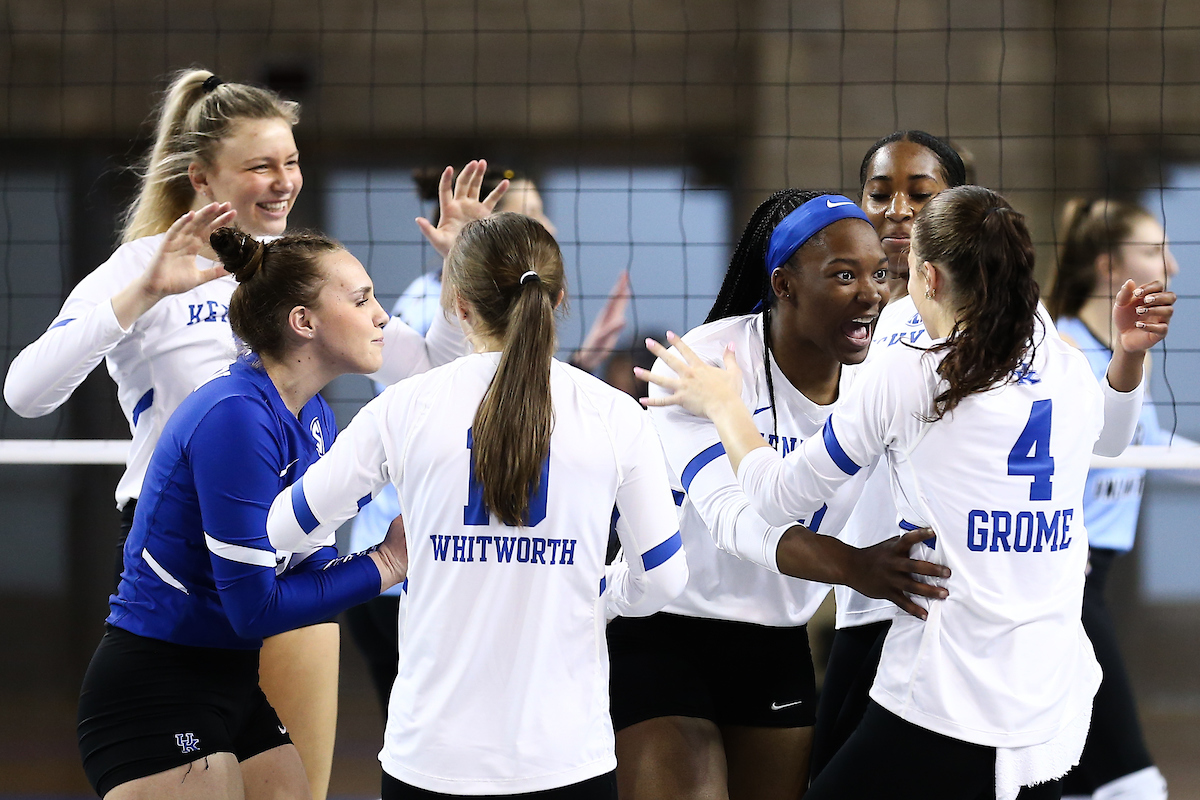 August 15, 2023 - 02:38 PM
Kentucky Volleyball to Appear on ESPN Networks 10 Times in 2023
LEXINGTON, Ky. – The Kentucky Volleyball team will be featured in 10 matches that will air on the ESPN Family of Networks, ESPN announced Tuesday afternoon. The fall schedule for women's soccer and volleyball was announced as part of ESPN's longstanding relationship with the Southeastern Conference in which SEC Network televises 36 volleyball matches and 26 soccer matches throughout the fall.
UK will play on ESPN for the second time in the regular season in program history as it travels to Louisville on Sept. 13 for a match against the Cardinals at 8 p.m. on the main ESPN channel. Additionally, UK's match vs. Tennessee on Sept. 24 inside Rupp Arena is an ESPN/ESPN2 flex game, with the channel designation to be announced later this fall.
Kentucky will appear six times across the SEC Network airwaves, including three road matches and three home matches inside of Rupp Arena. The Wildcats lone non-conference match to be featured on the 2023 slate is against Pittsburgh in the 84 Lumber Volleyball Classic as part of a two-legged attendance challenge between the Wildcats and Panthers.
The other two home matches on SEC Network for Kentucky in 2023 are vs. NCAA Tournament team from 2022, Arkansas, on Oct. 22 at 1 p.m. ET and a Nov. 12 match against Georgia at 1 p.m. ET, as well.
UK's matches at Georgia (Sept. 29, 7 p.m. ET), Tennessee (Oct. 15, 5 p.m. ET) and LSU (Oct. 27, 9 p.m. ET) will also be shown live on the air.
On Sunday, November 19, the SEC Network holds two 'wild card' selections, where it will pick the most relative matches to the championship race to air on its network in the 1 p.m. ET and 3 p.m. ET timeslots. Kentucky is scheduled to play Missouri that day with a projected 1:30 p.m. ET start in Rupp Arena.
ESPN will announce its schedule for its other channels at a later date including main ESPN, ESPN2, ESPNU and other ESPN subsidiaries.
Kentucky Volleyball on ESPN
Friday, Sept. 1 vs. Pitt; 7 p.m. ET; Lexington, Ky. (SEC Network)
Sunday, Sept. 3 vs. Pitt; Noon ET; Pittsburgh, Pa. (ACC Network)
Wednesday, Sept. 13 vs. Louisville; 8 p.m. ET; Louisville, Ky. (ESPN)
Sunday, Sept. 24 vs. Tennessee; 3 p.m. ET; Lexington, Ky. (ESPN or ESPN2)
Friday, Sept. 29 at Georgia; 7 p.m. ET; Athens, Ga. (SEC Network)
Sunday, Oct. 15 at Tennessee; 5 p.m. ET, Knoxville, Tenn. (SEC Network)
Sunday, Oct. 22 vs. Arkansas; 1 p.m. ET; Fayetteville, Ark. (SEC Network)
Friday, Oct. 27 at LSU; 9 p.m. ET; Baton Rouge, La. (SEC Network)
Sunday, Nov. 5 at Florida; 4 p.m. ET; Gainesville, Fla. (ESPN2)
Sunday, Nov. 12 vs. Georgia; 1 p.m. ET; Lexington, Ky. (SEC Network)
For the latest on UK Volleyball, follow the Wildcats on Twitter and Instagram at @KentuckyVB.