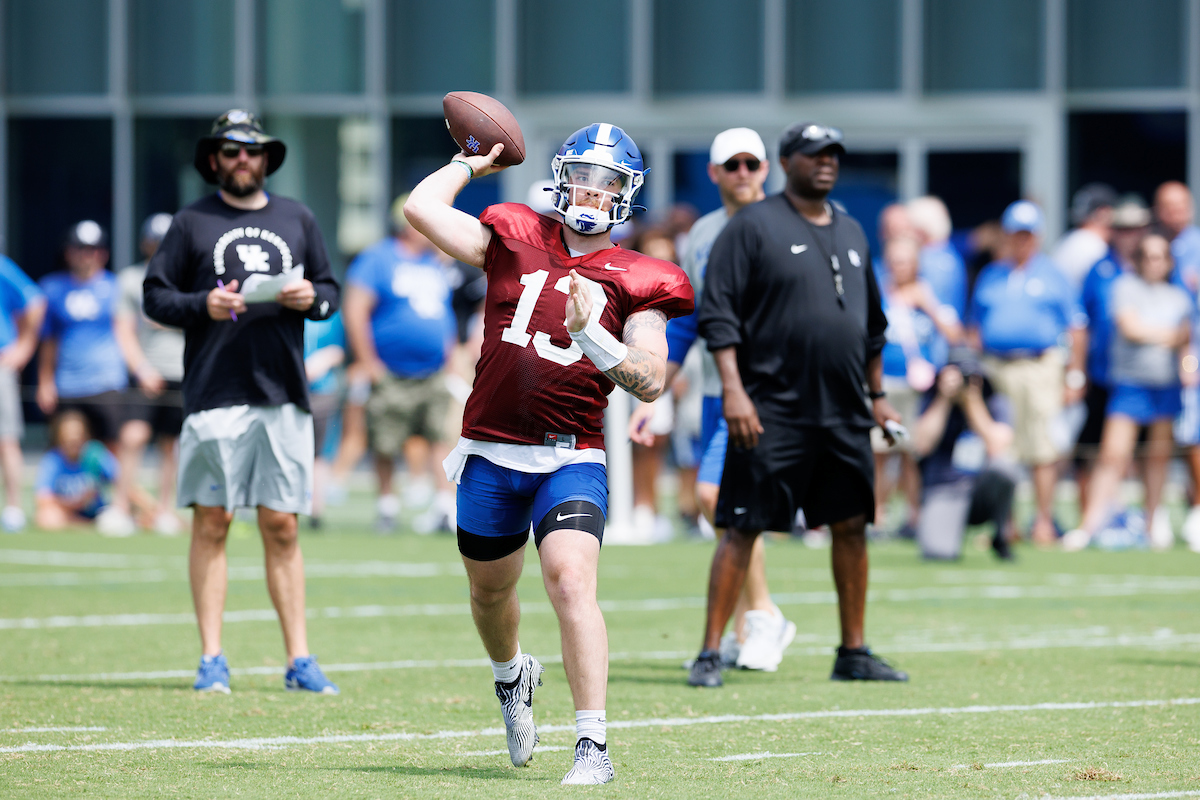 Devin Leary is expected to be the starting quarterback for Kentucky this fall, taking over for two-year starter Will Levis. When the UK coaching staff recruited Leary out of the transfer portal, they not only liked his physical abilities. They knew they would be getting a player with a ton of college experience.
Leary played for four seasons at N.C. State, seeing action in 30 games. He made 26 starts for the Wolfpack, throwing for 6,807 yards during his time in Raleigh.
Leary's experience showed itself again on Tuesday during UK's morning practice, according to offensive coordinator Liam Coen.
"He made some great throws when we needed to in the two-minute situation," Coen said. "His poise, confidence really carried over throughout the rest of the unit. That was great to see. We had a couple of two-minute drills early in practice that, it was really nice to see our guys execute in that moment. It was good to see some of the work we did in the summertime pay off."
Coen and the UK offensive staff know that Leary is comfortable playing in a fast-paced offense because of his experience at N.C. State.
"He's played in no-huddle, up-tempo offenses. He's played in those situations before," Coen said. "For us, he's more comfortable operating that way. That's what he's used to."
Coen attributes some of Leary's success to his ability to understand a particular play and how it's supposed to develop. But there's also something else about Leary that Coen really likes.
"He has a great feel for the vision of the play, the concept, the understanding," Coen said. "But he also knows just how to play ball."
That includes being able to distribute the ball to multiple players on a specific play call. The UK OC has told his wide receivers, tight ends and running backs to be prepared.
"All eligibles are alive when Devin is throwing the ball. He'll exhaust all eligibles," Coen said. "So, all four, five receivers, tight ends, running backs, if you're within the route concept, you've got to get ready for the ball because he will throw it to anybody at any time."
Leary should have plenty of options as receivers this fall. Returning wideouts Barion Brown, Dane Key and Tayvion Robinson will be frequent targets, along with tight ends Brendan Bates, Izayah Cummings and Josh Kattus. Out of the backfield, Ray Davis and Ramon Jefferson, among others, could be on the receiving end of Leary's throws.
In Leary, Kentucky got a quarterback who is experienced at the college level, something that was on full display during Tuesday morning's practice.