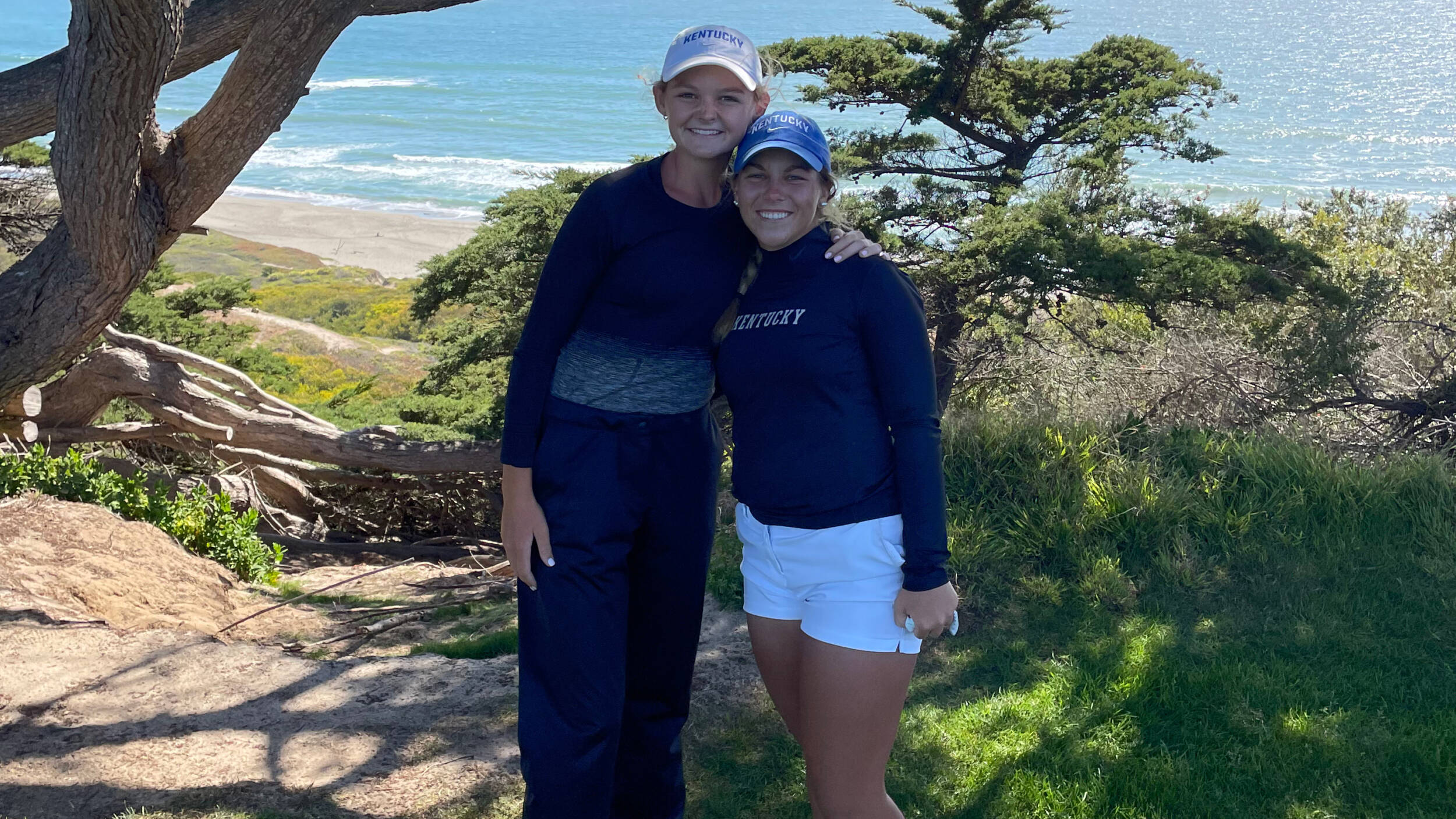 August 7, 2023 - 10:10 PM
Two Wildcats Positioned to Make Cut at 2023 U.S. Women's Amateur
LOS ANGELES – Two University of Kentucky All-Americans put themselves in a position to advance at the 2023 U.S. Women's Amateur after the first round of stroke play at the Bel-Air Country Club in Los Angeles, California, on Monday.
The 2021 U.S. Women's Amateur Champion and rising graduate student Jensen Castle put together an even-par 70 to find a share of T19 place, while 2022 U.S. Women's Amateur co-Stroke Play Medalist Honoree and rising senior Laney Frye earned a 2-over-par 72 for a share of T57 place after the first round.
The top 64 players at the end of 36 holes of stroke play will advance to match play, which begins Wednesday. Castle has reached match play every summer since 2020, while Frye has reached match play every summer since 2021.
The 156-person field experienced a 40-minute fog delay Monday morning. Despite the interruption, Castle got off to a glowing start.
The Wildcat made two birdies in her first two holes, including the par-5 No. 1 and the par-4 No. 2. That start allowed her to share a lead of the championship for the time being. Her couple of birdies foreshadowed what would become a round of pairs, as she then suffered back-to-back bogeys on Nos. 4 and 5, then a set of birdies on Nos. 6 and 9 and two more bogeys on Nos. 11 and 18 to escape the first round even par.
Castle, a West Columbia, South Carolina, native, is just four strokes off the top of the leaderboard, which is occupied by Americans Caroline Canales and Briana Chacon.
Later in the afternoon, Frye teed off around 4:30 p.m. ET.
The senior, who won the stoke-play portion of the championship just a summer ago, had an uncharacteristic start Monday. Beginning on the back nine, she went 4-over through her first six holes, bogeying the par-3 No. 10 and the par-4 No. 15 and suffering a double on the par-3 No. 13.
However, it was just those first six holes that Frye found trouble, as she began to chip away at her deficit with birdies on Nos. 18 and 7 and 10 pars sandwiched in between. The two strokes that she made up down the stretch paid dividends, as it allowed her to sneak into the projected cut line ahead of the second round Tuesday.
Frye will go off the first tee at 10:47 a.m. ET, followed by Castle off the 10th tee at 4:13 p.m. ET.
The order of events and TV schedule for the remainder of the championship are as follows:
Monday, Aug. 7 (18 holes, stroke play)
Tuesday, Aug. 8 (18 holes, stroke play)
Wednesday, Aug. 9 (Round of 64, match play) / Golf Channel (6-9 p.m. ET)
Thursday, Aug. 10 (Rounds of 32 and 16, match play) / Golf Channel (6-9 p.m. ET)
Friday, Aug. 11 (Quarterfinals, match play) / Golf Channel (6-9 p.m. ET)
Saturday Aug. 12 (Semifinals, match play) / Golf Channel (3-6 p.m. ET)
Sunday, Aug. 13 (Championship match, 36 holes) / Golf Channel (7-10 p.m. ET)
For the latest on the Kentucky women's golf team, follow the team on Twitter, Facebook, and Instagram, as well as on the web at UKathletics.com.