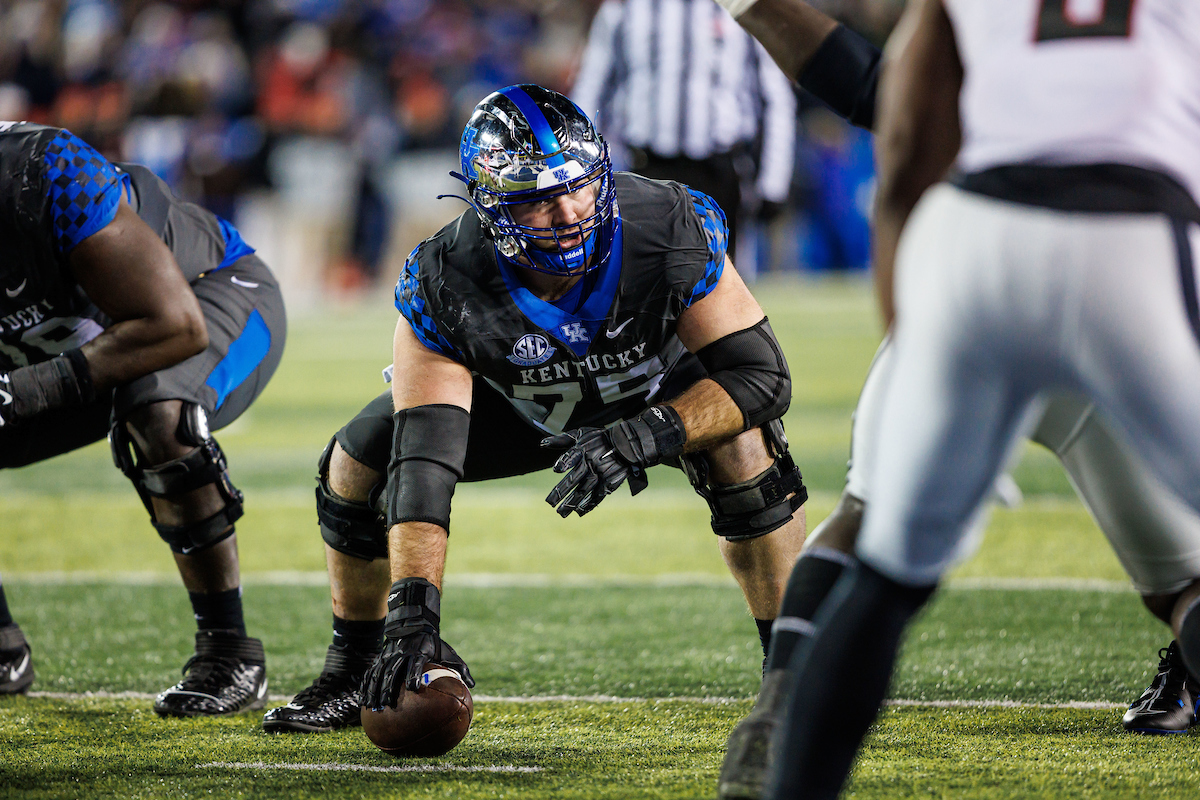 Last season, the Kentucky offensive line had its share of issues. The unit battled injuries, all while breaking in a new offensive coordinator and new offensive line coach.
Due to all of those factors, the Cats' O-line battles inconsistency. But senior guard Eli Cox vows to not let that happen again in 2023. Cox, who will be a key component to UK's offensive line this season, spoke to the media on Wednesday at the annual Southeastern Conference Media Day in Nashville.
"Our goal is to be a consistently dominant football team," Cox said. "We have to be a consistent football team that looks to win every game we play. I think our offense is going to hold up its end of the bargain this year and score a lot of points."
Cox thinks that this year's offensive line group will benefit from a couple of factors. First, the return of offensive coordinator Liam Coen figures to boost the offense's production.
"I think he brings the ability to get our playmakers the ball in good situations," Cox said. "He puts them in matches they know they can win and he gives them the confidence that when the ball is in their hands, they will do something special. Having him back has been awesome. Just how many points we were able to score and weapons he was able to use. Guys are excited to have him back."
Second, the offensive line figures to have plenty of competition in the room.
"I think it's just to put our best five on the field," Cox said. "We're going to try Jager (Burton) at center. I think having guys who can play all three interior (positions) is very important to us. Last year, we were hit with injuries and that derailed our system."
The Cats have plenty of veterans, have mixed in some key players from the transfer and have added some young talent in the 2023 recruiting class. Cox cites transfers Marques Cox (no relation) and Courtland Ford will join Eli Cox, Kenneth Horsey and Burton up front.
"I think we welcomed all of our guys from the portal with open arms and they're excited to be here," Cox said. "Just being able to get together off the field has been important to us. The offensive line must be one of the tightest knit groups on the team. We have to work together to get one job done."
Cox believes it's important to not just bring in players from the transfer portal, but to bring in the right players.
"I think, in the portal, it's not just bringing in new faces but old faces," Cox said. "These guys have played a ton of college football and have seen just about everything you can imagine. They are able to show the young guys what it's like to play college football."
Kentucky will also have a new quarterback this fall in N.C. State transfer Devin Leary. Cox has been impressed with everything he has seen from Leary in the spring and summer. Cox knows what Leary brings to the team.
"I think just the confidence," Cox said. "He doesn't get too high, doesn't get too low and he's a very composed player in the pocket and in the huddle.
As the Cats prepare for fall camp, Cox knows what it will take for Kentucky to take another step forward this season.
"I think it goes back to the consistency piece," Cox said. "Focusing on that consistency, to bring energy, bring focus and bring intensity to each game."
With Coen back in the fold, a consistent offensive line could provide the baseline for an improved UK offense this fall.